Images are an inseparable part of website design. But in addition to the appearance, images determine the weight of your website and affect the speed at which pages will load.
In order to achieve an optimal ratio of the quality of photos and at the same time not to worsen the loading time, it is necessary to process images before adding them to your website. Here are some simple tips that will help you make photos for a website.
1) Find High Quality Photos
It's no secret that people always judge the appearance of a person, a product, etc. Your website should attract as much attention as possible, so it is very important to have stunning content and a breathtaking visual range.
Choose high-quality photos that match your website. Remember that first impressions play an important role. There are many websites with a selection of high-quality stock photos. But we recommend using your own photos, as they are unique and will convey your message better.
2) Post-Processing: Why is it Necessary?
Post processing will eliminate flaws and make it more attractive. Sometimes it is enough to make a couple of light touches, other times you will have to use all the functions of a graphic editor.
Suggestions for photo post-processing:
– You should try to create a single mood with your photos
– Make your photos bright, clear, with excellent contrast and correct white balance
– Make your photographs the right size and resolution for your website
– Make sure that the background of your photos is balanced and each element has enough "air".
These techniques are enough to make your photos stand out. There are many ways to edit photos, but the most convenient way is to use a photo editor. Since all the necessary functions are already within, you can turn your photos into masterpieces in no time.
3) How to Protect Your Work
You have two options: never post your artwork on the Internet or protect it with watermarks.
A watermark is a semi-transparent pattern, inscription or logo that is placed on top of a photo. It helps to protect photos from unauthorized use.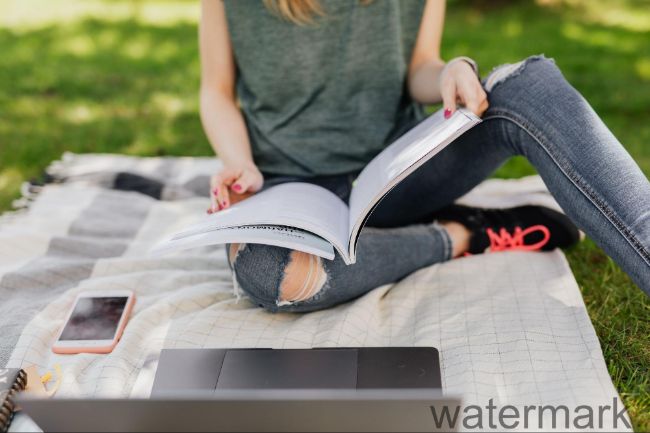 Usually, it is made in a pale neutral color, so it doesn't attract too much attention. It is best to place your watermark further away from the edges of the photograph. That way, it's harder for someone to erase it.
There are many programs that can help you make a watermark, but they all have pros and cons. For example, in order to make a high-quality watermark, you will need at least basic Photoshop skills.
Also, an important point is the inability to create a custom watermark and then overlay it on as many photos as you want in batch mode. For any blogger, this is a very important feature. Do you want to learn how to put a watermark on a photo without Photoshop? Then make sure to check out this article.
4) Choose Your Format
Most websites support two image formats: JPEG and PNG. It is also possible to add GIF format to a website, but graphics of this format may not be processed correctly when uploading.
JPEG is a priority, since images of this format are easier to compress without the loss of quality. PNG is used to create images with a transparent background or images with few colors.
Complex images with smooth color transitions (gradient, sky, etc.) require larger palettes. If your image consists of a small number of colors, a large palette will only increase the size of the image.
5) Compress and Optimize Photos
Placing large image files on your website can increase the page loading speed. In this case, the text will be displayed on the page, and instead of images there will be empty cells, which will create the impression of a low-quality website. It will also negatively affect the performance of the page itself: until the images are fully loaded, any actions will "slow down".
These problems can be avoided if you prepare the image before uploading them to the website. Image preparation involves reducing their resolution and file size. A processed image can look as good as its high-quality original, but it does not slow down the page display.
General Recommendations
When saving a file for publication on a website, give it a meaningful name describing its content. Search engines pay attention to this.
Remember that visual representation has always played an important role in the successful life of any website.