If your interior no longer inspires you, and you want new colors, then you should pay attention to bright decorative pillows that will undoubtedly update your space.
Decorative pillows will make your interior not only cozy and stylish, but also set the tone and mood of your home.
In the summer, it is worth getting pillows of bright and saturated colors. Thus, they contribute to a joyful and cheerful mood, and will also give you positive emotions.
This variant of diversity in the interior does not require large expenses. In addition, you can buy covers of different colors and change them at least every day. This way your interior will look constantly updated and not boring.
The role of decorative pillows is great. They help not only to enliven and stylize the interior, but also to make upholstered furniture more comfortable and fashionable.
Such pillows are usually decorated with sofas, beds, armchairs and chairs, and can also serve as poufs, if the dimensions allow.
There are different ways to stylize decorative pillows in the interior. For example, you can choose pillows of the same shape, but in different colors or shades. Or vice versa, buy pillows of different shapes and textures, while all should be in the same color. Or even buy custom body pillows only to make everyone feel shocked.
Top 17 unusual pillows for your interior
Pillow-toy car
This pillow will be especially interesting for boys. Because it will not only be a bright addition to the room, but you can play and sleep with it.
Pillow with a profile-silhouette image
Such a pillow is made easily. Take a pillow with a plain pillowcase, and apply a profile-silhouette drawing using clothing paint or gluing it to the pillowcase. It will look elegant and expensive in your interior.
Pillow with braid and pompoms
An interesting option for decorating a pillow will be a ribbon with pompoms not on the edge of the pillow, but in the center in two stripes.
A pillow in the form of a pretzel
This pillow is also very easy to make. The pillow is sewn in the form of a tube of a certain length, we fill the inside with hollowfibre and tie it into a pretzel. And then we add the decor.
A pillow in the shape of a French macaron cookie
This pillow will definitely decorate your interior. In addition, it is made of soft fabrics, so it will be pleasant to sleep on it.
Talk pillow
It is a pillow that helps to be "close" to lovers. Two pillows connected to each other by wireless technology. When one person goes to bed, the pillow of the second partner heats up and glows. And if a person puts on a small chest strap, then your significant other can hear the beating of his heart.
A pillow with a sensor
This pillow shows you the time, but also can wake you up with the built-in light and vibration.
Lint pillows
Very often you can find carpets made of this material. But novelties in fashion dictate that we also make pillows. They can be combined with conventional pillows so as not to overload the interior.
Bohemian style pillows
Fringe with tassels will also look good here. This option looks quite stylish and interesting.
Floor cushions
If you don't have much room in the room, but you want more places where you can sit well, then you can safely use any comfortable floor cushions. In addition, it is a beautiful way to complement your interior.
The goldfish pillow
A very interesting option for the design of your interior. It will look especially good in the children's room.
A pillow in the form of a cartoon character
This pillow will perfectly fit into the interior of the children's room, and will also become one of your child's favorite things.
Dog pillow
If a child wants a pet, and you can't afford to have one, then a dog pillow is perfect for both you and the child.
Cranberry throw pillow
In the interior, this form of pillow will look unusual and expensive. One or two pillows in the room will be enough to make the room stylish and cozy.
Art Deco pillow
Art Deco is a style in design distinguished by its graphic symmetrical pattern. Choose pillows with this design if you want to add a touch of modernity to the space.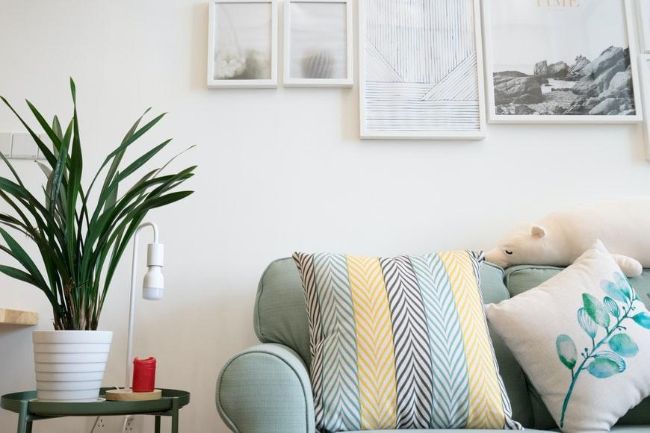 Velvet pillows
Such pillows always add elements of luxury and high cost to your home. When adding them to the interior, choose deep and rich colors.
Watercolor pillow
If you want your space to look lively, then these pillows are perfect for your interior. They can be chosen based on your wishes, but also taking into account the design itself: for example, such pillows can be in bright colors or muted. And if you want to add sophistication, then choose an elegant style.
In fact, choosing a pillow for the interior looks so difficult only at first glance. Just don't buy pillows impulsively, think carefully beforehand. You can even pre-compose a collage and "try on" them for the room.
We hope we were able to share something new and useful with you. And now you will not feel confused in front of a pile of pillows in the store.