The YouTube creator community has witnessed exceptional growth since the introduction of the video streaming platform. If you are starting your YouTube journey, you need a good companion with a video editor. There are dozens of video editors for the Mac platform. Among them, we have picked up the five best YouTube video editors for you. 
Even with the exceptional video editing skills, high-end video camera, microphone, tripod, and perfect studio setup, you need an equally capable video editor to execute your vision stylishly. Without further ado, let's start the list with Wondershare Filmora X.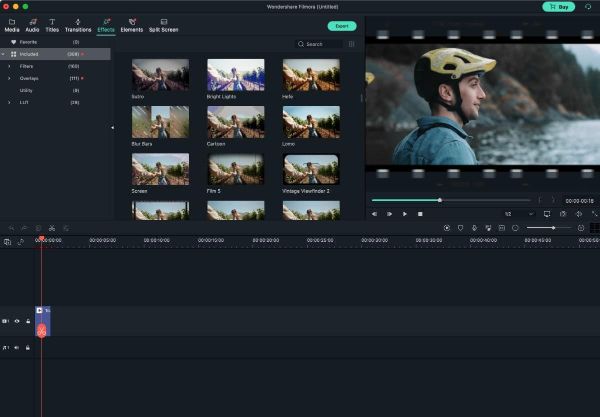 With AR stickers, beautiful animations, and portrait mode, Wondershare Filmora X can be your ideal YouTube video editor for Mac. The software focuses on fun elements, something that the YouTube audience appreciates from creators. 
The software carries an easy-to-use interface. Whether you are a professional or a newbie, you will feel right at home with Filmora X. Wondershare's end goal is to let anyone with basic video editing skills deliver stunning video output in a short time. So how do they achieve this?
For starters, Wondershare Filmora X offers an AI Portrait mode. Like the portrait effect in photos, the AI Portrait mode blurs the background from the video and delivers a stunning effect to your video. 
Auto Reframe is an interesting feature that's designed for vertical videos to use on YouTube Shorts or TikTok. It keeps the main subject in focus and automatically crops the other part in a video to create a relevant video for YouTube Shorts or other social media channels. 
Wondershare Filmora X is available on both Windows and Mac. Let's take a look at all the headline features of Filmora X. 
Main features of Filmora X
– Fluid drag-and-drop interface.
– Built-in audio files to use in video projects. 
– Cool text effects and transitions. 
– A huge library of video effects. 
– AR stickers support to add some fun elements to the video. 
– Touch bar support for supported MacBook models. 
– Social media integration including YouTube, Twitter, Facebook, and TikTok. 
– Compatible with Apple Silicon M1.
– Integrated cloud-based library with 20000+ effects.
– Import media directly from GIPHY, Pixabay, and Unsplash. 
– Audio ducking to fade one audio track down under another.
Looking at a long list of features, we are not surprised to see Filmora gaining traction among consumers and professionals. 
The software perfectly mixes professional YouTube video editing tools with some fun elements like AR stickers and animated graphics. It delivers a complete package that attracts all kinds of video editors out there. 
Cross-platform availability isn't an issue either. Wondershare has covered both the Windows and Mac platforms here. 
Price
Wondershare Filmora is free to download and use. There are two types of plans to explore more features. You can either go with a $51.99 per year subscription or opt for a $79.99 lifetime plan.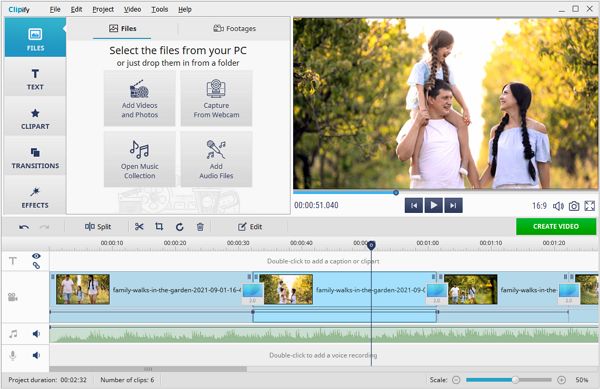 Searching for an uncomplicated video editor packed with helpful features? That is what you get with Clipify, all-in-one software for beginners and busy amateurs in videography. Within this program, you will find all the essential post-production tools – cropper, speed changer, fragmenting tool, sound editor, and picture enhancer – along with professional ones like Curves, quality fixer, video stabilizer, and Chroma Key. All of that is wrapped in an intuitive interface that even a complete newbie can shortly master.
Clipify will also help you make video greeting cards for special occasions, beautiful invitations, commercial presentations, and even memorial videos. This program has ready-made video templates to help you design an excellent project in a few minutes. Additionally, there is an extensive library of artistic elements – title cards, captions, stock footages, stickers, cliparts, motion effects, and transitions – to help convey a message or make your clip more fun to watch.
Main Features of Clipify:
– All basic video post-production tools
– Easy application of professional features
– 450+ visual effects and title cards
– Background changer & in-program webcam capture
– Full HD export options: YouTube, TV, computer, mobile
– Built-in DVD burner
Price
You can get Clipify for free. However, if you want access to exclusive features and more creative freedom, the editor has 3 subscription options you might be interested in exploring.

This one needs no introduction, doesn't it? Final Cut Pro has been the go-to choice for many professionals out there. It's only available for the Mac ecosystem and offers seamless integration with Apple hardware.
The long list of features includes advanced color grading, HDR support, Smart Conform to transform the video according to social media needs, multi-cam editing, Apple M1 support, up to 8K export, and more. 
Main features of Final Cut Pro
– Smart Conform to make a video ideal for social media.
– High-performance Metal engine. 
– Optimized for Apple silicon.
– Support for 360° video editing.
– Set of tools to add Closed captions.
– Thousands of custom transitions, titles, and motion graphics. 
Price
$299 as a one-time purchase. 

This is yet another popular offering on the Mac platform. Adobe Premiere Pro is perfectly suitable for professional creators living in an Adobe ecosystem. It's a part of the Creative Cloud package and comes with other Adobe apps in a bundle. 
Unlike Apple's Final Cut Pro, Adobe Premiere Pro follows a subscription model and it's available on the Windows platform as well. The biggest strength of Adobe Premiere Pro is its integration with other Adobe apps. It blends perfectly with Adobe Photoshop, Adobe Stock Images, After Effects, and more. 
Main features of Adobe Premiere Pro
– Support for 8K video editing.
– Excellent integration with other Adobe apps. 
– Tons of video tutorials and guides to get started. 
– Create captions automatically. 
– Adobe Stock Audio integration. 
– Tons of effects, graphics, and animations are available. 
Price
The yearly subscription starts at $239.88. You can also use Adobe Premiere Pro as a Creative Cloud package priced at $79.49 per month. 
5. Movavi Video Editor Plus 2021

Movavi is another video editor that helps you take your YouTube videos to the next level. You can easily turn your ideas into a final video using an intuitive editing interface. 
Similar to Filmora X, Movavi uses the same drag-and-drop style interface to help you start building a YouTube video. 
With the help of several video effects and animations, you can take an average video clip to another level with fascinating filters, transitions, and a built-in stabilizer.
Main features of Movavi Video Editor Plus
– Built-in stabilizer to smoothen the video. 
– Picture in picture support to add live commentary. 
– Stylization to add cool effects to the video. 
– A dedicated Movavi store for extra content. 
Price
The yearly subscription is priced at $59.95. It's affordable compared to the rivals out there.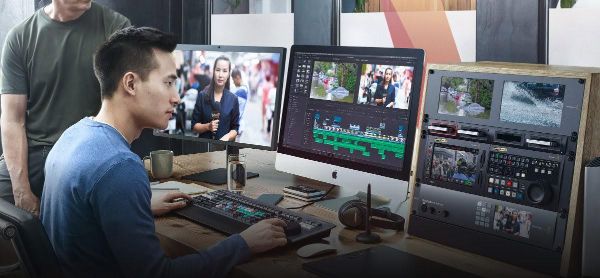 How can we end the list without mentioning DaVinci Resolve? From advanced color grading to 8K video editing, and tons of editing options, DaVinci Resolve has all the elements to create a trendy YouTube video on Mac. 
Beginners might find it difficult with many features on offer. The learning curve is steep, but once you get the hang of it, you are in some real treat with DaVinci Resolve 17. 
Main features of DaVinci Resolve 17
– Powerful audio engine with immersive 3D audio workflow. 
– Advanced professional-grade editing tools. 
– Hollywood-grade advanced color-corrector tool. 
– Cinematic quality visual effects and motion graphics. 
– Professional tools for audio post-production. 
– Several export options. 
Price
DaVinci Resolve comes wearing a $299 price tag. Once you pay for the software, you are all set to receive lifetime upgrades. 
Create Stunning YouTube Videos Easily
That concludes our list of best YouTube video editors for YouTube beginners. What are you waiting for? Go ahead, pick a suitable option for you, and start creating awesome YouTube videos and grow your YouTube channel to the next level. 
From the list, Wondershare Filmora X remains our pick for its easy-to-use interface and fun features coupled with AI Portrait to remove background from a video.