Important Aspects to Consider Before Employing a Magento Developer
Currently, more and more people go online to shop for goods, clothing, gadgets, and even food. Developing a catchy and high-performance e-commerce website is a crucial point for business development. Moreover, when selling products online, you are guaranteed to get constant revenue and a maximum return on investment.
With Magento, you can build up a decent platform and promote your brand successfully. This e-commerce platform gives you an exceptional opportunity to earn a decent spot on a modern market. With advanced functionality and powerful capabilities, you will definitely reach your target audience. However, to accomplish all your goals and create a good online store, you will need to hire Magento ecommerce developer. Here are some tips that will help you make a formal choice.
Set Up Goals
It is necessary to clearly understand what kind of store you are going to build. Then you can explain your requirements to specialists and understand whether they work for you. Determining the directions for your brand may facilitate and speed up the process of development.
Check out Customers' Reviews
Before hiring a professional, look for clients' testimonials. Most likely, you will encounter a professional that has made successful projects. Find more information about the companies your potential employees worked with to make an informed decision.
Get in Touch with the Developer's Team
The developer's team plays the most essential role in the success of your online store. Communicate with the team to discuss the ideas and terms of your project. Make sure they completely fulfill all your ideas and meet the deadlines. Change the contact information to keep up with the latest news concerning your online store development.
Check Out the Portfolio
If you want to have a deeper look at the expertise of the team, feel free to examine its portfolio. A decent developer can showcase dozens of projects. By viewing the previous works, you will have a clear idea of what to expect from the company. If a developer can't provide any portfolio, think twice about whether you want to delegate such an important task as creating your online store to this team.
Discuss the Details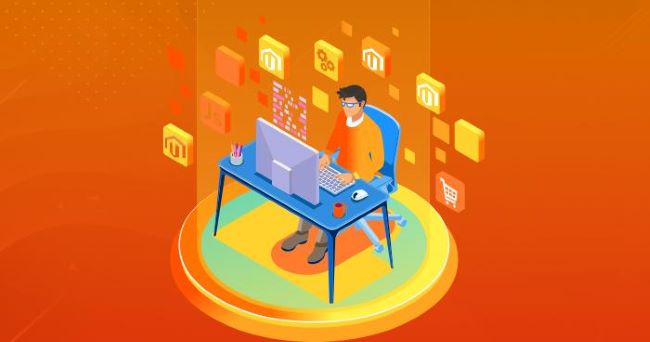 Remember to discuss such essential details as:
the features that will be available on your website;
privacy policy;
security measures
payment options;
design and templates;
navigation;
the terms of the project;
website management.
Only when you agree on all these aspects, you can start the work.
Post-Production Support
Post-production support is a crucial factor to discuss with the potential developer of your website. Each online store requires upgrades and future management. That is why it is necessary to choose a team that will regularly manage your site. Whenever your online store faces any issues, the developer's team should always be ready to give you urgent assistance.
Conclusion
Building up an online store is a complicated process that requires time and effort. Magento platform requires coding knowledge and good programming skills. This means that finding a professional is a must to have a successful marketplace. Make sure you ask the right question to the team to determine whether they will deliver the desired outcome. Consider all options mentioned above and good luck with your choice.