Presently, we have several programs that perform several duties. They make work easier, allowing you to tackle several tasks in a short time with guaranteed efficiency.
Among the several programs that you will encounter, we have Wondershare MirrorGo. This software will help you control iPhone on PC. This mirroring function comes in handy in several situations where you amplify your screen size.
When getting a program for your device, one area to look at is its functionality. Here, you pay attention to how it works and its efficiency levels. How is Wondershare MirrorGo's functionality? An excellent question to have if you want to try out this utility.  
In this article, we will have an in-depth look at this utility to see how it works.
Downloading Wondershare MirrorGo
If you want to use this program to mirror iPhone to laptop, you start by downloading it to your device. The download process is effortless, requiring you to go to MirrorGo's online platform and get the software.
There are two versions of the mirroring software to pick from, the free and premium versions. You can use the free version to get an idea of how mirroring works, but you will have limited resources at your disposal.
The premium version is the best, working like a subscription package. Here, you pick a suitable option, pay for it according to set terms, and start enjoying the efficient mirroring function.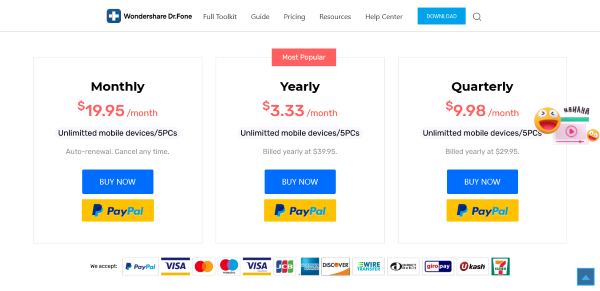 To get the best package, go to the pricing menu, where you will find different offers, each having a specific cost and payment plan. Get the utility on your device, install and launch it.
Do you have a problem with device space? If the answer is yes, you need not worry about MirrorGo, as it is economical on space.
Compatibility
Another vital area to consider when getting software on your computer is its compatibility with your operating system. It can be pretty frustrating when you realize that your device's operating system is not compatible with the software.
An impressive thing with MirrorGo is that it is compatible with most Windows versions, both new and older ones. They include Windows XP, Vista, 7, 8, 8.1, and 10. It shows how versatile it is.
Using Wondershare MirrorGo
With the software on your device, you now have to launch it. Here is where you will explore the functionality of this mirroring tool.
For the best linkage, your iPhone should run on iOS 9 and above. For access to more features like reverse control, your mobile should be of Ios13 and 14.
To start using MirrorGo, you should connect your laptop and phone to the same Wi-Fi connection. You then go to the control tab and select the iPhone mirror tab. Under the tab, pick MirrorGo, and your mobile phone will connect to your device.
If it fails, try restarting your router or reconnect your computer and phone. Once connected, you can now mirror iPhone to PC.
Navigation
When you mirror your phone to laptop, you can access all your phone's apps on the computer screen. To use the apps remotely on the PC, you should be able to navigate. When connected, you realize that you cannot navigate on the screen.
In this case, you have to tweak settings on your phone to access the applications. On the settings, go to Accessibility, Touch, then AssistiveTouch. Turn it on to be able to use your mouse to roam the projected phone screen.
Your Bluetooth should be on for the successful initiation of the connection. A thing to know about navigation and the entire connection process is that it requires Windows 10 and iOS 13 and above for your phone.
Notification Management
A benefit of mirroring iPhone to Windows PC using Wondershare MirrorGo is that you can perform most of your phone's tasks on your computer. For instance, you can manage incoming notifications.
Calls, alarms, messages, and other notifications from your app will show on the screen. You can respond to each of them the same way you would do on your handset.
Taking Screenshots
MirrorGo allows you to take screenshots to record your on-screen activities. When you take screenshots, you have to specify your preferred file destination. You may save them on your phone or computer.
Entertainment
Using this mirroring tool, you can explore entertainment features, a crucial area of mobile phone functionality. You can play audio and video files from your phone. Access to the files is effortless when you enable the navigation feature.
The advantage of mirroring in terms of playing audio and videos is that you benefit from the computer's connection to the sound system. You may also tweak your PC's audio player settings to get the desired sound.
Still, on the entertainment functionality, MirrorGo is a great companion for gamers. You can play your iPhone's games on your laptop after mirroring. You have a bigger screen, a great sound system, and multiple-player capability.
Pros of Wondershare MirrorGo
Below are some of Wondershare MirrorGo's perks that you get to enjoy when you have it on your device.
– The software is easy to use. Even if you are a beginner, you will easily learn how to use it. There is a guide on the website for reference.
– MirrorGo is versatile, evident from its compatibility with various operating system versions and diverse usability.
– There is a free version that you can try out to see what it has to offer.
– Wondershare's mirroring tool is safe and won't pose any risks to your PC.
– MirrorGo is lightweight, translating to space economy.
– A helpful customer support team that responds promptly to your queries.
Conclusion
Wondershare MirrorGo is an excellent iPhone to Windows PC mirroring software, as you can see from its functionality. The functionality aspect is a crucial area to look at when you want to get a program for your computer.
In the case of MirrorGo, you transfer most of your phone's function to your PC. It enables its remote control. You can use the software in several settings, such as presentations, gaming, file transfer, and entertainment.
If you are looking for decent mirroring software, look no further than Wondershare MirrorGo. Get it on your computer and have a fulfilling moment transferring your phone's screen to the monitor.