What is UX design or user experience design and why is it important for you to have access to the right UX design tool? The art of UX is a deep subject that involves many components, the most important of which is what the end-user considers to be an intuitive, frictionless, and pleasurable interaction with technology. That means your UX design tool must be flexible enough to handle usability nuances, robust enough to offer the right design components, and easy for a designer with no coding experience to use. UI  UX design agencies enable you to achieve success by supporting your business in this bumpy journey. Among other considerations, this is what you need to look for in a design tool. Let's look at some of the other factors that should impact your decision to pick one tool over another:
Affordability – often a critical factor for smaller teams with fewer resources
Usability – a gentle learning curve as opposed to a steep one that requires training
Feature-rich – the right features and capabilities to achieve the end-goal of UX design
Code-ready – compliant with HTML and style code standards that can be easily transformed into production code
Collaboration – an interactive environment for real-time communication and task tracking
Now that we know what to look for in the ideal UX design tool, let's have a look at some of the superstars of this segment.
The Best UI and UX Design Tools for 2021

Wondershare Mockitt is a cloud-based UX design application that works on all modern browsers on any type of connected device. As such, it ticks the boxes for collaboration and accessibility, while providing a robust feature set to achieve the best UX design possible. The rapid prototyping feature and user-friendly interface help you work faster and be more efficient, and the affordability issue is addressed as well. Here are some other key features of this comprehensive UX design tool for 2021.
– Rich asset library with hundreds of widgets, icons, dynamic components, and other design elements
– Drag-and-drop design and prototyping feature to maximize productivity
– Extensive tools to preview, review, comment, and provide feedback in a real-time manner
– Code generation prepares the UI code and makes it ready for the developer (smoother developer handoffs)
– Extensive collection of transitions, animations, and other effects to create interactive and life-like hi-fi prototypes
– Live preview of prototypes with easy link-based or QR-code-based secure sharing
Mockitt works on the premise that a design tool must be intuitive in order to be effective. Hence, the vast design component library is complemented by a slick interface that supports drag-and-drop and other easy actions to accomplish various tasks. Design intuitively and prototype in a rapid manner using this robust SaaS application; collaborate effectively across remote work locations; preview and share in real-time in a secure manner; ease the developer handoff process with code-ready design, and get instant feedback so you can use an iterative process as part of your design thinking approach.
UXPin

Source
Another professional but more expensive tool to consider is UXPin. It is code-friendly, with upcoming features to import and sync directly between your design editor and your React.js libraries. It is also ideal for intricate prototyping where you want to use conditional logic, variable states, and other dynamic and intuitive interactive features. It comes with libraries for all major device platforms and easy-to-use collaboration tools.
– Hundreds of components for iOS, Bootstrap, and Material Design
– States and variables for dynamic interactions
– Code-friendly components (use production code for design elements)
– Visually intuitive interface
– Advanced transitions and effects
– Cross-platform capability – desktop and web
Figma

Source
Figma is a widely known and well-loved tool that has come to be known as the ideal Sketch alternative for Windows and other non-Mac platforms. It gives a great deal of importance to collaborative features such as co-editing and feedback mechanisms and sports several advanced prototyping tools. One of the most attractive features is its rich user community, which is a virtually endless resource for plugins, design systems, and other integrations with both free and premium options.
– Easy accessibility from anywhere (browser-based tool)
– Extensive features to facilitate seamless collaboration in remote work scenarios
– Robust library of components, plus third-party resources such as UI kits and design systems
– Expansive plugin options from external sources
– Real-time reviewing with Liveshare feature
– Version control options
– UI is similar to Sketch, which makes migration easy
Protopie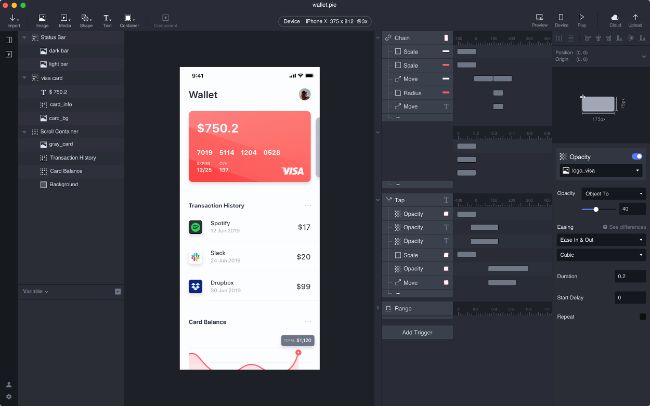 Source
Protopie is a desktop application that offers a lot of unique features like voice command prototyping, camera inputs, and so on, but the real stand-out feature is the interaction recipes that make the communication between the design team and the development team almost seamless. Its smart device sensor feature also allows you to leverage the device's sensors as input sources. In addition, Protopie supports simple gestures as well as multi-touch inputs to trigger transactions and other animated effects.
– Extensive design components
– Interaction recipes for designers to show developers logic flows
– Use the device's native keyboard for a realistic prototype experience on any device
– Auto-trigger the device's camera when previewing a prototype
– Voice-based interactions to listen, speak or use a voice command in your prototype
– Formula-based interactions
Axure RP

Source
Axure RP is a professional design and development tool that allows you to create interactive diagrams and prototypes, and even implement your designs in application development – all on a single platform. The content is dynamic and there are numerous collaborative tools such as Axure Share that allow you to seamlessly get feedback from external stakeholders no matter where they are. The best part about Axure RP is the ability to create applications and UX prototypes without the need to know any coding. The prototypes are realistic and highly interactive, and the platform itself offers a rich set of features to create stunning prototypes.
– Wireframing and interactive diagram creation
– Dynamic content
– Annotations for prototypes and interactive diagrams
– Web-based tool
– Logical flow (conditional)
– Components and animations libraries
– Easy-to-use UI
In Conclusion
User experience design or UX design is an intricate art form that leverages innovative technologies to provide a delightful interaction that is seamless, natural, and free of conflict. The intuitive nature of design thinking is ideally suited to superior UX, but it is equally important for you to have the right tools for the job. Wondershare Mockitt is undoubtedly one of the leading platforms for delivering stunning UI and UX prototypes in the shortest time and at the lowest cost. The platform is more affordable than most other tools, yet offers a rich set of features that matches up to the best UX design tools in the world. Try it today and see how it can transform your UX design workflows and greatly enhance your productivity – and all of this at a much lower price point than its competitors.