Dropbox being one of the oldest and most trusted storage platforms is preferred by many organizations and individuals as well, however, over the past few years, google drive has taken over and turned out to be more productive and diverse when it comes to features and services.
The process of transfer dropbox to google drive can be tricky and is not free from the risk of data loss but fortunately, Wondershare InClowdz; a third-party app makes it fast, hassle-free and errorless.
It could be a hassle to keep files in order and share them from one device to another when needed such as from a personal laptop to your work computer, from your phone to any other device. With modern technology on an ever thriving path, there is a way to handle such issues in an efficient and productive way. Many cloud storage solutions offer a way to access all your files no matter where you're at in the world.
Dropbox has been the original online storage unit for the past many years and, however, recently Google Drive has caught up and is now offering advanced features including more space with its free accounts, access to the tools that Dropbox never had, and more reformed options for additional storage. Another reason why people are shifting and are more inclined to sync dropbox to google drive is that it is part of your Google account which makes it much easier to sync and share files during chats or otherwise.
Technology needs to move as per the current global scenarios, therefore with the common trend of working from home, Google Drive is the best pick as it enables the user to share files and collaborate on projects in real-time. So if you're looking to transfer dropbox to google drive, Wondershare InClowdz is the fast and efficient way to do it.
Why Transfer and Sync Data from Dropbox to Google Drive
| Dropbox | Google Drive |
| --- | --- |
| Offers 2Gb of free space. | Offers 15 GB of free space. |
| Offers limited integration. | Offers integration of all storage platforms. |
| Offer a single bundle app i.e. paper by dropbox. | Offers Docs, Sheets, Forms, Slides, etc. |
| Only serves as cloud storage. | Serves as Full-spectrum; email, cloud storage, and office productivity. |
| Expensive upgradation to the second level. | Economical upgradation to the second and third level. |
Transfer Dropbox to Google Drive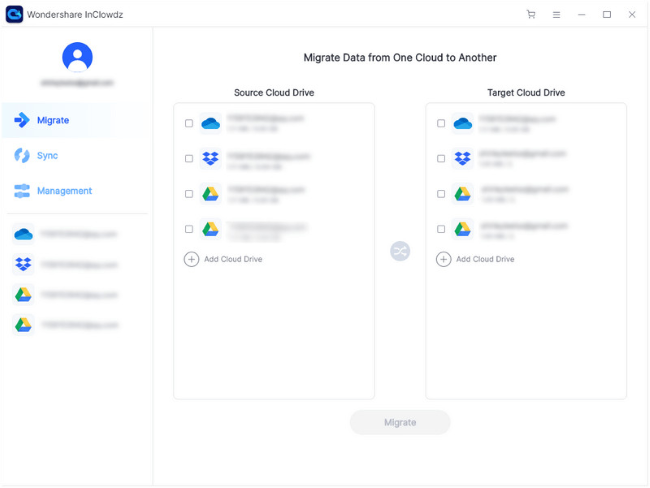 No doubt that Dropbox has been offering a plethora of useful features and people have become comfortable with these, however, you'd be amazed to know that google drive offers all of the services that dropbox did including so many other services. It is essential and quite sensible to move along with the constantly evolving technological world hence transfer dropbox to google drive in order to have a better experience. Transferring files or the process to sync dropbox to google drive can often be troublesome and the risk of data loss or accidental deletion is always there. To make sure that all of your important personal and professional data is safe, Wondershare InClowdz steps in. A third-party app that allows you to transfer data; images, files, documents, etc. from one cloud storage platform to another. Apart from that, it enables you to manage files on a particular cloud drive and sync two cloud drives with all the ease in the world.
The process of this migration is simple and can easily be done by anyone with basic computer knowledge:
– All you need to do is install Wondershare InClowdz on your system and create an account to sign in.
– Click on the "Migrate" button at the side of the homepage then click on "Add Cloud Drive to select the source and target accounts.
– Now you need to select the files in your dropbox account that are to be migrated to google drive. The transfer will begin once you click on "Migrate".
Sync Dropbox to Google Drive
Despite all the goodness that dropbox offers, its functionality and diversity still fade when compared with the features offered by google drive. On one hand, dropbox is a full-fledged storage platform and on the other hand, google drive is a multi-funtional cloud solution to all your professional and personal data needs. For starters, 15GB of free storage offered by google drive is a huge reason for the switched loyalties of users between dropbox and google drive.
Wondershare InClowdz makes the syncing process between dropbox and google drive super easy and fast.
– After downloading, installing, and signing in on Wondershare, you need to click on "sync" in the menu on the right side.
– Add both; source (dropbox) and target (google drive) clouds to the InClowdz platform.
– Once you're done with the authorization, click on "sync" to begin the process.
You'll be notified once the sync is complete. Manage your accounts with the InClowdz management option to keep your data sorted.
Conclusion
Both Dropbox and Google Drive have their pros and cons and switching from one platform to another as per the needs is natural. Fortunately, there is a third-party software; Wondershare InClowdz that makes the transfer and syncing process smooth and seamless.