Most programs find it difficult to open OST files, especially Microsoft Outlook. However, the free OST Viewer tool from Recovery Toolbox https://outlook.recoverytoolbox.com/ost-viewer.html does this with ease. The tool allows the opening and viewing of OST files without any difficulty. The main advantage of using this tool is that it has both online and offline versions. This makes things much easier, especially if there is no internet connection.
Let's take a look at the characteristics of the program more detailedly:
What is the OST viewer?
The OST viewer is a tool that is designed for reading file components and data of all modern autonomous E-mail boxes. It is a completely free tool, so you don't have to buy the software to use it, you just need to download the program from https://outlook.recoverytoolbox.com/ost-viewer.html and you can start using it.
Other Competitive Programs
As the demand for programs that can open OST files continues to grow, a lot of IT companies have started releasing similar programs. However, the OST Viewer still stands out from the competition.
Here are some of the similar programs released:
– 1. Coolutils: This program was released for the same purpose as the OST Viewer, but it however very primitive and has an archaic interface. Coolutils allows you to view RST and OST files, but according to users, the analog is unstable.
– 2. Kernel: Kernel is another viewer that was released for OST files. It is way better than Coolutils and is free to download. It is also designed properly and allows you to view good and damaged files of a suitable format. It is unfortunately still slightly inferior to the OST Viewer.
Features of the OST Viewer
Here are some of the features of the OST Viewer that makes it different from the other programs:
– 1. One of the important features of the OST Viewer is that it is free to download and also free to use.
– 2. It works well with complete and also damaged data.
– 3. It displays all available elements of the OST Viewer, including letters, deleted files, and contacts, etc.
– 4. It allows you to open and read OST files in just a few clicks.
– 5. To work with OST Viewer, you do not need to have an installed version of Office365, as well as the Win program or components.
– 6. You also do not need Outlook or Exchange Server to work with the program.
How to View your Contents
To view your contents, firstly you need to download the boot file, unpack and install the content on your P.C or any other device.
After launching the program you:
• Open the first page (but usually it loads itself);
• Select the required OST file for viewing;
• Set the desired conversion mode. If the elements are damaged, then the recovery mode is selected.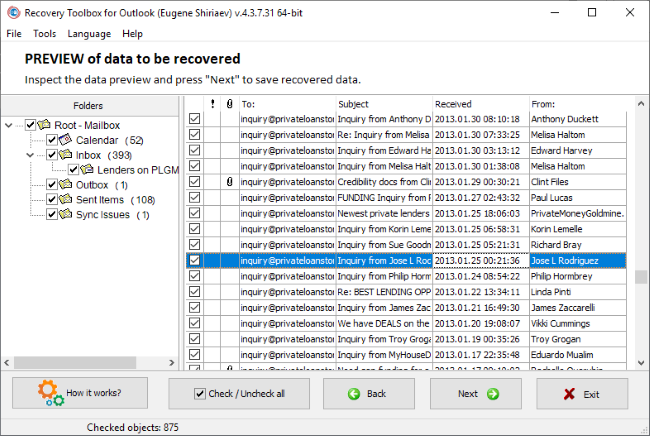 After these simple steps, you will get access to all objects (that is, letters, folders, and contacts) on the preview page.
As I mentioned earlier the OST Viewer by Recovery toolbox has both an Online and an Offline version.
Below is a way to utilize both versions.
Online version
The online version can also be used to recover damaged files. Just follow these few steps:
– 1. Firstly, you can access the online version through here.
– 2. Click on the "Select file" button with the OST or PST extension.
– 3. Enter your valid email address.
– 4. Go through the captcha by entering the symbols that appear in the picture into a special window.
– 5. Click on the "Next" button.
– 6. Wait until the damaged file is restored.
– 7. Download the recovered file to your device.
A major advantage of the online version is that all recovered items are saved on the online service. So, you can download the file to your P.C or other devices anytime you want.
Offline version
This version is also free and can be easily downloaded and installed on almost any gadget.
Here are a few steps to install the program:
– 1. Click on the "Download" button.
– 2. Wait for the download of components.
– 3. Click on the downloaded file.
– 4. After unpacking the folders, click on "Install".
– 5. Accept the proposed agreements.
– 6. Wait for the installation.
– 7. Run the tool.
– 8. If you need to immediately read or restore an OST file, you must select it and then select the appropriate mode.
Interface and functionality
The User Interface of the OST Viewer is pretty modern; it does not contain any superfluous or unnecessary elements. This makes it very easy and quick to work with.
You don't have to take a class or learn a ton of instructions to use the program. One can independently figure out the functionality. To run the OST file for viewing without Outlook, just click on the "Add File" button and the program will automatically download all the components of this file.
Key Features
The main feature of the OST Viewer is its ability to function on any device but other features make it very desirable. These include:
– 1. The OST Viewer functions perfectly in Windows and it can be downloaded for any version of the O.S. What this means is that the OST Viewer will function properly in Windows 8.1, Windows XP, Windows 10, Windows 7, Windows Vista, etc.
– 2. You can use the online version of the OST Viewer on any gadget that has a browser.
– 3. Another key feature of the program is that it can be used without outlook. However, it is possible to view all offline data files for Outlook even when Exchange is down. Perhaps this is the categorical advantage of the presented development.
Other Advantages
Other advantages of the OST Viewer are:
– Each user, when using the OST Viewer, can save the complete folder structure. Moreover, the structure of subfolders is preserved. The formatting of the message is not affected, and all read or unread messages are saved.
– Free OST Viewer helps to see all the important and exceptionally correct information that is somehow related to files.
– Preview option available. Note that it is available for both messages and attachments.
– The tool is capable of reading any data file format (UNICODE.ost, ANSI, and others). But let's dwell on this point and consider it in more detail.
Reading File Formats
Free OST Viewer works great with elements for reading both old and new formats. It provides data visualization:
• ANSI for earlier Outlook designs (97-2003);
• UNICODE for Outlook (2007 and later modifications);
• various Office 365 files and others.
At the same time, viewing damaged objects and contents of letters, which is password protected, is not a problem for Free OST Viewer. You don't need to have installed programs to open any items:
• Microsoft Out. (And we have already mentioned this);
• Mic. Exchange Server;
• Win. D. Controller.
Note that saving data from OST files can be done in any format:
• EML,
• PST,
• TXT,
• MSG,
• VCF.
When viewing the content, you can sort the data by various fields. It:
• DATE,
• TO,
• FROM,
• SUBJECT and others.
What are the Limitations?
This program practically has no limits. Its advantages just continue to increase.
– The user is not limited in the amount and size of data that must either be read or restored.
– The software allows you to choose the file you wish to save.
– Free OST Viewer provides access to select a folder, specific email addresses, a whole group of letters, or contacts that you want to read, restore, or save.
– There is also an additional function that allows you to easily and quickly convert OST files to PST format (by the way, you can also work with this format quickly: read, restore, save).
– There is one more additional mode – the recovery of letters that were previously deleted (on purpose or accidentally). Moreover, this applies to both the letters themselves and e-mail addresses and other contacts from where they were sent, or are somehow connected with this very letter. This is the so-called "forensic regime".
As you can see, the user is practically not limited by anything when working with Free OST Viewer. It is worth saying more – he can freely perform those operations that were not available in many other similar utilities.
The only thing to consider is that the program doesn't work:
• with macOS;
• iOS;
• Android.
But this is a matter of time because the creator of the utility is developing identical analogs for viewing OST files on gadgets with operating systems other than Windows. And by the way, Free OST Viewer is not the only product of the presented developer. More details about other programs and tools can be found on the website of https://recoverytoolbox.com/.
More advantages of the program are:
– The program has a convenient built-in file search. If you need to find something on the disk, but you do not know the location of this object, then the utility will solve this problem.
– Free OST Viewer also has online help. This function is very convenient for those who are working with such programs for the first time. This tooltip contains a detailed description of the utility's operation, as well as a small guide to the available actions (what, how, and where to click). But as we said, this program is very easy to learn, so the presented guide is just a bonus.
– Multilingualism is provided. Yes, the user can choose any of the available 14 interface languages.
This is a convenient, practical, and necessary function, which again speaks of the demand and popularity of the utility in many countries of the world.
Conclusion
From the information and advantages presented above, it is obvious that the OST Viewer by Recovery Toolbox is one of the leading special-purpose programs in the segment market. Despite its simplicity, it is an important and irreplaceable tool for the work efficiency of every modern user.
One thing to add is that the program also allows the copying and printing of mailing lists in HTML format.
Browsing files has never been easier. A few years ago it was impossible to restore deleted components or to visually view damaged objects, but today it can easily be done. All that needs to be done in this case is to install Free OST Viewer or use the online version on the website.
This tool can be on hand 24 hours a day, 7 days a week. At any time convenient for him, the user can view OST files. This is especially important if you are waiting for important letters, contacts, and other files.
Should there be any doubt that this program is a worthy solution to many modern problems? I think not. Right now, you can go to the developer's site, test the online version, or immediately download the utility to your device.
Note that the program is regularly updated and modified. Users have new opportunities to read, save, or restore files of any format.