Giving presentations is not your forte? Well, being a good speaker and proficient at telling people information and persuading them is quite hard. However, you don't need to worry! We've gathered the best tricks and tips to enhance your presentations to the max. They're as follows:
1. Making the Structure of Your Presentations Easy-to-Follow
First things first, start with planning your presentation out, not making it up as you research it.
It'll allow you to fill each section of any speech that you're doing with meaning and sense.
What kind of structure should the presentations usually have? For your audience to remember most of the information you're trying to convey, you have to keep it extremely simple. In most cases, the following parts will be just enough:
– Introduction. It should quickly go over what you'll be discussing and present your thesis.
– Body. It is where you'll be proving your point of view with facts, statistics, quotes, etc.
– Conclusion. It'll recap the most important points from the whole presentation.
2. Choosing Correct Templates
A template can either make or break your presentation. If you choose a default template, it'll look bland and unappealing. If to go too far with making your own, it can look cluttered and ugly. To deal with this issue without any headache, you can use the help of a presentation design service.
If you'd prefer to do everything yourself, then remember these 3 essential rules:
– Don't use too many colors! Be minimalistic.
– Don't change fonts. Make the font and its size consistent.
– Make sure that every single slide is flawless.
3. Creating Several Drafts for Each Presentation You Make
The greatest presentations aren't created in one sitting! All the speakers at TED have all created drafts upon drafts before they came up with their final versions. You should take the same approach when creating your presentations.
Firstly, don't be afraid to throw something together quickly. Coming up with a masterpiece from a blank slate is much harder than improve on what you have. Just go with the flow and create a sketch.
Then, you'll have edit it all down. Read the presentation, rearrange the information so it would be more logical. Edit the wordcount down again and again. Delete as much as it's possible without harming the main points of it.
Finally, ask for other people's opinions. After receiving the feedback, go back to the first and second steps. See what you must add and what you must edit. Make it flawless.
4. Putting Only Key Phrases on the Slides, Rather Than Your Notes
The less textual information you put on the slides, the better your speech will be. Trust us, there's nothing more boring than walls of text on slides and the public speaker just reading them out.
Ideally, you want the audience to listen to your words and look at the supplementary visuals. It can only be achieved by putting next to no words on the slide and dividing the information. You have to present small bits of information to the audience and explain concepts with your speech.
5. Choosing Only the Most Impactful Visuals
As you see, we talk a lot about how your presentations look. Why? Because visuals are extremely important in captivating the audience. The best example would be just about any presentation for Apple inc. Use only high-quality pictures that add to your message. It'll make your speech impactful and memorable.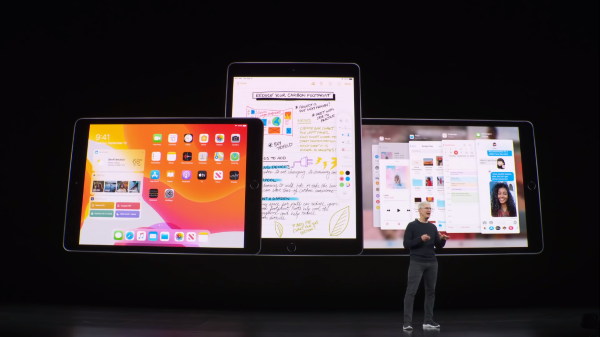 6. Using Your Presentation Software to its Full Potential
Nowadays, the software for creating presentations is quite powerful: you can do a lot of interesting things with it. With these tools, you should make your presentations more interesting and engaging. Now, you can add different background sounds to slides, embed videos for additional visualization, and even include interesting transitions.
7. Captivating Your Listeners at the Beginning
Having a powerful way to start your presentations is essential to making the audience listen to you until the end. People are very quick to judge whether any information is worth their time.
According to reliable research, your listeners will decide it in the first 7 seconds. If you can't intrigue the audience during this time, most of the people will not listen to you attentively. Here are some things you can do grab the listeners' attention very quickly:
– Begin with something seemingly completely unrelated to the topic.
– Put forward an interesting rhetorical question.
– Target the audience with relevant current references to the pop culture.
8. Making the End of your Presentations Very Clear
What to do when ending presentations? Well, the most important thing is to make your points and arguments come together in unison, creating your conclusion. However, whether it'll happen will depend solely on how well you've thought through the structure of any particular presentation.
Apart from making logical sense in your conclusion, you can also incorporate 2 things: feel and pauses. Pauses are a great technique for creating suspense, which will only add to the emotional aspect of your speech. If you can emotionally move the audience, you'll make sure that people remember what you've said.
9. Practicing Doing the Presentations
So many speakers just disregard this aspect, thinking that their research will do all the work for them. Well, they're in the wrong. And their speech, although interesting content-wise, is unbearable to listen to actively. Practice reading and then telling your notes from memory — don't wing it. Doing it will let cultivate a strong voice in you that people will listen to.
10. Don't Be Fake
Public speaking is basically a form of stage performance. So, if you're trying to be someone else, people will notice it. There's no need to pretend that you're someone else. As you're on the stage, numerous people will look at you and judge you subconsciously, and it's so obvious when someone is fake.
Instead of pretending, just be yourself and acknowledge who you are. You will make your audience gravitate towards you. Keep the following in mind throughout your speech:
– Use the humor you like
– When making a mistake: accept it and move on
– Open up your uniqueness to others
Follow the Tips for Success
Make the most out of the tips we're giving you, and you'll surely become a public speaking expert in no time. So, start your research process and make some great presentations!