The apparel industry is big and continues growing every day. On a global level, the apparel and clothing market reached a value of more than $758 billion in 2018, having grown at an annual rate of 7.5% since 2014, and is expected to reach nearly $1,2 billion by 2022.
But while the clothing industry can be quite lucrative, it is also hard to break into and insanely competitive. So, whether you're already running an apparel business or you are just starting out, you need to make sure that you stand out from the crowd.
To help you out, we've put together a list of 7 strategies for growing your clothing business and increasing your revenue.
1. Build a Great Website
When it comes to increasing your clothing business' revenue, having a functional, mobile-friendly website is a must. Big retail chains are closing their physical locations, which means that the trend toward online shopping is continuing. That's why having a user-friendly site where customers can find what they are looking for and shop without too much fuss is so important.
In order to create a site that really speaks to your customers, you first need to know who your customers actually are. Do some research to define your ideal buyer persona and track metrics related to your images, headings, and diction to figure out what your customers gravitate toward.
2. Implement Apparel Management Software
In today's digitalized age, manual processes aren't enough for clothing businesses, especially with the great volume and variety of products, orders, sales, and overall operations. To become successful, a clothing retail company needs to be flexible, adaptable, and able to keep things in focus. Luckily, this is easy to achieve with the right tech tools.
Apparel management software can help with everything from sourcing, manufacture, and design to sales, inventory tracking, and analyzing customer feedback. The number of solutions in this niche is big and growing, with some of them combining multiple functions while others are more specific. If you want to find out more, check out this beginner's guide to Apparel Management at Apparel Magic.
3. Create Engaging Content
These days, content is everything. People are always looking for articles to read and learn from, so providing valuable content is a great way to market your brand.
Creating useful content also makes your brand more trustworthy. If you continually provide valuable tips and solve customers' problems, they will view you as an expert in your industry. Moreover, search engines will detect the content that you've been publishing on your site and rank you higher in SERPs.  
4. Use Social Media to Engage Your Shoppers
While it may not be a revolutionary method, having a strong social media presence is definitely crucial if you want to bring in more money for your apparel business.
But be careful – social media marketing shouldn't be just about selling. On the contrary, it should be about accessibility and authenticity. Use it to share customer pics, selfies, and tell funny stories. You can even consider featuring your customers instead of models to additionally widen your fan base. In addition, you should use your social media accounts to connect with potential customers by answering their questions and responding to their comments.
5. Invest in Building Customer Loyalty
Satisfied customers are the best brand advocates, so if you invest time and effort to build brand loyalty, they'll be your most important growth drivers.
As mentioned before, social media is a great place to foster authentic connections that can result in a huge base of devoted customers. You can also implement a rewards system or proactively send coupons to use with future purchases to reward repeat customers for their loyalty.
Devoted customers can easily become passionate brand advocates, which is very important considering the fact that about 70% as potential customers view them as a more reliable source of information than conventional advertising.
6. Give Customers a Chance to Provide Feedback
Giving customers a chance to provide feedback is another great way to build trust.
Online sellers need a system that allows customers to provide feedback and see feedback from other buyers. When it comes to complaints, customer feedback can give the merchant a chance to see and respond to them. Positive feedback, on the other hand, offers numerous benefits. First, other customers will be able to see the positive comments and be persuaded that you indeed sell good-quality products. Customer feedback also has benefits for a website's SEO as Google's bots are able to identify and include it into search results.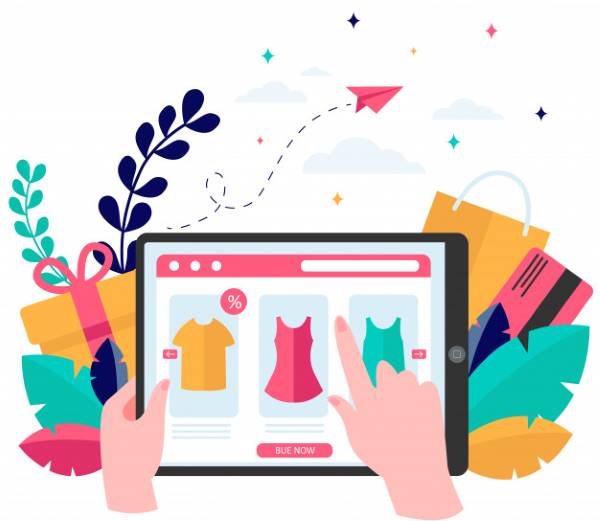 7. Solve Sizing Problems
If your eCommerce store only sells "straight-sized" clothes, you might want to consider expanding your selection. The market for plus-sized women's clothing has been overlooked for very long, although it's estimated at more than $17 billion in the States alone.
Having this in mind, adding additional sizing can really bring in more money for your clothing business. The retailer's job is to understand differences, curate their unique point of view, and deliver a rich and relevant experience for all the customer segments they choose to serve.
Final Thoughts
Running a clothing brand successfully means overcoming a huge variety of regular challenges but there are also many opportunities to grow. There are always things you can do to progress your brand, your structure, and your team. Take one or two ideas from the list to kickstart start your brand's growth and guard your future profitability.