If you are running a business and looking to broaden your exposure, increase your conversion rates, and heighten engagement with your customers, we have two words for you.
Video content.
Video content has been pegged as one of the top ways of reaching out to your customers and getting the results that you actually want. And the upside is, it doesn't actually have to cost you a fortune.
But just how successful is video content, you may ask, and why should you invest a portion of your marketing budget in it? Well, statistics are showing that video marketing has resounding success results. If you don't believe us, take a look at these numbers.
Currently, 87% of marketers are using video content and this is because one third of total online activity is spent watching videos. 85% of the US population watches video content online, but if that is not enough to convert you, over 500 million people are watching videos on Facebook every day. That is half a billion people consuming video content!
So, if you want to stay relevant and get your brand in front of people, start making those videos!  We took a look at what is topping the charts of video content innovation and what you should be focussing your efforts on.
Personalization Tops the List
Personalization is a powerful tool for marketers to build strong relationships with their customers by creating content specifically for them. Personalization cuts out all of the noise from generic advertising and messaging by talking directly to the customer and their interests.
Take brands like Netflix, Spotify, and YouTube, for example. These brands are making use of the data that is constantly flooding in to segment their customers' interests, behaviors, and likes and tailoring content specifically for them. And the results are astounding.
72% of customers say that they are more likely to shop with brands that engage with them personally and with messaging that they can relate to.
Live Videos Are All the Rage
Brands have been testing various video hosting sites and platforms for live content to see what works best. Some have been wildly unsuccessful over the years, but we've finally reached the stage where live videos are working and taking over the world by storm.
Maybe a lot has to do with the COVID-19 pandemic that has spread across the globe. Suddenly, house-bound customers have taken to watching live videos posted by influencers, artists, and brands due to the fact that they could not attend the live event themselves.
These live videos, although planned, are incredibly organic and attract a customer due to their genuineness. Customers are able to pose questions, get real-time feedback and be introduced to new products or services while viewing the video from the comfort of their home.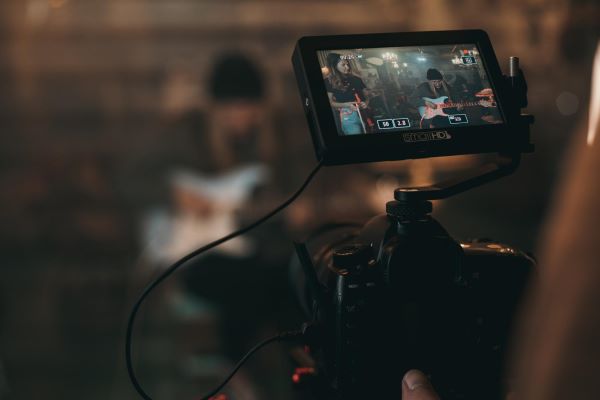 Vlogging is Really Taking Off
As much as live videos are highly successful, vlogging is following close in its footsteps. These are prepared and planned videos that take the customer through a visual tour of a chosen element of the brand.
Companies can choose to showcase a new product by giving a live demonstration for viewers to understand how to use the product. They could also create a sense of personalization to connect the brand to the customer by doing a "behind-the-scenes" of the company and even introduce the customer to the team.
Instructional and how-to-videos are also extremely successful. By empowering your customer with useful information, and giving skill sets and tools that they can use, you are establishing a deep sense of trust. Like normal blogging, brands can relate useful content to products, especially new products, or those going on sale.
Interactive Videos Are More Achievable Than You Think
If you are imagining interactive videos to be in the very far future, you are very far off. Already, technology is being launched in which customers can engage and interact with the actual video that they are watching. This is just the tip of the iceberg as it is expected to grow significantly in the next few years.
It is all about grabbing your customers' attention and keeping it, and by getting them to engage, you will be able to hold it for so much longer.
You can choose to incorporate a 360-degree video, where the customer can scroll various ways to get a full view of the video. The second trend to come out is the branching video. This allows a customer to choose their path or make a choice in the video which takes them to a personalized option that appeals directly to them. Lastly, you can create hotspots in the video. This allows the customer to tap on the spot and learn more about that element.
It would work really well for products that you are advertising in the video. A simple tap will take the customer to a product description and to more information about it like price, reviews and more images of the product.
Videos Will Be More Story-Telling, and Shoppable
There has been a great move, over the last few years to brands focussing on a more personable, story-telling format. Content on sites has been revamped to draw a customer into what a brand actually wants to convey.
The same goes for videos. Video content will be based on creating a story to catch and keep the attention of the customer. Customers want to be informed as well as entertained, and by combining this into a visually stimulating story, brands will have a winning combination.
They will also be able to transition those videos into shoppable platforms. Those hotspots we mentioned earlier? Imagine if the customer really liked that accent chair that featured in the story and they were able to buy it straight from the video? Well, this is now possible. By being able to tap on the hotspot, the customer can be taken straight through to the product page and be able to check out and pay. It doesn't get much easier than that.
Last Thoughts
With marketing trends evolving as quickly as they are, it could be tough to keep up with the pace. The main point that you need to keep in mind is this. Customers are starting to watch and engage with longer videos that are packed with useful and entertaining content. Make sure you include as much value into the video as possible and make it visually stimulating. The near future is set to be incredibly video-dominant, so make sure you get on the trend as soon as you can to not lag behind.