With running an e-commerce store, undoubtedly, you shall be aiming to increase your conversion rate to drive more sales. Hence, you'd be adopting different strategies that contribute to the growth of your online retail store.
One such important strategy is the implementation of various offers and deals, which has now indeed become more of a requirement than an option. The offers can be different types of discount coupons, promo codes, rewards, branded gifts, giveaways, and so forth.
Key considerations when implementing online store offers
Although giving offers sounds easy, it might become challenging at times. As an online retailer, you might probably have faced difficulties in deciding how to implement offers in your store. It can happen due to so many confusing factors, including the concerns about whether or not it's worth applying offers.
So before moving further, let's take a quick look at the benefits and drawbacks of providing promotional offers on e-commerce stores.
Benefits of setting up online store offers
– Improve conversion rate.
– Build customer trust and loyalty.
– Attract new customers.
– Boost repeat purchases.
– Move excess inventory quickly.
– Hit sales targets faster.
Drawbacks of setting up online store offers
– Heavy discounts may lead to a decline in gross profit margin.
– It can result in brand damage if not handled properly.
– Excessive discounts and offers may affect the perceived brand value.
– Customers may come to your store but click away when there are no offers.
Indeed, there's no denying the fact that offering coupons, discounts, cashback, etc. are a great tactic to drive customer loyalty. But remember, when these discounts and offers are not handled in the right manner, it can inhibit your business or brand from running profitably.
If you own a WooCommerce website, you might be already aware that WooCommerce has a built-in feature for creating different kinds of coupons in your store. However, sometimes you may find it inadequate to meet your specific needs. Have you ever felt that?
If so, you could have a go with plugins. Here're some of the "coupon plugins" that perform great right out of the box:
Smart Coupons for WooCommerce — Provides advanced options for enhanced coupons management on WooCommerce.
Coupon Creator — Helps create your own coupons.
WooCommerce Gift Coupon — Enables you to sell gift coupons on your store.
WooCommerce Extended Coupon Features — Allows you to configure automatic discount rules.
So now, let's move on to the main topic. Here's the list of 17 smart and simple ways to use offers, coupons, discounts, and deals in order to increase your e-commerce sales.
Implement online store offers effectively to quickly increase sales
Customers would perhaps never lose interests in free gifts, discounts, and rewards — They might go crazy over the offers like:
"Hurry!!! Buy 1 @ 999 and Get 1 @ 999 Free"
"Shop for $39, Get 39 Piece Dinnerware Set Free"
"Book Your Room Now & Get 2 Movie Tickets Free!!"
The above types of offers create a sense of excitement and urgency. This will attract a lot of potential buyers, thus fueling your e-commerce store's sales growth trajectory.
Now let's see different types of offers and how they can be leveraged effectively to increase your sales.
1. Pre-launch offers
If you are planning to implement offers and deals prior to the launch of your new product or brand, it is what you call a pre-launch offer.
Quick ideas for implementing "pre-launch" offers:
Do thorough research about your niche products — Helps decide which types of products would bring in more profit, when provided pre-launch offers.
Encourage people to pre-order products by giving coupons or discounts in advance — Enables you to forecast demand for your new product, thus helping you decide your manufacturing limits so that you could maintain an optimum inventory level.
Distribute coupons, promo codes, or discounts through emails — Helps construct an early email marketing database with those who've shown interests to make purchases at a pre-launch stage.
Reach out to influential bloggers to promote your product and announce your pre-launch offers. Also, keep your audience informed about the offers via press releases and social media platforms — Lets you create an online buzz for your product launch.
Make informative explainer videos regarding your new product and offers — Makes customers more curious about your launch.
Example: BRANDEIS offers a 50% discount on pre-order booking.
2. First-time buyer offers
The first-time buyer offers aims at providing coupons, discounts, or cashback to the users who are visiting your store for the first time. These offers are really ideal to convert these visitors into paying customers. They'd be very loyal to you and might definitely visit your store expecting more offers.
Quick ideas for implementing "the first-time buyer" offers:
Offer cashback to the first-time buyers — Help attract new customers to your store.
Offer free gifts and special discounts to your consumers if their cart value is more than a specific amount — Encourages people to purchase more to avail the offers.
In addition to the first-time discount, send "Thank you" emails to your customers with additional promo codes that can be redeemed during their next purchases — Prompts existing customers to revisit your store.
Example: Tomtop provides an 8% discount for your first purchase.

3. Minimum purchase offer
You could provide minimum purchase offers by setting up a minimum purchase requirement. This would inspire customers to spend more to grab these offers. This is also an easy way to promote your niche products and make revenue from them.
Quick ideas for implementing "minimum purchase" offers:
Provide discounts if your customers spend more than the minimum purchase amount. Ensure you analyze the average order value of your e-commerce store before deciding the discount percentage that you're going to offer — Significantly increases ROI.
Offer free gifts for customers spending more than the minimum purchase amount — Quickly moves the excess or slow-selling products.
Minimum purchase discounts for specific items — Captures customer attention over specific items. These items can be either new or overstocked goods.
Example: ZAFUL gives a 15% discount on purchasing 2 items.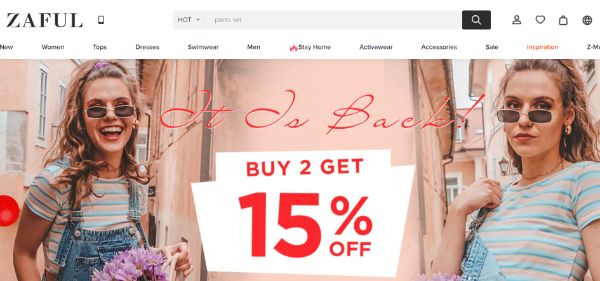 4. Product combo offers
Product combo offers to help you reap various benefits. By selling a bundle of related products together at a reasonable discount will definitely enhance your e-commerce sales to a great extent.
Quick ideas for implementing "product combo" offers:
Combine low demand products with the bestseller items at a fairly good discounted price — Encourages customers to purchase the combo.
Implement product combo offers such as, "Buy X products and Get Y products free" or "Buy X quantity of products & Get Y number of freebies" — Boosts sales as well as clears dead stock easily.
Example: Horrormerch offers 2 shirts free on purchase of 3 shirts.
5. Free shipping offers
Free shipping offers significantly reduces the chances of cart abandonment because high shipping costs are one of the major reasons why customers leave their carts after initiating their checkouts. Therefore, providing free shipping offers to your customers would significantly increase the chances of customers to complete purchases.
Quick ideas for implementing "free shipping" offers:
Offer free shipping to first-time users — Attracts new users to your e-commerce store.
Provide free shipping offers on orders above a certain cart value — Urges customers to add more items to their carts.
Free shipping on all orders for a limited time period — Makes customers rush to your store to take advantage of the offer before it expires.
Free shipping for selected/specific items — Encourage customers who've already planned to buy any of these specific items from your store itself.
Example: Free shipping offer by Ray-Ban.
6. Free returns and exchanges
Customers would return your products at times. This can happen due to several reasons including shipping of wrong sized/colored, or an entirely different product. So when it comes to returning shipped products, charging a fee for return shipping can be a potential reason why customers get annoyed, leave your store, and may never come back to purchase. Hence, ensure you offer free return and exchange services on your online store.
Quick ideas for implementing "free returns and exchanges":
Offer free returns and exchanges — Increases customer satisfaction.
Give full refunds to 'unhappy' customers, who are not satisfied with a particular item and have returned it within the time period as specified in the return policy — Builds customer trust and loyalty. Also, they may not leave negative reviews that discourage future customers.
Create a Return and Refund Policy document to keep your customers well-informed of all your return, exchange, and refund strategies — Improves your brand credibility.
7. Abandoned cart offers
Cart abandonment is a serious problem that almost every online merchant faces. However, you could take actionable steps to recapture customers who have abandoned their carts.
"Around 70% of people leave the store before completing purchases."
Source: Bayma
Implementing abandoned cart offers is a great idea for reducing cart abandonment. You could retarget cart abandoners by offering discount coupons or special deals through personalized emails or website pop-ups.
Quick ideas for implementing "abandoned cart" offers:
Send abandoned cart emails or personalized messages offering special discount coupons or gifts — Improves abandoned cart recovery rate.
Auto-apply coupons and notify customers that the discounts have already been applied, via email or popup — Attractive offers prompt users to proceed to checkout.
8. Exit-intent offers
Haven't you gone through circumstances where you lose customers before they reach the checkout stage? The exit-intent offers including discounts and coupons could impress your customers who are about to leave your store. These offers will motivate them to stay longer in your store.
Quick ideas for implementing "exit-intent" offers:
Show message pop-ups giving appealing offers to the people who are intending to leave your store — Increases the possibilities to convert abandoning visitors into customers.
Create personalized exit-intent pop-ups for the shoppers — Helps make your customers feel valued.
9. Newsletter subscription offers
You could give promo codes or other deals to your customers when they subscribe/sign-up for your e-commerce store's newsletters. Newsletter subscription offers would certainly help build and maintain strong customer relationships.
Quick ideas for implementing "newsletter subscription" offer:
Ask people to subscribe to your newsletters and in return to that, offer them discount coupons or other incentives — Helps build a high-quality email marketing list within a short period of time.
Give free access to your articles or any other resources (eBooks, white papers, online courses, etc.) that might be relevant to your audience — Promotes your online resources.
Example: Macy's offers a 25% discount on signing up for their newsletter.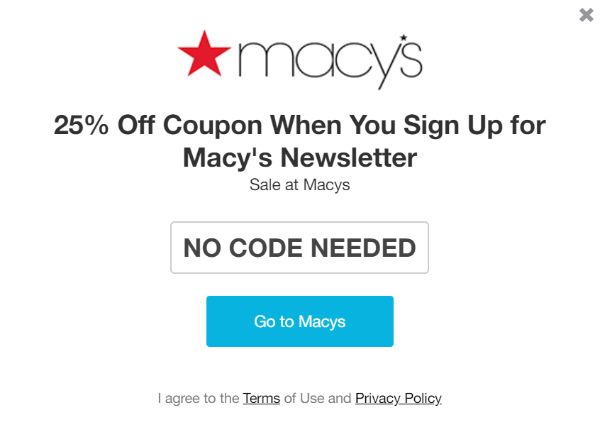 10. Customer loyalty offers
You would have a lot of advantages by offering discount coupons and rewards to your loyal customers. These customer loyalty offers would surely encourage your existing customers to spread the word about your brand to their friends and family as well.
Quick ideas for implementing "customer loyalty" offers:
Send special gift coupons and offers to your loyal customers via personalized emails — Increases customer retention and builds lifetime loyalty.
Offer rewards to customers for writing reviews — Encourages more customers to leave feedback.
Build customer referral programs giving rewards for each referral — Motivates your existing customers to do more referrals to bring in new potential customers to your store.
Example: Best Buy gives 25 reward points to customers for posting a product review.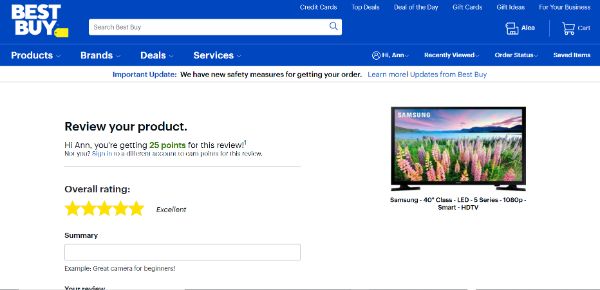 11. Referral promo offers
By providing referral promo offers, your customers could be encouraged to promote your brand to their peers (friends, family, etc.). This way, you could sharply enhance the popularity of your products along with boosting your sales.
Quick ideas for implementing "referral promo" offers:
Offer consistent referral rewards like discount coupons, cashback, etc. to your repeat customers — Retains existing customers and builds loyalty among them.
Give attractive offers to the referees as well — Helps gain new loyal customers.
Example: Club Monaco provides customers a 20% discount (on their next purchase) per referral.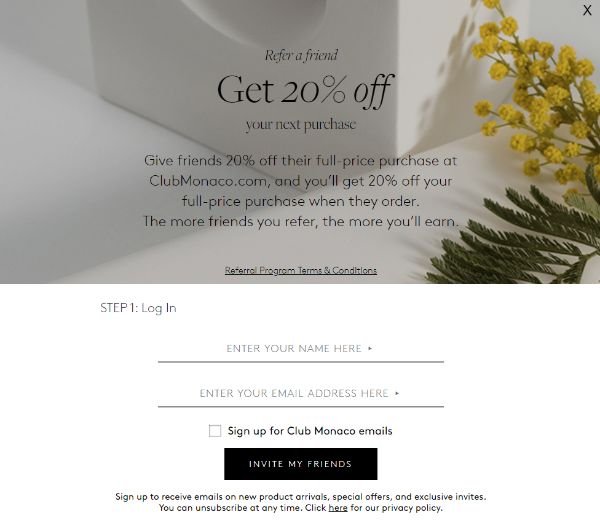 12. Flash sale offers
The flash sale offers includes exciting discounts and deals for a limited time period. These kinds of offers are usually provided in limited quantities with huge discount rates when compared to the other types of common offers.
Quick ideas for implementing "flash sale" offers:
Notify customers about your flash sale offers via personalized emails/flash notifications or website pop-ups — Ensures that your potential buyers don't go unnoticed about the deals.
Create a "sense of urgency and scarcity" in customers like, "Hurry Up!!! Limited Time Offer." —
Prompts your consumers to visit your store quickly, fearing of missing out on the deals for their favorite products.
Example: The Lounge Co gives a 25% discount on everything for a limited time.
13. Seasonal offers
Making your store prepared for the holiday seasons with a bunch of attractive seasonal offers is an amazing way to grow your e-commerce sales.
Quick ideas for implementing "seasonal" offers:
Offer great deals and discounts for a wide variety of products — Keeps your existing customers happy and prompts them to buy more; also attracts new customers, thereby expanding the customer base.
Plan your seasonal marketing strategies beforehand and start launching the offers a couple of weeks before the seasons hit — Helps gain more exposure for your business/brand and improves the sales margin as well.
Example: 50% seasonal offer by the ALDO US.
14. Clearance sale offers
You could provide clearance sale offers when you want to liquidate your slow-moving or excess inventory. Therefore, implementing clearance sales is the best way to sufficiently improve inventory management for your online store.
Quick ideas for implementing "clearance sale" offers:
Promote BOGO (By One, Get One Free) sales — Clears out old inventory faster.
Offer heavy discounts and other clearance sale deals for expensive items — Strongly tempts people to buy the products.
Example: 60%-80% clearance discount offered by the Neiman Marcus Last Call.
15. Weekly/monthly discounts and deals
By offering weekly/monthly discounts and deals, you could easily attract customers to your store and thus boost customer engagement. This is a smart way to assure that your e-commerce store is always active and the store's inventory does not turn out to be aged.
Quick ideas for implementing "weekly/monthly" discounts and deals:
Offer discounts and deals to everyone on a weekly or monthly basis — Enhances foot traffic to your store.
Provide weekly/monthly discount coupons and rewards for repeat purchases — Increasingly converts new customers into repeat customers.
Example: The weekly deal of LAX Ammo Orange County.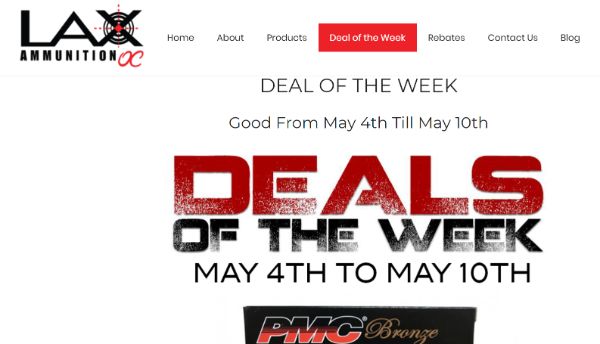 16. Exclusive social media offers
Social media is a great way to engage with potential customers directly. The exclusive social media offers help to make your existing clients happier and also attracts new customers to your store.
Quick ideas for implementing "exclusive social media" offers:
Offer coupons, discounts, and deals exclusive to specific social media platforms where you get the most active engagement — Increases your store's popularity and also attracts potential buyers easily.
Give offers and enable users to sign up to your e-commerce store via their social media account — Drives more traffic to your store.
Example: A discount coupon code posted by Body Jewelry Factory, on their Facebook page.
17. App-only offers
Would you ever prefer running e-commerce without a mobile app, in this modern mobile era? Of course, you wouldn't!
The convenience of mobile shopping has been the major reason for the abrupt increase in the number of mobile shoppers. So it is necessarily important to build a mobile application for your e-commerce store if you don't have one in place.
By introducing app-only offers, you could easily attract people and get more app downloads. Hence, you'd be able to build a huge, loyal customer base.
Quick ideas for implementing "app-only" offers:
Offer introductory discounts and deals, exclusively for mobile apps — Significantly improves in-app purchases.
Implement app referral programs — Spreads the word about your e-commerce app, thus enhancing the popularity of your store and increasing the app downloads.
Bottom line
Providing the right type of offer at the right time will definitely help you build long-term customer loyalty and improve your conversion rate as well. Therefore, always ensure you build an appropriate strategic plan before implementing your online store offers. Also, it is equally important to make sure your offers and discounting strategy benefits your business for the long haul — by being able to measure substantial growth in your gross profit margins.