In life, as well as in business, first impressions are crucial. That's why developing your business' brand identity is vital to ensuring its success. While branding is something you and your team can do by yourselves, you may find that it's much more advantageous to hire a designer or an agency to work with you on this.
Check out how you can do this easily at https://www.sortlist.com/.
Why Getting a Branding Agency is Better for Your Business
You already know how challenging it is to compete with other brands, so the best thing to do would be to work on making your brand stronger and more appealing to your audience. There are two ways that you can do this: form your own creative team or find one of the best branding firms.
If you decide to build your brand identity in-house, expect several issues to arise. One of them is that your methods will mostly be a trial-and-error strategy which will cost your business a lot of time and money. However, if you partner with one of the top design agencies, you'll have peace of mind knowing that these professionals are experts in their field.
This brings us to the first benefit of working with a brand design agency.
1. You'll work with a team of branding experts
Maybe you're wondering now, "what is a design agency and why do I need to hire one ?" These companies have creative teams that include graphic designers, artists, writers, and other branding experts. They work together in coming up with awesome ideas to use for building your business' brand identity.
You can choose to work with a big company or a small design agency depending on your needs and budget. What's important is that the team should already have experience working with businesses when it comes to branding. So, do ask for their portfolio once you start looking for the best design agency to work with.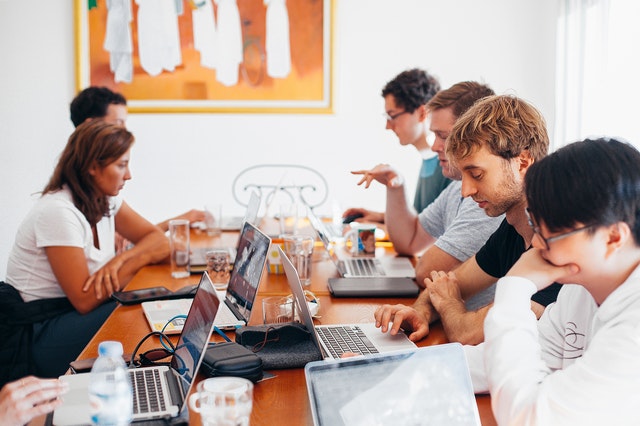 2. You can rely on them to make the ad purchases
The creative team you will hire also knows how to purchase ads and make the most of them. As you may already know, this process can get quite complicated if you're not sure what you're doing.
Branding agencies can choose the best platforms for the ads so that your business can get the widest reach possible. It means that you get to save a lot of money because you don't have to guess what ad strategy will work for your business.
The best design agencies also have built relations and partnerships with many media outlets, and that would be advantageous for you. The agency you hire can even work with them so that your business can reach more people.
For customers to start trusting your brand, it's important that the business gets as much exposure as possible. That's why having media partners through your design agency will certainly get more clients to start patronizing your business.
3. Design Agencies are updated on the latest trends
Another benefit you can get from working with a creative agency is that they know the latest techniques and strategies that can help to boost your brand. They will be able to lead you toward the best path in terms of marketing and branding.
If you try to build your brand on your own, the research alone is going to take a bulk of your time. When you hire a branding company, you get to work with a team of experts who already know what's going to work best for your business.
That's a worthwhile investment because you can focus on your responsibilities as a business owner while you let the creative team take care of developing and building your brand.
How to Find the Top Design Agency?
Now that you know the key benefits you can get in hiring a team of branding experts, you'd want to know how you can find the best creative design agency to work with you.
Maybe you're looking for a logo design agency or a graphic design company. The most common way to do this would be to go to design agency websites and look at their services and costs. But with so many options to choose from, don't you think this is simply not feasible?
There's a better way to hire a brand design agency that won't cost you money and will cut the time you need to spend looking for the right company.
Sortlist can help you get in touch with agencies that are most relevant to your needs. You don't have to go through each design company's website one by one, so you can compare what they have to offer.
Sortlist will do that for you so you'll have the top 5 of the best brand design agency to choose from.
Visit Sortlist to get started! Meet the most suitable teams that can work with you in building your business' brand.