Are you passionate about portrait photography and would like to create masterpieces like Annie Leibowitz? Do you think that something is still missing from your shots to make them truly stunning? Mastering portrait photography might be not as difficult as you think it is, just follow our simple advice.
Learn Your Subject
The most important thing in a portrait is the subject. Your goal as a photographer is to capture its essence, to grasp its nature, and show the world its true self. Therefore, you need to spend some time with your model and get to know him or her well enough. Perhaps you can meet up before the photo shooting to discuss your expectations, share your points of view, and simply talk to each other to establish some rapport. It is essential to make your model feel comfortable and relaxed by creating an atmosphere of trust and respect. Make your model smile by paying a compliment, make him or her laugh by saying a joke, ask your model about his or her dreams and plans for the future to get some other true emotions.
Pick the Best Location and Time of the Day
Now when you know your model a bit better, you can decide on the location. Is he or she an outdoorsy person who enjoys nature, like forests or parks? Or maybe your model is a beach person who cannot live without the sun and surfing? Or perhaps, your subject would rather stay home and read a book? Try to figure out how to capture your model's personality the best and ask him or her about the preferences.
If you have decided to shoot outside, keep in mind the golden hour. It is this magnificent time right after the sunrise and right before the sunset when the light is diffused and the sky looks gorgeous. If you can't shoot during these times, make sure to avoid the direct sun – try shooting under a tree or a tall building, so your model doesn't have to squint and you don't create weird shadows on the model.
Get to Know Your Equipment
Even though there is no such thing as a perfect portrait camera, it is highly important to know your equipment and to use it to the fullest. Learn your camera settings, research them, try them out, and see how it works the best. Practically any camera will help you take a marvelous photo, you only need to know how to exploit its advantages. To direct the focus of a viewer to your model and make the background a bit blurry, use fast aperture –  f/1.8 or f/2.
Don't forget about other important gear like reflectors, flashguns, lenses, batteries, etc. Consider purchasing a tripod, especially if you shoot outside. And check out tethering – a way to connect your camera to the PC, so the images will immediately be displayed on the screen allowing you and your model to see the end result and make necessary adjustments.
Pay Attention to the Accessories and Surroundings
Prior to photo shooting discuss your model's wardrobe, accessories, makeup, nail polish, etc. These small details seem irrelevant but they are the ones that create the atmosphere in the end and make the image complete. If your goal is to make an innocent and romantic portrait of a young girl, go for soft colors like light pink or blue and avoid big accessories. In case you are taking pictures of a mature woman, dress her in more formal wear with expensive-looking jewelry and brighter tones.
Additionally, make sure the environment fits the setting. For example, avoid ugly cables or dirty benches and walls when shooting outside.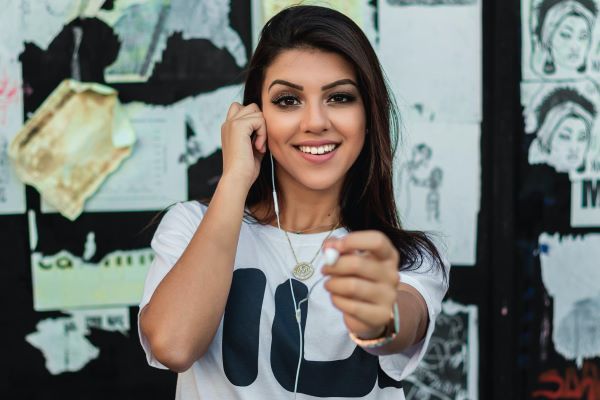 Pick the Right Editing Tool
Finally, think about the right software for further editing. Take a look at PhotoDiva – a great yet easy-to-use portrait editor completely free of charge. Even when you become a super professional in portrait photography, you will require some post-processing, because it is the only way to create a true masterpiece.
PhotoDiva will help you do retouching using the Healing Brush and Clone Stamp as well as remove red eyes. There are also some one-click solutions to speed the process up. Additionally, the program lets you change the background in a couple of clicks or remove any unwanted object. In case the makeup was not perfect or it got smeared during the shooting, fix it right in the program: add some color to the lips, make the eye makeup stand out, or add some highlighter to emphasize the cheekbones. The software has over 100 predesigned Instagram-ready filters that can be applied in one motion.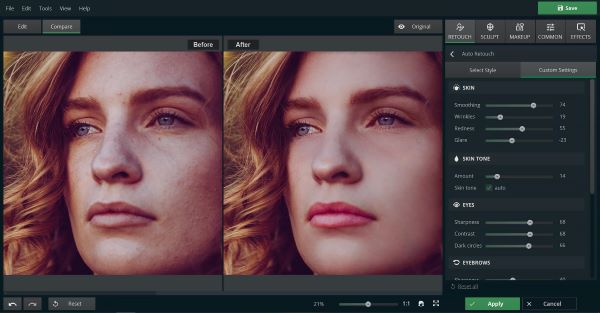 Hopefully, our tips were helpful and you are on the way to your dream job. This path might be long and rocky but with some professional advice, a dash of inspiration, decent equipment, and a good photo editing tool, you will achieve your goals. Stay tuned and motivated!