Modern technologies of business cards manufacturing allow to make them not only from traditional materials but also various original cut-aways. Nowadays, business cards made of metal, which differ in their original design, are in fashion. Imagining such business cards, you probably will recognize something bulky and uncomfortable, but in fact, the business card made of metal is not thicker than a regular card made of cardboard. Such cut-aways are strong enough, can be any shape and size. The image is put by means of a laser engraving or cutting. The image on cut-aways from metal is put also by means of a laser engraving or etching. All these cards differ durability, quality and have a unique design.
And in this article, we want to draw your attention to the unique design which Just Metal Cards can easily manufacture.
1. Stainless Steel Business Card – Ruler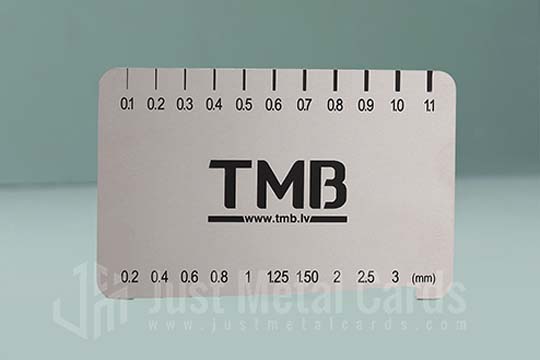 Taking into account the fact that the metal is quite a durable material, these cards often have practical application. For example, as this business card ruler. First, having received such a business card, a person will obviously pay attention to it. Secondly, such a business card can be associated with a profession, if a person, for example, an architect. Thirdly, this business card can serve a long time and can be presented even to a child who is studying at school
2. Custom Shape Metal Business Card – Key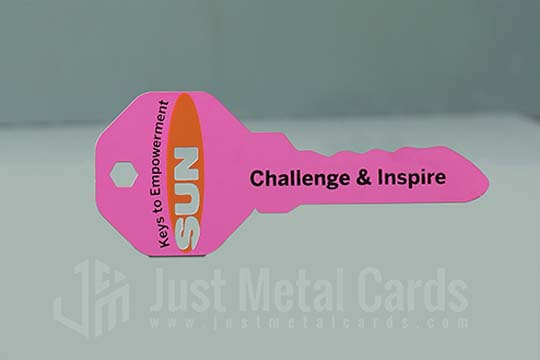 If your business has a narrow segment, try to reflect it on your business card. More precisely, its shape. Such a business card in the form of a key will not leave anyone indifferent and is ideal for a workshop for the manufacture and repair of keys.
3. Black Metal Business Card – Cutlery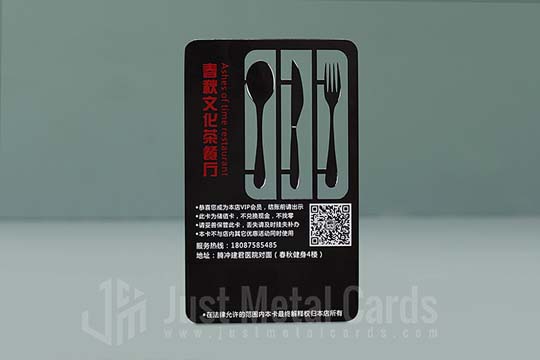 A business card that everyone needs to have. At first, you might think it's just a business card, but it turns into a… a set of kitchen equipment. Yes, you have understood everything correctly. The fork, the spoon and the knife are taken out of a cut-away card, and they quite can be used on appointment. Fantastic!
4. Brushed Business Card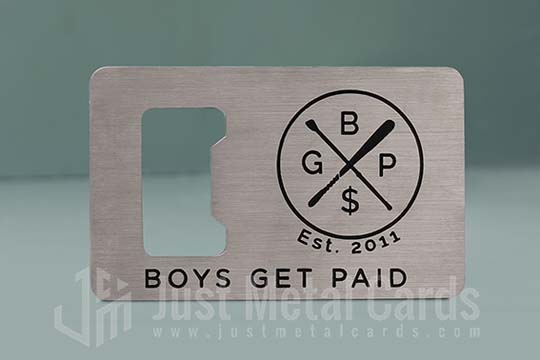 Do you have your own bar for real men? Or do you brew an authentic drink? In any case, your guests will certainly appreciate this business card and tell their friends about this unusual opener. If you have already made a business card made of metal, why don't you come up with a practical application? Such a can opener will be appreciated by beer lovers and will use it, recalling your brand!
5. Gold Metallic Card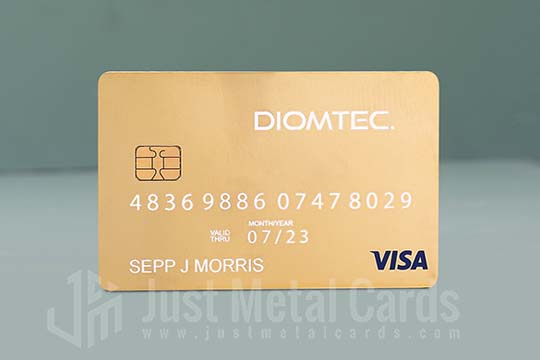 A credit card has long been our daily attribute. And at the sight of a credit card, we immediately have an association with banking services. If you are a financial consultant, why not make a business card in the form of a bank card? I am sure that such a business card will not leave anyone indifferent.