The definitive guide towards finding the best influencers online
Influencer marketing has become one of the leading digital marketing strategies used by digital marketers today.
It's affordable, effective, and gives your brand a solid image because it shows you're prepared to interact with and listen to the community surrounding those influencers. 
If you're starting a business in 2019 and above, or want to expand your current business, you simply have to implement influencer marketing to remain competitive! 
How do you find influencers easily?
In this guide you will learn how to find influencers with easy steps that anyone can follow.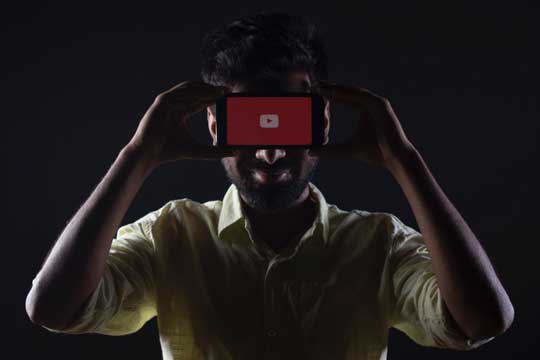 Welcome to the world of InflueNex. 
What is InflueNex?
InflueNex is a new and innovative platform that specializes in helping you achieve all of your influencer marketing goals easily and effectively. 
Through its effective search results it can enable companies to expand their horizons and hit a target audience with their product or service that they couldn't with any other method of marketing. 
The purpose of InflueNex is to help companies share their product or service to a specific audience through the utilization of influencers. 
What are the key features of InflueNex?
InflueNex features several benefits.
For one, it allows you to easily search through YouTube's entire catalog of influencers through simply using keywords. 
Just by typing your desired audience, industry or specified keyword, InflueNex has the power to show you a list of all the relevant influencers you can potentially hire to promote your product or service.
Another standout feature of InflueNex is the InflueNex score.
This is the rating system InflueNex uses to determine who the best influencers are depending on the search criteria. 
They analyze multiple charts and statistics before stacking them up, so you know you're always getting the best ones on top.
By far the best and most powerful feature InflueNex offers are the analytics. 
Through InflueNex you can clearly see all the statistics about a specific channel, including things like:
Subscribers, total views, total posts, engagement percent, subscribers for the latest 30 days, views for the latest 30 days, average video views and an estimated price range. 
You can also view their overall channel performance throughout the month and the growth tendency for up to two years. 
How do you use InflueNex to find influencers? 
You can find influencers through the use of keywords and the provided filters the platform offers.
To showcase and teach you how to use InflueNex, we will give you a scenario a company might have, and the thought process that goes into trying to find the right influencers.
For this example, imagine you are a company that produces video games for phones.
What would be the best filters to apply in order to sell your phones to the right audience?
In the keywords tab, type the keywords you think would be most relevant to your product or service.

The keyword you should search for in this case is phone.

Next, you need to set the parameters of your search, where you define your target in the category, the view count, the amount of subscribers and your overall budget.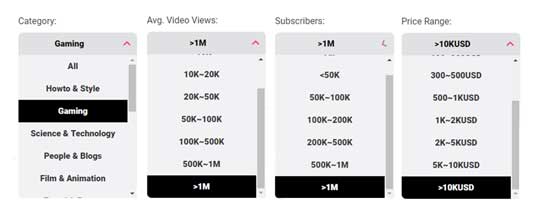 In the end, your search criteria should look like this: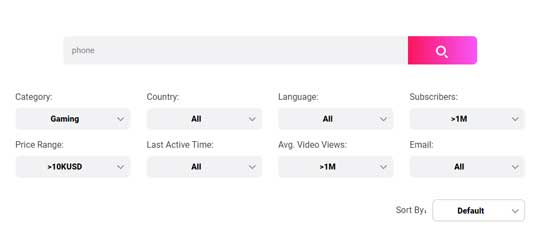 Here are the results: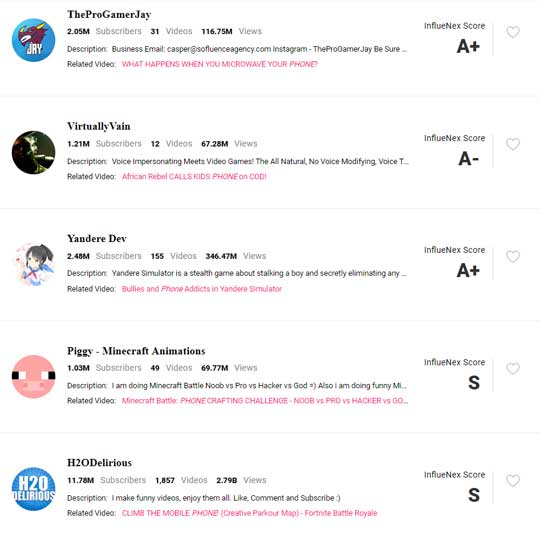 This is how you use InflueNex.
Because of the easy to use system InflueNex implements to search for influencers, it is your best choice for finding influencers. 
It is easy and simple to use, so anyone can use it and achieve all of their influencer marketing needs.
Why InflueNex is Your Best Choice for Finding Influencers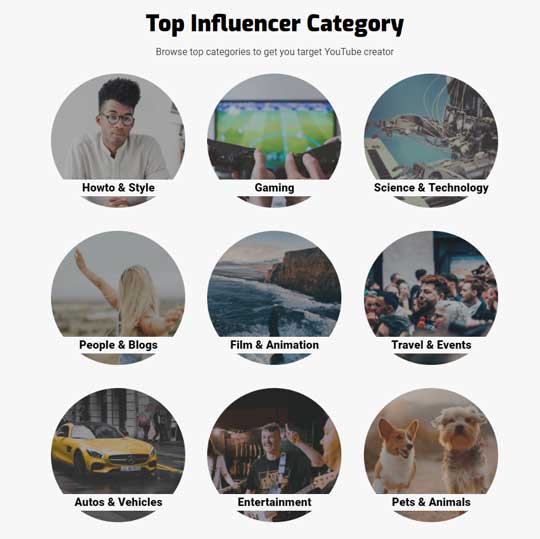 One of the biggest benefits on InflueNex is its category system.
If you are unsure about what keywords to use, or what to search for, the top influencer category is here to help you in any way possible.
All you have to do is click on one of the categories for it to show you a list of the top influencers currently on the platform, using predetermined parameters you can change at any time.
So if you were to use the same filters, without adding any keywords, but by just clicking a category, you'd end up with a list like this: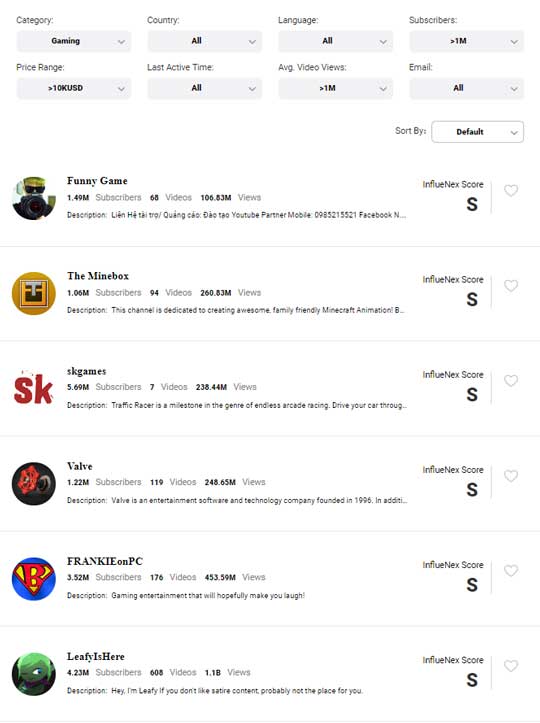 Therefore, in this scenario, you need to find the best influencer in the list, but besides the InflueNex Score, how else can you decide which one is the right one for you?
The YouTube Stats & Analytics Dashboard
This is another key feature of InflueNex.
It allows you to view the subscriber count, total view count, total post count, the engagement percent, the subscribers for the latest 30 days, the views for the latest 30 days, the average video views and finally, an estimated price range, so you can clearly analyze and decide what channel is the right one for you.
As an example, let's use one of YouTube's biggest channels: jacksepticeye.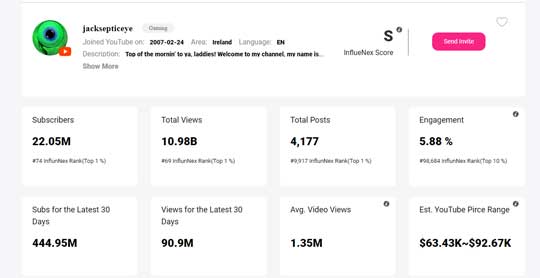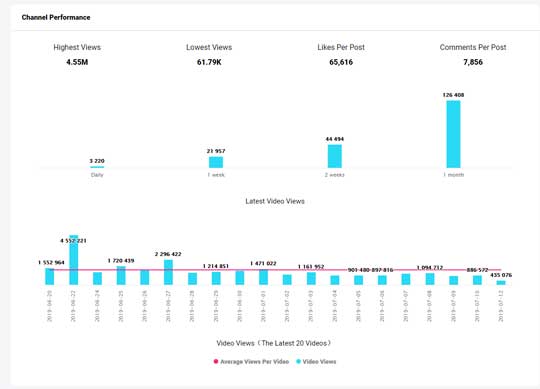 This is what the stats and analytics tab looks like, here you can analyze the statistics for every single channel that you might have an interest in, making sure you make the right choice when picking what influencer to hire for your marketing needs.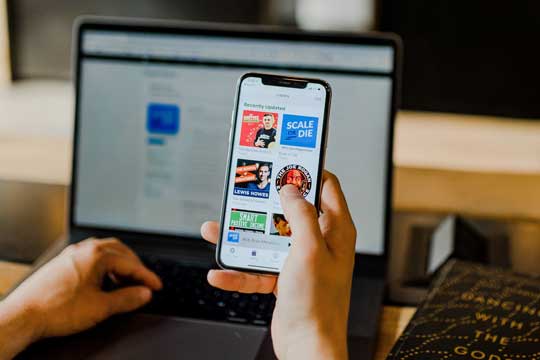 In conclusion, InflueNex is the leading tool for finding the right influencers in an easy and convenient way. 
You can try InflueNex on the following link:
https://www.influenex.com/
Always take calculated guesses, analyze the data that is provided with you, so you can ensure you make the right decision when choosing an influencer.
InflueNex allows you to analyze every influencer out there and make these calculated guesses. 
Welcome to the world of InflueNex.