Well, summer's nearly done with – everyone's favorite season is preparing to leave town and hide out for another nine months or so. Just like every year around this time, it's important to ward off the blues by staying proactive and creative. Getting your home ready for those chilly fall evenings is the perfect activity to shift your focus away from the passing of the summer. Let's take a look at how photo prints can be used to style your home for that perfect fall vibe.
Go Out, Take Photos, Get Them Printed!
For all its drawbacks, there's one way that fall definitely has an advantage over the other seasons. If you're thinking of brushing up your photography skills – or trying the hobby out for the first time – these months are the perfect time of year. All thanks to that magnificent fall foliage.
With its intense mix of reds, oranges and yellows, fall provides abundant spectacle for your lens to capture. Enough to fill up your hard drive! And remember, it's one thing to have some stunning pictures filed away in virtual storage, but something else entirely to have them out on display in your living room.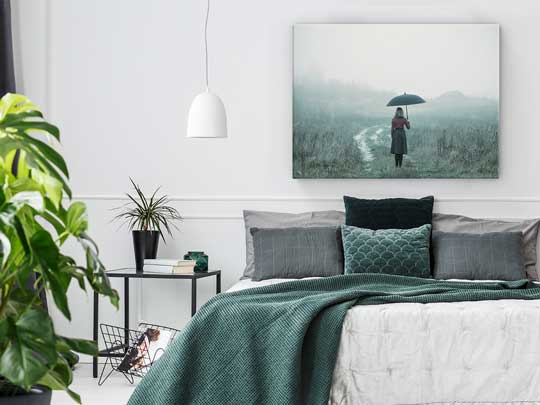 "With that in mind, let us tell you a bit about what we do. We could be your discovery of the week!"
As a custom printing service with years of experience, here at CanvasDiscount.com we think we should be your first choice if you want to get your fall pictures printed in a physical format.
With unrivalled pricing, an eclectic mix of products and excellent ratings on all major review aggregator sites, we set the standard for the industry. We can digitally reproduce your photos and deliver your brand-new prints in a matter of days. So all that's left for you to do is pick the photo(s) and the format. Which prompts the question – 
What's the Best Format for Your Place?
Sometimes, freedom of choice only makes matters more confusing. Picking the right print format for your photo is a big decision, as there are quite a few differences between them. 
"Photo canvas, for example, might win out over the acrylic photo print in some respects, but you can't beat the mesmerizing sheen produced by the glossy surface of acrylic glass."
Meanwhile, metal photo prints have few rivals in the value-for-money stakes. 
And metal prints might be of special interest if you're preparing your home for a fall makeover. Whatever the image you've chosen to print, metal prints (also known as aluminum prints) will provide a sturdy but elegant backing for many years to come. 
Whether you've picked a landscape shot of glowing red woodland or a moody close-up of fall branches, a metal print is the perfect all-rounder.
For the Rest of Your Interior Design, Go Rustic
A canvas photo print alone, no matter how appealing, can't achieve the desired atmosphere unless it harmonizes with the rest of the interior design. So think about your design theme and then carry it through.
"Fashions change, but the popularity of rustic interior decor never seems to wane."
Derived from traditional country-house interior design, this much-loved style blends the best of Scandi minimalism and authentic countryside aesthetics. 
Tapping the appeal of rugged, natural and unrefined elements, rustic style is the key to a truly cozy fall setting. What's more, it's perfect for the DIY enthusiasts out there.
Embark on a rustic makeover and you'll be refurbishing and re-purposing left, right and center – and having tons of fun in the process. For an aesthetic keynote, think chipped paint on the cupboards and rough-hewn wood as shelving.
"Making everything as homespun and timeworn as possible is key when you go rustic."
Providing a sense of connection with the past, rustic interior decor will only add to the nostalgia that's characteristic of those long fall evenings.
It's nearly the end of the summer, so be sure to start your prep work in good time. Keeping yourself busy and making your surroundings as beautiful as possible is the best way to greet the fall with a positive outlook.