Real estate marketing has come a long way from a simple sign posted in the yard, and today's real estate professionals need to make web design a priority if they want to be successful. If your agency hasn't revamped its site recently, take a moment to evaluate these 4 elements and make some updates. They'll make your website more impactful, driving traffic and increasing sales for your clients.
Check Your Mobile Functions
People may spend time perusing real estate listings at home if they're on the market, but the most important moments occur when someone is driving past a property, sees that it's for sale, and tries to look it up in transit. They've already had a moment of contact and interest, and if they can't easily find it on your site's mobile page, you've lost a big opportunity. With that in mind, take some time testing your site's mobile functionality on different platforms. Google started prioritizing mobile design back in 2017, and it's time your agency catches up with the times.
Emphasize The Visual
Real estate is a heavily visual industry, if only because potential buyers want to see the homes for sale and their surrounding neighborhoods. From the perspective of web design, though, there are several key visual elements you want to evaluate and organize. For example, if you haven't updated your site in a while, you'll want to confirm that your visual branding is consistent across your website, as well as on all print media. That includes font, color schemes, and brand icons, among other recognizable markers.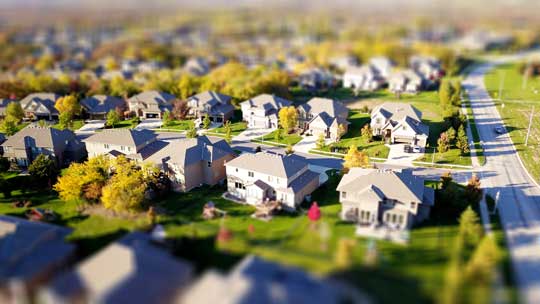 In addition to your visual branding, look for creative ways to use images on your site beyond posting photos of the homes that are for sale. For example, The Kay-Grant Group improves client engagement by presenting home price graphs and area maps, both tools that can be especially helpful in connecting with buyers coming from outside the area. Across the board, real estate professionals are increasingly visually savvy, using Instagram to promote properties, but you don't have to be a photography and design pro to create a visually interesting site.
Promote Yourself
How much space does your real estate agency – and individual agents – get on your website, as opposed to the properties that you're selling? Agent branding and promotion is a relatively new practice in the real estate landscape, in large part because it wasn't a feasible practice back when real estate advertising took place exclusively in print. Today, though, building an individual brand is an important part of working in the real estate industry. Devote some site space to promoting your agents; it will help clients trust your team with one of the most important purchases of their lives.
Make Messaging Easy
Onsite, real-time messaging has only become the norm over the last few years, and it can seem like a lot to ask from a small real estate agency. However, the good news is that it's essentially all automated. That means that even if you don't have a large office staff, you should still add a messaging utility to your site. Having the option to chat in real time can encourage potential buyers to act immediately on properties they're interested in and build rapport with your agency, even if they don't end up viewing the home that first triggered their message.
You can't buy a home online the way that you might buy a computer or even groceries, but that doesn't mean it's not a digital-first industry. Real estate professionals need to ensure their websites provide opportunities for engagement and connection, not just a library of properties – and it all starts with these simple modifications.