Graphic designing projects always need your attentions and you have to be very careful while going to design your next project. As by taking care of different elements, you also need to take care of fonts on your design. Because if you don't take care of fonts then your design will not look that professional as you expected. There are many designers out there who don't give that much attention to the font while taking care of all other elements. This is where they make a big mistake and ruin the whole professionalism of their design.
If you are also a graphic design and design different type of brochure mockups and graphics for your clients then you need to take care of the font. Because a non-relevant font can easily ruin your whole design. Because each project needs different fonts. For example, if you are going to design a graphic for traveling or photography projects then definitely you will need different fonts, however if you need fonts for designing a historic graphic then your font requirements will be different,
So that's why in today's guide, we are going to show you that how you can choose or use font for your projects.
Advantages of Using Gotham Font
You might be thinking that there are a lot of fonts available out there then why we are going to discussing the advantages of gotham font family, basically the gotham font was designed back in 2000 and after its release it has got a lot of popularity around the world, it's used by many web designers in their projects as well. There was only one reason that this font was used widely around the world and that was its attractiveness and uniqueness of its styles.
As we have discussed above that each graphic design require a different font to make it more professional and attractive, however if you are going to use gotham font then you don't have to worry about anything, because this font has got almost all type of styles for your design. It does not matter that your design is for party, fashion or for any historic book. It always fulfills your all needs and help you to make your design very attractive.
One another big advantage of using this font is to have any type of widths for your font. As it comes in many different versions, like in Gotham narrow, light and condensed and each of its version have a bit different design. Specifically designed for any type of project. So, you can have a look on all of its design and pick one of them that suite your needs.
Gotham Usage in Most Popular Graphic Designs
You might be wonder to know that gotham is one of the most popular font around the world that has been used in many different type of projects. It is the only font that has many titles and some people say that if you would like to make your designs attractive and want to have a professional look then look no further. Because this font has got everything for you and will full fill all type of your font requirements for your design.
You might be wonder to know that one of the most widely popular campaign hope has also used this font. It was camping of Obama for its election purpose and this was one of the biggest reasons of this font popularity.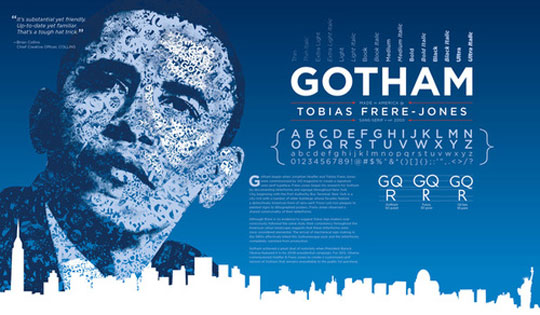 After that comparing gotham has got a lot of attraction from around the world. After that comparing many designers started using this font in its designs. This was one of the biggest reason that's why Obama campaign got that much popularity in the US that time as well as it helped this font to get popular around the world.
There are still many popular brands, universities and organizations that are using this font in their designs. You might be wonder to know that Netflix a most popular brand has also used this font until 2018 and then they have created their own font called Netflix Sans and stopped using gotham font.
Along with these popular brands and organizations, there are many individual graphic designers, who are working on different type of projects and using this font to make their graphic design a creative look. It has helped many designers to take their graphic designing career on next level only by using this professional font.
Final Thoughts!
You might be still confused that whether you can use this font or not. But if you are really serious about your graphic designing projects and want to get appreciated by your buyers then you can consider using this professional font in your designs.
There are still many other choices but you are not going to waste your all efforts just by using any ugly font out there, so that's why we always recommend to choose gotham font for any type of project and then work without any worry on your graphic designing projects to make them more professional.