,    
You can't go wrong with social media marketing.
Whether you're a digital agency offering logo designs, SEO services, or even an ecommerce website, it pays to have your social media presence up and running and getting attention like a digital peacock.
The only problem is, it can be challenging to pull this off with all the platforms and metrics that you need to stay on top of. It's easy to be overwhelmed with all the number-crunching, especially if you utilize data from a ragtag bunch of marketing tools.
Fortunately, there are analytics platforms out there that enable you to consolidate all your data into one place. Cyfe, for example, is a flexible platform that lets you build "dashboards" that may contain multiple widgets from several third-party services.
Curious how this works?
Don't worry — I got you covered.
Let's explore how to use Cyfe to get your social media marketing data organized.
Setting up your Cyfe dashboard
Just like most self-service, cloud-based tools, Cyfe features a user-friendly interface that really doesn't require a tutorial.
You start off with an empty dashboard called "Untitled," which you can easily rename by clicking the "Edit Dashboard" button from the main toolbar.
For the sake of this guide, let's call our dashboard "Social Media Marketing Data."
The next step is to add a widget from an external service to get the ball rolling. Cyfe makes sure you spot the "Add Widget" button right away with the handy little prompt.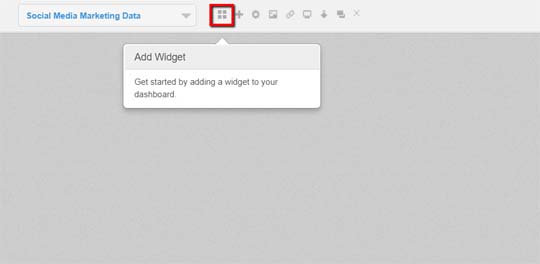 On the "Add Widget" page, you will find all the services that can be integrated into your Cyfe dashboard. This includes analytics platforms, social media networks, SEO tools, project management systems, and a number of custom widgets for extra functionality.
Let's start with something simple and add the Google Analytics widget. It should be one of the featured widgets that are immediately displayed upon clicking "Add Widget."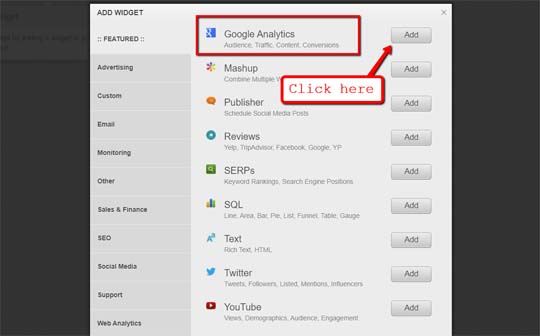 I know — Google Analytics isn't exactly a social media marketing tool. But since it tracks key performance indicators like traffic and conversions, it's definitely useful if you want to understand how your social media efforts affect our bottom line.
Once added, the Google Analytics widget should appear on your dashboard with nothing but a "Configure Widget" button at the center. Go ahead and click this button to start pulling data from the service.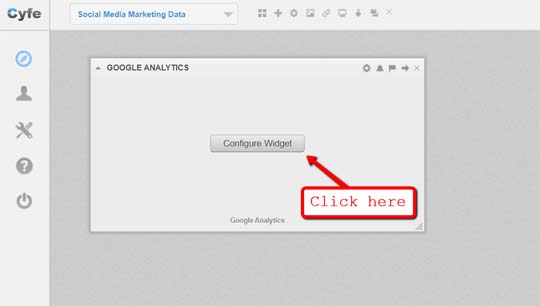 To complete the configuration process, fill in the required information such as your Google account, your website's URL, and the specific metric you want to track on Cyfe.
Remember that you can always add another Google Analytics widget to your Cyfe dashboard whenever you want, so don't think too much about your initial configuration. For now, let's go with "Overview" under the "Traffic Sources" metric category.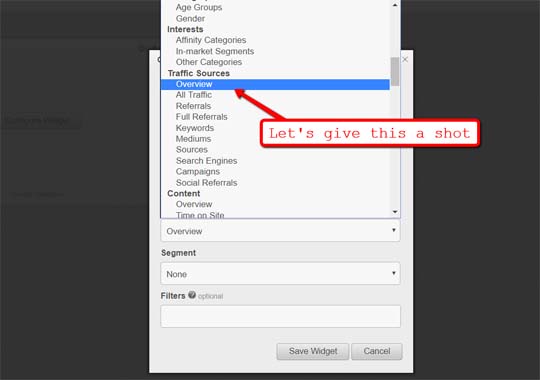 You can further refine the data you'll pull by specifying a metric category from the "Segment" drop-down menu. To keep things simple, let's choose "All Users" and save our widget.
Cyfe should take no time at all to obtain the metrics from Google Analytics.
Easy, right?
If you're a premium user, you can also create "Widget Alerts," which will send you a notification via email or SMS if a metric crosses a certain threshold.
Now that we got the basics out of the way, let's take a look at other widgets that can provide valuable data for your social media marketing campaigns.
Tracking your social media accounts
Rather than logging into your individual social media accounts to view analytics data, you can have all the numbers presented to you in a single Cyfe dashboard.
The Twitter widget, for instance, allows you to track your competitor, influencer, or your own Twitter profile. Just like with Google Analytics, you simply need to link your Twitter account and specify the data you wish to view on Cyfe — from the number of followers to all brand mentions.
Within seconds, the Cyfe widget should display the Twitter metric specified in the configuration page.
For example, if you chose to track the Twitter profile's number of followers, here's what you'll get: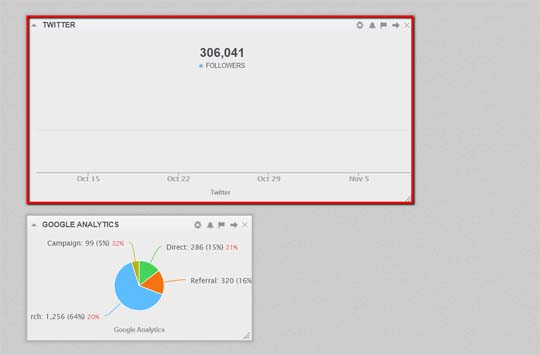 There you have it — a way to track all your social media accounts in one place.
Applying what we've discovered so far, here's what a busy social media marketer's Cyfe dashboard may look like: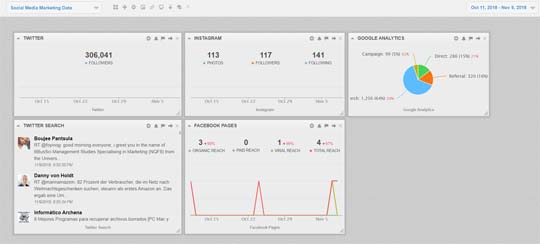 Here's a list of all the social media websites you can connect to your Cyfe account via widgets:
– Facebook
– Google+
– Instagram
– Pinterest
– Twitter
– Vimeo
– YouTube
Apart from metrics tied to your social media profile, Cyfe also supports a handful of widgets that monitors your social media ad campaigns.
These widgets shouldn't be hard to find since they are listed right next to the social media network.
Creating data mashups
One of the most interesting features of Cyfe is the Mashup tool, which lets you combine data visualizations from other widgets to spot and leverage correlations between them.
Creating a mashup of your social media advertising campaign reach and website conversions, for example, will enable you to measure the effectiveness of your ads.
You can add a "Mashup" widget by selecting it from the "Featured Widgets" section of the "Add Widget" window.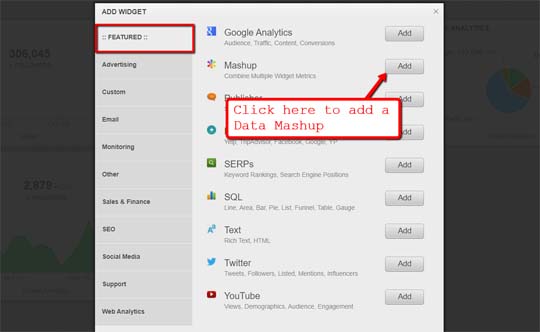 Before you configure your mashup, be sure you already added widgets for the services you want to include. Doing so will allow you to select them as you add metrics to track in your mashup.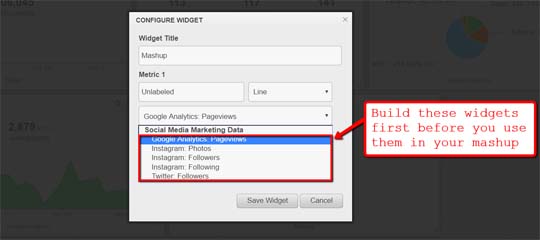 Suppose we want to gauge the effect of Twitter mentions on the overall traffic on your website. For this, you need to use the "Google Analytics: Pageviews" and "Twitter: Mentions" widget data.
The final result is a combination of the data visualizations from the specified widgets. Based on the example above, the mashup reveals that the attention you get on Twitter doesn't seem to lead to an increase in your traffic.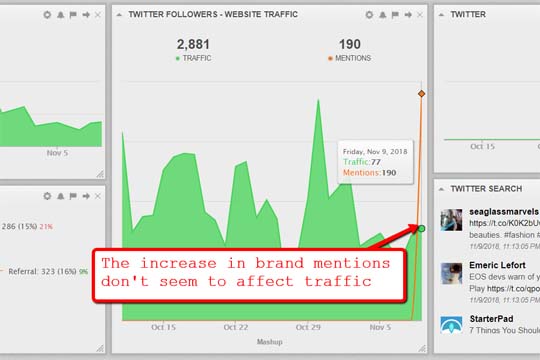 From this experiment, you can draw the conclusion that you may not be promoting your website enough on your Twitter account.
Data mashups will also allow you to determine the effectiveness of certain hashtags or keywords from your campaigns. To do this, you need to fire up a tool like Keyhole, create a real-time tracker of the hashtag or keyword you want to use, export the data into a CSV file, and add it to your Cyfe dashboard using the "CSV File" widget.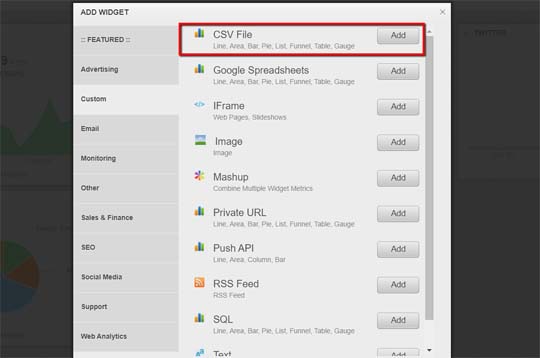 Final word
With a carefully-managed social media presence, you'll be able to take your online business to the next level.
If you're struggling with coming up with killer content ideas for your website… use social media listening.
If you're itching to learn about what your customers think about your brand… use social media listening.
If you want to spy on your competitors to figure out the secret sauce to their digital marketing campaigns… use social media listening.
And the list goes on.
The good news is, with the help of online tools, social media listening should now be easier to pull off.