People whose income depends on selling online courses sure do have a lot on their plates.
Not only do you have to deal with marketing your courses and maintaining your website, but you also have to deal with student community management, customer service inquiries, building relationships with prospective students, forging new partnerships and more.
If you've been struggling with not having enough time to get your tasks done, then you're in the right place.
Allow us to share with you a few tips that can help you with managing your busy schedule and getting more things done for your online course business. By incorporating these tips, you should see your productivity skyrocket.
Let's get to it.
1. Automate Your Tasks
Automation can do wonders for online course business.
With the right platform, they can save countless hours by avoiding manual work through the automation systems they put in place.
Kajabi, an all-in-one platform that online course business owners often use, is chock full of automation features.
It has the Product Blueprint function, where Kajabi automatically generates premade course outlines for its users, so you won't have to start from scratch when creating each new product. You'll already have a framework to work with – all you need to do is customize it and upload your content.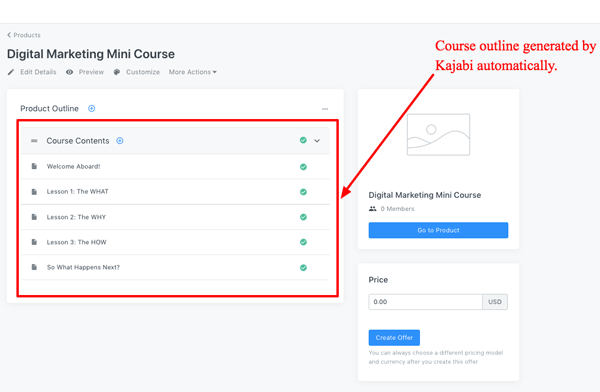 Another automation function of Kajabi is the Pipelines feature, whereby you can create funnels with triggers and conditions, so you can guide leads and customers deeper into the sales funnel.
Here's an example of a super simple pipeline in Kajabi.
With this, the online course business owner won't have to send emails to people who signed up to their optin forms manually. Kajabi does it for them automatically through the pipeline so they can focus on the more important parts of their business.
Here's a thought: If you get hundreds of opt-ins daily (or even just a handful), can you imagine how much time you'd be spending if you're sending the emails manually? How many mistakes would you make? How much time would go by between people subscribing to your list and receiving their "thank you" message? That's how important automation tools are.
Aside from Kajabi, Teachable is another prospect LMS platform that you can look into. However, when it comes to choosing between Kajabi and Teachable, most online course merchants go for Kajabi, simply because it offers many more marketing features than Teachable. Kajabi's website creation features also far outweighs Teachable's, making Kajabi the go-to platform.
2. Outsource Work To Save Time
While outsourcing is viewed poorly by some business owners, more entrepreneurs are choosing to outsource tasks that cripple their production and/or workflows.
Outsourcing is nothing more than using an outside party to help with tasks like data entry, database administration and product creation. In fact, outsourcing is very common in the business world.
To provide a little more clarity, there are a lot of ways you can outsource work to save time.
Some ways would include hiring a virtual assistant and/or secretary to handle your phone calls, email correspondence, scheduling and appointments, document signings, and new client follow-ups.
Or you could hire a social media manager to handle all of your social media channels such as Facebook, Instagram, and Twitter to maintain your subscriber engagement rate. You can hire a PPC agency to manage search and social ads on your behalf – assuming you find proper experts to outsource to, they're likely to do a better job of it than you would, too. You could also hire a web developer to manage your website and use the virtual assistant to send your content writing needs to an outside content writing specialist.
It's also worth pointing out that there are thousands of freelancers that you can work with to help you with your tasks. Just by going to a freelance marketplace like Fiverr, you can find the talent you'll need in a matter of minutes. To illustrate my point, I typed in "Writer" in Fiverr's search box, and this is what the platform came up with.
As you can see, there are countless writers you can work with who have a proven track record of providing excellent work.
With this much talent at your disposal, you'll be able to focus on the more strategic parts of your business.
3. Repurpose Your Previous Marketing Materials
Google search, one of the largest referrers of traffic in the world, has made it clear that if your site has exclusively stale, stagnant content, you're likely to get outranked. They've even filed patents on their ranking algorithms, which look at factors like the age of a website's content, how much engagement it receives and how many links are pointing to it.
Which is why you need to revisit all of your older content to see if any of the information is outdated. Much of the content that you published in 2015 is likely to be irrelevant to readers at this point. What's more, SEO practices used in 2015 are antiquated at this point and can often actually hurt your rankings.
If you're still hosting listicles of tips from 2015 that aren't helpful or even accurate anymore, it could hurt your website rankings and/or conversions dramatically. Once you've identified your outdated content, you need to either rewrite it or have an outside party rewrite it for you.
If you do outsource the writing, be clear about what you expect and the tone of the article. You could even give your writer a rough outline to help ensure that they cover what you want to express.
Also, try to add infographics into your content. Studies have shown that 80% of visitors are more likely to read content that includes visuals and/or infographics. Content that includes images has a 650% higher engagement rate than text-only content. If you aren't comfortable with creating infographics, then you should either outsource it or use an easy web app like Canva.
If you choose to use Canva, you'll be able to create infographics in a matter of minutes using only the information you want, without having to deal with any communication issues and/or barriers.
Since Google values fresh content, it only makes sense that you would want to make sure you don't have any stale and/or dead content on your site. In fact, with the algorithms being what they are, it's very possible that your content is causing you to drop in the search rankings.
Conclusion
As you can see, even though you've got a lot on your plate, there are a lot of ways to reduce your workflow and increase your productivity.
If you are willing to outsource some of your work, learn to automate some of your menial tasks, keep your website fresh with new and/or repurposed content, you'll not only have more time on your hands, but your SERP rankings could very well improve — as well as your conversion rates.
You can wring your hands in frustration knowing that you only have so many hours in the day, or you can do something about it. Equipped with these tips, what are you going to do now?