With the colossal improvements in laser engraving technology over the past decade, more and more designers are pushing the boundaries of what can be created. Laser system manufacturers, such as Needham Laser, are coming out with machines are easier than ever to use and offer a plug-and-play experience. You no longer need to be a qualified engineer to make use of laser technology. With that in mind, here are a few of the amazingly detailed designs and precise patterns that laser engraving can create. From leather to wood, just about any material is fair game with laser engraving.
Laser-etched baseball bat
This commemorative baseball bat trophy created for Nike's Home Run King 2015 is an excellent display of what laser engraving technology is capable of. The whole circumference and length of the bat are brimming with interesting details from the typographic treatment of the 'Home Run King' title to the numerous pinstripe lines and the iconic Nike logo. The design was created by Kevin Cantrell Design and executed by Big Secret using a proprietary laser etching technique.
Not only does this product show off the level of detail that lasers can create, but also exhibits how laser engraving can work even on non-flat surfaces.
Playing Cards Luxury Laser-Etched Wood Box Set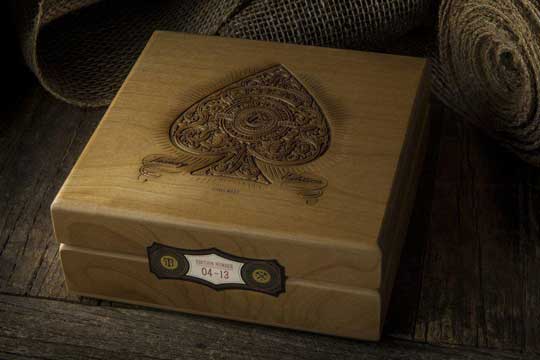 This is for people who take their playing cards seriously and like to show them off. The Artisan Playing Cards themselves are already works of art with their elegant hand-drawn designs. With the Luxury Edition, you can take this level of elegance up a notch with a luxurious wooden box laser etched with the Artisan logo. The laser engraved design combined with the finish of the box exudes sophistication, making this box a collector's item truly deserving of the 'Luxury' title. The laser engraving work itself is top-notch with its intricate design, impeccable details, and smooth edges.
Engraved electric guitar
When you're truly passionate about playing guitar, it's not enough that you sound good – you also have to look good. The Dellatera guitars feature the best of both worlds. Aside from being some of the best sounding single-coil pickup guitars, the Dellatera guitars come with custom laser engraved pickguards and tops adorned with a paisley pattern. The engraving work is beautiful and hardly leaves any surface untouched. This makes every Dellatera guitar a work of art. With a Dellatera guitar, you are sure to make a lot of heads turn – if not for your playing, then certainly by the gorgeousness of the guitar.
Etched leather New York City journal
Leather is an easy material to ruin, which is why working with high-quality leather is usually reserved for skilled artisans. For all the power that laser engraving is capable of, it can also be used with restraint. This makes it the perfect technology for creating detailed designs on the cover of these journals.
The designs on these journals aren't just any normal designs – they are faithfully recreated street maps of cities lifted from early 20th century maps. With laser technology, even designs with this level of complexity can be recreated consistently across hundreds of journals. With laser engraving, designs come out perfectly every single time.
Laser-engraved rolling pins
This is one of those products where laser engraving is used not just to make it look good, but also to enhance its fundamental function. Using laser engraving, interesting patterns have been etched into these rolling pins. The patterns can then be imparted to dough to create patterned cookies.
Aside from another display of how laser engraving can be used even on rounded surfaces, this product also shows off how laser engraving recreates designs consistently. If you need to create repeating patterns, especially on challenging surfaces, then laser engraving is the way to go.
Laser cut wooden business card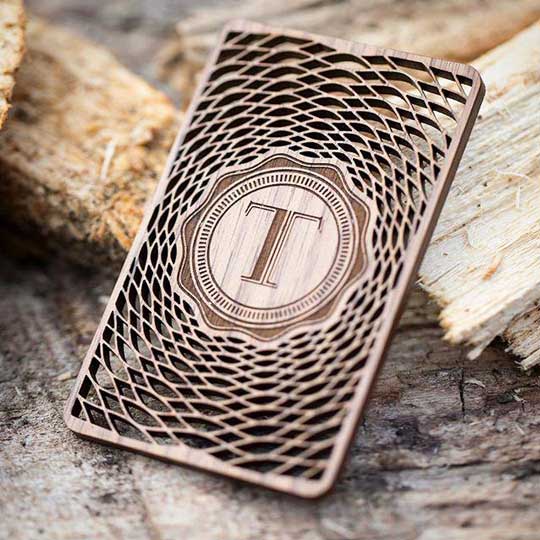 Traditional printed business cards are old hat. Do you really want to make a good first impression? How about giving a laser engraved wooden business card? This business card created by PlasmaDesign is a remarkable display of sophistication and restraint. It also shows how laser engraving is non-destructive, even for such a thin and fragile piece of wood.
Everything about the card, from the distorted honeycomb design to the delicate typography, will certainly help that potential client remember who you are.
The projects we listed above are some of the best and most creative laser engraving examples out there. These projects prove that the possibilities for this technology are endless. As more designers are exposed to laser engravers, the more exciting we can envisage the future for the creative industries.