Prom season is approaching – it is time to get excited! As a child, you most likely dreamed about wearing the most beautiful sparkling gown to your school's prom.
 
Over time, your vision of the "perfect dress" has probably shifted and evolved into something trendier, or maybe it is a classic Disney style ball gown with layers of luxurious satin and detailed beaded embellishments. Here are 5 tips for finding your perfect prom dress.
 
Know Your Body Type
This may seem obvious, but it is important to keep in mind while dress shopping. If there is a specific gown style that you love to wear in casual settings, consider incorporating that style into your prom dress for optimal confidence! Some things to keep in mind are what body parts you like to emphasize as well as how your face shape affects what necklines look best (for example, V-necks tend to work best with oval-shaped faces).
 
Keep in mind that you will look amazing in any dress style and neckline that you decide on so long as you feel confident and beautiful in it. Slender waistlines and curvy waistlines can both rock a cute A-line dress any day of the week, and especially at prom. Online shopping sites such as Jovani offer trendy yet elegant plus size prom dresses, so all body types are represented.
 
To choose your ideal prom style, you should consider how you would like your dress to fit on you. If you love dancing, then you should opt for a style that gives your legs the freedom to do so such as an A-line prom dress with some straps for support. If you are not a huge fan of the dance floor, you can try a long sheath or a mermaid dress that is form fitting and glamorous.
 
Consider Current Trends
Current trends change with every new prom season as brand new styles are hitting the runway and quickly making their way into widespread department stores and online sites. But there are also timeless, classic styles that are always safe to go for. The staple of these classic styles is simplicity – floor length hemlines, solid colors, and minimal decoration.
 
Prom dresses come in a very diverse variety, and each one is unique. Use this advantage to select a one-of-a-kind gown that incorporates both classic and current trends.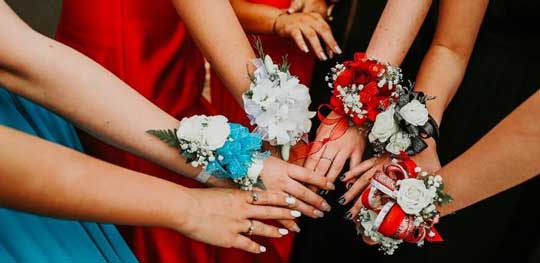 Look Online
Online shopping is the height of convenience with easy online sizing, exchanges, returns, and shipping information. Reliable online retailers such as eBay, Amazon, and Jovani allow customers to find their dream dress over the web with ease and confidence.
 
Online shopping also has the benefit of (usually) being less expensive than retail boutiques. Finding your dress online saves both time and money. If you are already browsing dresses online, then you can simultaneously research various styles and trends that you like and want to make sure your dress incorporates. This will make your process go more smoothly as you will be able to confidently narrow down your choices and make your decision easier.
 
Give Yourself Time
When you begin the process of finding your prom dress, give yourself plenty of time. Prom season creeps up on you, but you need to make sure you aren't too stressed as you try on different gowns or wait for the perfect one to be shipped to you.
 
Don't Leave Out Accessories
Accessories are important for any occasion, and prom is no exception. If you have a favorite ring or necklace that you never ever take off, make sure that they will enhance your prom look, not distract from it. A watch is also a good choice for an accessory as long as it matches your look. Browse through the watch collection found on https://www.thewatchcompany.com/ and find one you think goes perfectly with your dress.