It is well regarded in the world of marketing that old-fashioned strategies just aren't cutting it any more. Traditional marketing is failing to reach the wide audiences required for business success. With the decline of newspapers and magazines and with radio and TV heading in the same direction, many companies are turning to digital marketing to keep customers coming.
Digital marketing targets specific audiences and can aid in keeping buyer's business around the clock. It is data driven and commenced through technology, including mobile apps such as social media platforms, podcasts and websites. Anything on the internet can be related to digital marketing, as this is at the centre of the concept.
Digital Marketing Agencies
As the world of marketing has changed so much, it is important for businesses – especially smaller ones – to invest in the help of a digital marketing agency. Such agencies consist of teams of strategists, consultants, creatives and developers to whip your company into the best shape for marketing online. These teams will aid you with brand development by assessing you and your customer's needs to develop a tactic that will maximise profits.
Their main focus is to improve the efficiency and productivity of your company. By defining objectives and setting measurable goals, the agency can define your target demographic. Digital marketing is renowned for being highly specific with the demographic of potential buyers, using technologies that allow the plan to be measured carefully. If the campaigns stop working, the team will know and rectify it with immediate effect.
From this, digital marking agencies will determine the correct messaging and outlets perfect for your buyers. The attention will be on growing the online following for your business, utilising digital platforms correct for the demographic identified.
Such teams will also help to build the ideal website for your business, ensuring it is developed for purchases. They will also create content to demonstrate the knowledge of your specific industry to stand out in the plethora of similar sites across the internet. Some agencies also work on boosting your search rankings as well as specialising in social media marketing.
Why Having a Contact Page is Important
The importance of having a good website for your business is an essential part of digital marketing. As previously mentioned, a digital marketing agency will help with designing and developing a great website focussed around ease of access to buyers. However, many businesses overlook one small aspect of a site that can make all the difference in whether a customer buys from you or from your rival company. Contact information is crucial to creating the ultimate consumer experience. Creating conversation between the business and the customers can help to build personal relationships leading to consumer loyalty.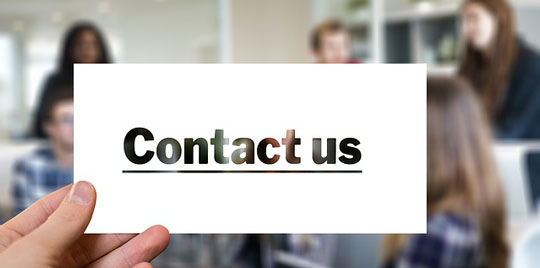 Within 10 seconds of entering a website, potential buyers are likely to leave the site. In fact, 55% of people browsing the internet will leave a website within 15 seconds of opening it. Therefore, it is important to have the information they need somewhere they will be able to spot it inside those short seconds.
Often, simply having a "contact us" page on your website's navigation bar is not enough. Ensure that customers can find what they desire by having your phone number on each webpage or by adding coloured contact buttons on the homepage. Trying different wordings may also help, for example changing "contact us" to "speak to an advisor" – this can make the bottom stand out on the page and also from other similar pages. In the base case scenario, a successful business will have all of these contact options.
With the help of a digital marketing agency, you should have identified your target audience. Use this to your advantage by displaying a contact method that will directly relate to them. For example, if your demographic is younger, social media outlets may be the primary contact option. If your buyers are likely to be older, maybe place a phone number over social media choices.
Alternatively, you could have multiple contact options. Having a phone number, email address, web form, live chat, map and directions (if applicable to your business) and opening hours all displayed on your contact page will ensure you've covered all possibilities for potential customers. This will guarantee maximum interaction.
Considering the type of business you run will also help to decide what your primary contact method should be, and which methods just won't work for you. Local companies should display an address and directions as well as opening hours, whether as bigger establishments may choose to have a web form to avoid spam emails. It may also be advisable to display contact information on search engines such as google. 10% of the entire time spent on the internet is on Google, so if you can get your contact details on there you are likely to see a large increase in customers.
Weight it up
Some argue that contact pages can increase the need for staff to answer phone calls, email and web forms. Be sure to weigh up whether expenses on such staff will equate to less than sales made by having them there. Look into the percentages and figure out how much money you'd loose in customers by not having someone they can speak to. If people have a question about a product, they need to be able to easily contact your team. Customer's need assurance that help is just a click or a phone call away, without which they may take their business elsewhere. After all, communication is the basis of all relationships.