If you're reading this, chances are you launched a brand new website a couple of weeks or even months ago.
During the initial setup phase, everything felt easy. You could register and host your domain on the same platform, build a professional-looking website without code — everything seemed like they're going your way.
You may even have a handful of content you'd like to show off to your target audience.
The only problem is, nobody's coming.
After all the work you've put into constructing your website, your content pieces sit there gathering virtual dust.
Don't worry — most if not all website owners have been there. You just need to figure out how to build your brand authority, reach your target audience, and ensure the stable growth of your online presence.
Those are the things we'll discuss in this post.
Let's get started.
Put your content marketing on full blast, but be smart about it
What's that — you already have a dozen articles on your website's blog section?
That's not enough.
If you continue to churn out content without any noticeable gains in traffic, then you're doing something wrong.
The first thing you should check should be your target keywords.
Remember, keywords not only affect your content's visibility in organic search engine results. If you know how to do keyword research, keywords can also fuel your content marketing strategy with compelling topic ideas.
Let's say you own a website about event planning.
With a keyword research tool like Ubersuggest, you can easily identify potential keyword ideas that people search for in that niche. All you have to do is enter "event planning" as your seed keyword and navigate to "Keyword Ideas" for a sizable list:
How many content pieces do you need to get your target audience's attention?
The answer is as many as it takes.
Not just any content, but high-quality, informative articles filled with practical advice and insights.
At some point, you'll need to outsource your content from freelancers to keep your website well-stocked. But during its infancy, you should be able to write them yourself as long as you tackle topics that people want to read.
Develop a solid value proposition before you look for products to sell
Like any other business-minded individual, you probably intend to look for a product or service to sell on your site.
That's great, but you must first define a user-focused reason for your endeavor.
Take note that online users don't come to a website for the products or services it offers per se. Upon arriving, they're already looking for the value they can gain from a brand.
Shoving a product offer to their faces from the get-go will only put them off.
The key here is to align your product or service with a significant problem your audience is trying to solve. For example, Buffer's homepage appeals to the pain point that social media management can be tedious and time-consuming.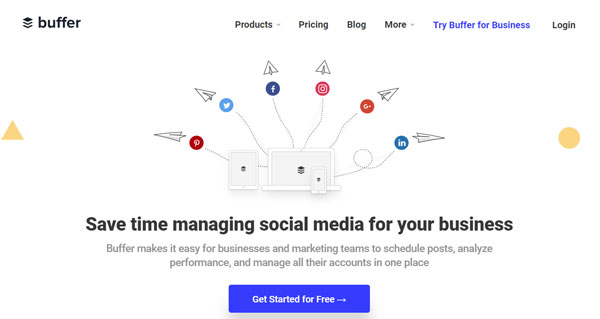 Keep in mind that it's your job as the website owner to ensure your value propositions are made crystal clear as fast as possible. This is reflected by the headlines, CTAs, and other conversion elements found on your page.
In the example above, Buffer made sure their value proposition is the first thing users see by using a minimalistic design. The CTA "Get Started for Free" is also highlighted nicely, but only after their value propositions are concisely communicated.
Here are a few tips when writing killer value propositions for your audience:
– Highlight the benefits customers can expect.
– If possible, include numbers and figures to emphasize the effectiveness of your solution (Increase sales by 100%, lose weight in 60 days, …).
– Focus on the readability of your headline — don't shroud it with popups, ads, or excessive visuals.
Leverage social media to the fullest extent
By now, everyone knows that social media networks are excellent content distribution channels.
However, there's more to social media marketing than just sharing blog posts the moment they're published. With the right tactics, it will enable you to forge profitable relationships with your target audience and establish your authority in your niche.
For example, joining groups on websites like Facebook and LinkedIn will definitely expose your brand to leads and influencers. You just need to respond to questions, follow other users, leave feedback, and share your content whenever it makes sense.
Also, be on the lookout for social media mentions — they're usually made by potential leads who have expressed their interest in your brand.
If you need a central interface where you can comb through conversations on Twitter and Instagram at once, you can use a social media listening tool like Keyhole. Simply enter a keyword, account name, or hashtag into the "Create New Tracker" tool and observe as the tool pulls in relevant posts.
When you do find mentions, don't hesitate to respond in the most helpful way possible. Again, feel free to share your content or a link to your website as long as it benefits the user.
Don't wait to invest in cybersecurity
Finally, cybersecurity is something no website owner should underestimate.
Statistics show that 60 percent of all small businesses targeted by a cyber-attack would crumble completely within six months.
Just imagine the frustration of losing months' worth of work — all because you failed to implement even the most basic security measures.
Fortunately, most website platforms and content management systems are backed with numerous security applications. WordPress users, for example, have a selection of plugins to choose from when it comes to cybersecurity — from web application firewalls to two-factor authentication tools.
Apart from protecting your digital assets from the current online threats, a robust cybersecurity plan can also impact your website's performance and prevent costly downtimes. You can also showcase security seals from third-party services to build the confidence of new visitors.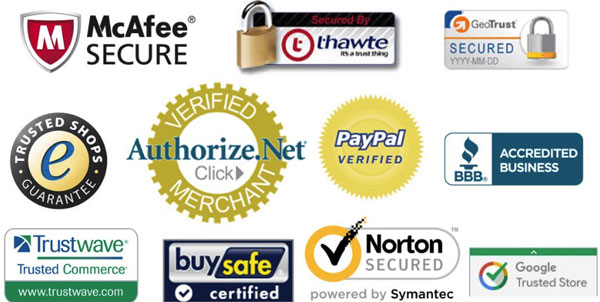 Conclusion
There you go — the can't-miss strategies that every new website owners should use.
Of course, these most likely won't pump your website with traffic overnight. But as long as you keep at it, particularly with your content marketing and social media efforts, it won't be long before you get the results you want.
Good luck!