With the success that email marketing provides for online merchants, it's no surprise that choosing the right tool is at the top of everyone's minds. Choosing the right email marketing tool can make or break your email strategy.
Aweber has been a leader in email marketing for some time, however, with many other email marketing tools emerging in the market, many are finding that Aweber no longer suits their needs.
I've compiled a list of the top 6 Email tool alternatives to help you find the best possible email marketing tools.
Let's jump in:
6 Aweber Alternatives to Make Email Marketing Easier
Omnisend
An Aweber alternative that Offers Omnichannel Marketing Automation for Ecommerce
Omnisend is a powerful email marketing tool that makes omnichannel marketing easy to use. Built specifically for ecommerce merchants, Omnisend allows you to use an intuitive drag and drop email builder to create gorgeous and professional emails in minutes.
Using a visual email automation workflow, you can automate your messages across a variety of channels to eliminate the repetitive, mundane tasks from your workload.
Omnisend also makes it easy to build up your email list from scratch with dynamic exit-intent and timed popups, as well as landing pages for email capture.
As Omnisend elevates email marketing with omnichannel capabilities, you can use SMS, Facebook Messenger, Facebook custom audiences, and Google retargeting ads to reach your customer in a variety of different ways. Smart segmentation means that you'll be sending the right message to the right person at the right time, every time.
As an Aweber alternative, Omnisend is a great choice, especially when you consider that Omnisend offers a free plan with a 2000 email/day limit (or 15,000 emails/month).
An Intuitive and Affordable AWeber Alternative
SendX is an excellent AWeber Alternative which prides itself in enabling business owners and marketers with one of the simplest UIs in the industry. Coupling that with an extremely affordable pricing and excellent 24×7 Live Support, SendX makes for a great Email Marketing Software and an AWeber Alternative.
On top of that, SendX also has one of the best email deliverability in the market thanks to its unique Opti-Send technology which optimizes emails according to 30+ parameters. This ensures that you get more opens and hence more conversions.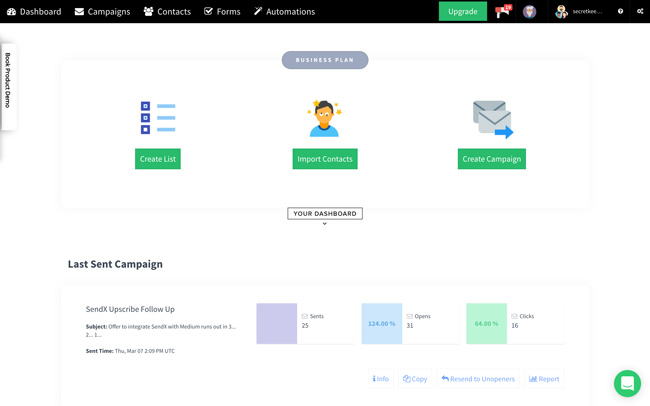 SendX allows you to create high converting emails with a drag and drop email editor. Every account comes with a premium collection of responsive templates which ensure your emails get opened and work well across all devices.
If you're looking to setup automations for your business, SendX excels in that with a simple "if this, then that" interface that truly elevates your Email Marketing. Allowing you to focus on things that move the needle and making SendX work for you.
So if you're looking for a much more intuitive and feature-rich AWeber Alternative with affordable pricing plans. You should give SendX a shot and sign up for their free trial.
Mailchimp
An Aweber Alternative for User-Friendly Email Newsletters
Mailchimp is a frequent contender for email marketing tools because it's quite easy to use. It has a similar drag and drop email builder to Omnisend, and is a good tool if you're looking to send newsletters out to your subscriber list.
While Mailchimp is easy enough to use, if you do have issues getting anything set up, you're more or less on your own. There are plenty of Mailchimp and community created tutorials to fill in the gaps, but you only get Mailchimp support if you're a paying customer.
Additionally, Moosend which you might have not heard about them yet is also one of the best MailChimp alternatives in the market at the moment.
Drip
A Basic Aweber Alternative for Beginners
As far as Aweber alternatives, Drip stands out simply for its visual platform. This tool focuses directly on creating a workflow for your email campaigns, proposing a few different automated campaigns to launch.
While the platform itself is very visually oriented, the email builder could do with an update or two when compared to the other email marketing tools in this list. Unlike most builders which function based on creating "blocks," Drip separates an email into header, body, and footer, without leaving room to really customize content.
With that said, if you're really just beginning with email marketing, Drip can be a great Aweber alternative to consider. While it may not have all the features Aweber does, it can work if you don't need anything too fancy.
SmartrMail
An Aweber Alternative without the Bells & Whistles
While it may not be a good Aweber Alternative feature for feature, SmartrMail will make email marketing easy if that's all you really need it for. The platform works for basic email automation and auto-updating segments which they have set up for you when you join the platform.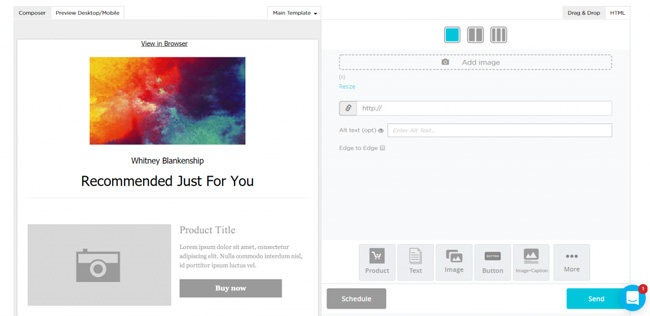 SmartrMail has an easy to use drag and drop email campaign builder that will allow you to create basic newsletter campaigns. While you can't really connect the platform with your store, you can manually add your products into your emails.
SmartrMail is an email marketing tool definitely geared towards beginners. For those who don't need anything really omnichannel and are just starting out with email marketing, SmartrMail is a good choice as they don't have any other channels that you can connect to the platform.
SendinBlue
A Simple Aweber Alternative
SendinBlue stands out in this Aweber alternative list with one of the better email campaign builders. While it may not stand up to Omnisend and Mailchimp's campaign builder, it still has a great visual composer, allowing you to create a professional looking campaign in minutes.
What also sets SendinBlue apart is that they allow you to use SMS campaigns in your email workflows, which is not something every email marketing tool will allow you to do.
SendinBlue proposes a few different workflows to inspire merchants to create different kinds of segments and campaigns for their subscribers. While it's missing many of the more sophisticated elements that other email marketing tools in this list offer, it's a decent tool for those who need something basic to start off with.
ActiveCampaign
An Aweber Alternative that Feels Like a CRM
ActiveCampaign is without a doubt the most sophisticated tool on this list. However, measured against the other Aweber alternatives in this list, it might feel more like a CRM.
ActiveCampaign focuses on creating a centralized space for your contacts to live and then creating campaigns around those contacts. While email marketing is simple to perform with ActiveCampaign, the learning curve for using this tool is decidedly steep.
ActiveCampaign functions well if you have multiple domains to manage, each with their own lists. I can recommend ActiveCampaign for seasoned marketers, as you'll really have to know what you're doing to get the most out of this email marketing tool.
However, if you're looking for simplicity, it might be better to choose another tool from this list.
You may have already decided that Aweber isn't for you, and with all the Aweber alternatives that currently exist, you'll have no problem finding an email marketing tool that works better for your ecommerce store.
As with any kind of tool you use to boost your ecommerce business, it's critical to do your homework and research which tools currently exist on the market.
It's even more important to choose the tool that's going to work best for your needs and the needs of your customers. With the Aweber alternatives in this list, you'll already have a head start in finding that perfect email marketing tool.