Websites, as you can imagine, exist for nearly every facet of society. From community pages for boy scout troops and churches, to sales geared store fronts online, to blogs and share sites that allow users to connect and interact. Having a website seems to be a necessity in today's age. Yet, so many people spend large amounts of time, effort, and money to create a website that really isn't reaching its full potential or providing a good return on investment to its creator. The reason, typically, is that having just any old website isn't really enough.
Websites are to businesses and organizations as a kitchen is to a house. By and large, all homes have kitchens just as nearly all businesses and entities have websites. However, most people would agree that not all kitchens are created equal. Some are much larger than others. Some are equipped with modern technologies and updates while others appear worn and dated. Some are beautiful to look at and enjoyable to visit while others are very plain and barely catch one's eye. Some kitchens are functional and make those utilizing them feel comfortable and at ease, while other kitchens can be clunky and not as easy to maneuver at all. Websites are very much the same. Using boise web development means your website will be functional and easy to navigate.
Another interesting thing about a kitchen is that they are often said to be either a major selling point for a home or a detracting factor that makes the home less desirable as a whole. Websites tend to exhibit this same double edged sword mentality too. If the website is amazing, it can become a marvelous tool to drive traffic and interest to its owner. However, if it seems boring, broken, or just not maintained, it can bring the whole brand's image down slightly in the eyes of the consumer.
So how does one create a "wow" website? While there are many ways to answer this question, one area that seems to be common is having a website that stands out in a crowd.
Visual perception is huge. In fact, a recent survey found that "32% of marketers say visual images are the most important form of content for their business" SOURCE
What that means to me is that if a consumer doesn't SEE something that peeks their interest, they don't STAY very long. So how do you create or revamp your website to stand out in the crowd? Here are five key ways.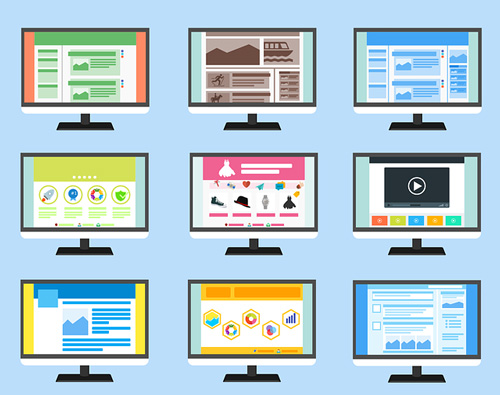 Choose Images Carefully
While finding an image to use online, both in the free spaces and the paid arenas, is not difficult, many people neglect to take the time to really by choosy when it comes to imagery. "Stock" photos are easy, but are they the best for your website? Do they really match the voice and brand image you want to portray to everyone who is browsing you? If the answer is no, then don't settle for a cookie cutter image. Take the time to locate a photographer or graphic artist who can help match your brand to an image, or spend that extra time browsing more obscure photo sites until you fall in love with something. Remember, just as a kitchen with a unique and upscale natural stone countertop can make a world of difference in a home, so can the perfect imagery on a website.
Add a Little Drama
Life, in general, tends to work better sans drama, unless you are in the reality TV business. Websites that stand out, though, are the exception to this rule. Pops of dramatic color, bold headlines in fonts that are unique, or a dramatic call to action can be just the thing that grabs attention and keeps visitors engaged. Don't overkill it by doing too much, but don't be afraid to choose a lively feature and run with it, so long as it complements your brand image and works with your overall website goal. Need some ideas? Check out examples on Renderforest!
Keep it Fresh & Updated
Most people aren't really "wowed" by a season's retired styles or quick to share last year's trends, and websites that cling to the past don't offer a whole lot of pizzazz either. Even if you don't have the time to do a major overhaul to your site on the regular, make it a priority to update and refresh small things frequently. Images are fun to change out, and can make your site more relevant to seasons, specials, or fun events. Pay close attention to things like wording that may not be as catchy or popular as it once was, colors that may seem "last season" or even posts and updates that make visitors to the site feel like they are reading old news.
Be Real & Interesting with Content
No matter what your site is about or seeks to promote, always be conscience of how genuine and raw your content really is. So many sites throw up tons of articles, videos, or tips, but they are all just regurgitated information that is the same as 100 other sites out there. While visitors expect to see some repeated things, if your site is short in the area of unique and interesting content, you may want to make some changes. Remember, quantity is great, but quality is better.
Don't Forget White Space
Standing out is not always just about what you have on your site. Often times, what you don't have can also make a dramatic impact. White space, or the white areas around your content, helps to profile whatever it is that your viewer is supposed to be seeing. It can be used to draw the eye to an image on the page or help break up text and paragraphs of information so that they are more easily read and understood. The more white space you use, the "cleaner" the page generally appears. If there is too little white space, or it is not used property, the page becomes cluttered and feels "busy" to the reader, making it less desirable to read or focus on.
I hope these tips have wet your appetite to either begin creating a fabulous website or revising your existing site to stand out! If you are new to website creation, and aren't quite sure how to tackle it on your own, Renderforest is a fast & easy, not to mention affordable, website creation tool to check out! Want to see what others are doing that is making headlines? Check out The Awwwards, for some of the most unique, eye catching, and inspiring designs on the internet.
Author Bio: I am the Chief Marketing Officer at Renderforest, a Content Marketing Specialist and an Expert in SEO, Social Media Marketing, and Link Building who enjoys sharing the experiences gained along working as a marketer and helping other entrepreneurs succeed.
My works have been published on different blogs and mediums like Crazy Egg, Forbes, Upwork, ShareThis, etc.