Whether you want to launch a personal blog to share your stories, an online store for your family business or a corporate website for your enterprise, every website development project starts with the same crucial step: design. It is during this part that you decide on a cohesive visual identity for your brand and lay the foundation for what can be a very successful website. Designing a website consist of several steps, such as choosing representative site colors and graphics, deciding on a certain user interface and making the website mobile-friendly. But who exactly should be in charge of this process? Should you hire one single freelance designer or an entire agency? Assuming, that is, that you don't have some knowledge of HTML and CSS and you would rather take design into your own hands.
Every option has its pros and cons and what works for one entrepreneur might not work for another. There are large websites that swear by the benefits of hiring an agency and there are successful CEOs who started out by doing their own designs. It's all up to you, your time, budget and preferred way of working.
DIY – Design It Yourself
If you are no stranger to terms like HTML5, server-side scripting and parallax scrolling, you're probably ready to give the DIY option a go and design the website yourself. But, before you get started, make sure you weigh these pros and cons:
– Pros:
– Designing a website can be done even if you do not have extensive experience. There are many resources where you can ask design-related questions, download WordPress themes, fonts, royalty free graphics and icon packs.
– You are in control of the entire process and will not have to worry about deadlines or delayed presentations
– The design is practically free and you can save up to thousands of dollars that you can then invest in other processes
– You can get a design that looks exactly the way you want
– Cons:
– You may not have time to develop the design
– If you have more advanced requirements and want to implement complex features, you will need a professional to help you.
– From a logistics perspective, it's simpler to have a professional do the design and talk to the developers than do all of this yourself.
– In most cases you can tell when a website was designed by a professional and when it was a home job. If designing a personal blog is quite simple and the results can look amazing even if you did it yourself, with corporate websites, you can usually tell.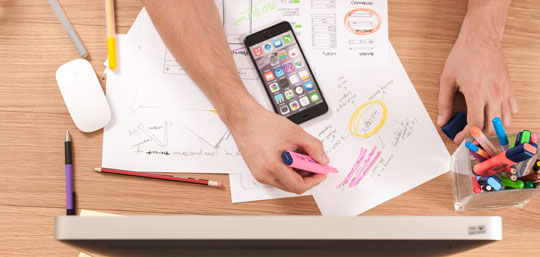 Hiring a freelancer
Online freelancing websites like UpWork, Freelancer or 99Designs have definitely bridged the gap between clients and service providers and made it easier than ever before to find talented freelancers for any project. But is this the right option for you?
– Pros:
– Hiring a freelance web designer is much more affordable than hiring a web design agency. Most freelancers have cheap rates because they work from home and you can either pay them on a project basis or on an hourly basis, tracking their work with tools like Timesheet Portal.
– It is much easier to communicate with one freelancer than with an entire agency and you will find that your questions are better listened to. The entire process is more personal and you truly get bespoke support.
– Freelancers are very flexible and you can always find someone who is willing to adjust their schedule to meet your deadline.
– Cons:
– Just how there are many professional and reliable web designers on freelancing websites, there are also inexperienced designers and scams, so you will have to analyze a fair share of portfolios until you find someone.
– Once your website grows bigger and your business picks off, an independent freelancer might not be enough to offer you continuous support or complete larger workloads in due time.
Working with a web agency
Web agencies are large companies that typically offer all services under one roof: planning, web design, web development, testing and support. In general, they are recommended for their enterprise-grade solutions, but you can hire them for smaller projects as well.
– Pros:
– A web design and development agency can assign a large team to your project, so if you want to develop a groundbreaking online service, you will get the staff for it.
– Agencies work at very high standards. If you are looking for someone to incorporate the latest web design trends and create a design that meets the highest expectations, this is the best option.
– Because they have the right staffing and equipment capabilities, agencies can offer you 24/7 website maintenance and continuous support once the website goes live.
– Cons:
– Hiring an agency to design your website is worth it in terms of quality, but quality comes at a price. The rates for a mock-up can be quite high and most agencies work on a fixed price rate, not at an hourly rate.
– Because agencies have so many clients and are extremely busy, it can often be difficult to communicate with them and schedule regular meetings.