Web designers, coders, and entrepreneurs, we have exciting news for you!
The multipurpose Monstroid template got revamped and updated!
Our loyal customers know that this theme had been our flagman for a long time (before Monstroid2 came out).
You may be wondering:
Why would anyone remake Monstroid if there is a bestselling successor – Monstroid2?
Well, we don't like outdated templates on our TemplateMonster marketplace. Even if they are history.
After the upgrade, Monstroid is once again one of the most powerful web templates out there!
So, what should you expect from this template in 2018?
– A Collection of New Skins
– Elementor Page Builder
– Premade Pages
– Customizable Headers, Footers, and Blog Layouts
– Jet Plugins
– Woocommerce and Other Plugins
1. A Collection of New Skins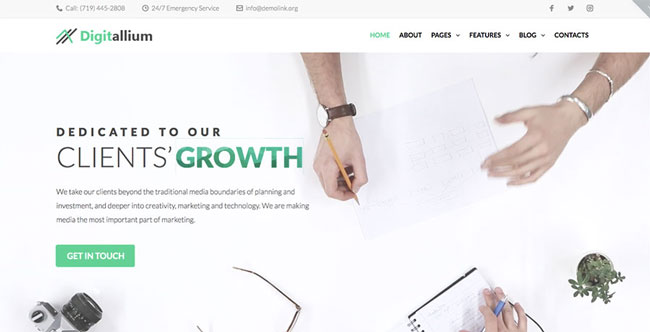 DEMO | DOWNLOAD
The collection of skins available with this Monstroid is ever-growing. Now the theme offers a set of 19+ skins, each of them for a different niche.
There are:
– 7 skins for different businesses,
– 2 for e-commerce websites,
– 2 for fitness studios,
– 3 for portfolio websites,
– and 5 skins for various industries.
2. Elementor Page Builder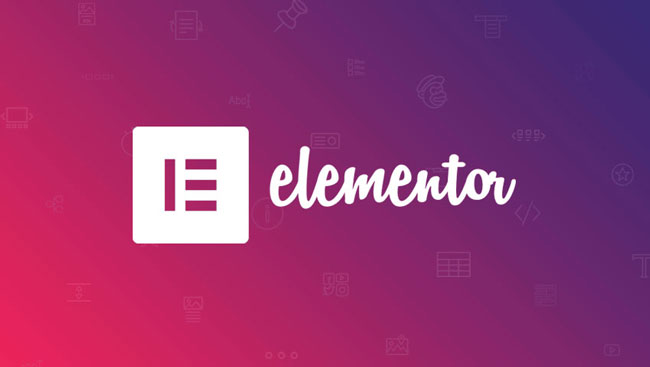 If you haven't found your particular business idea among the premade skins, don't be too upset. First of all, new skins will be coming soon.
Second, every skin is a full-featured website template that can be adapted to the need of every business!
You can do it easily due to the powerful Elementor builder that comes in the package!
There will be drag-and-drop sections, content fields, and widgets that you can easily add or remove using the builder interface. Not a single line of code!
You can adapt every skin to your needs and go live with it in several hours!
3. Premade Pages
So, we know that Monstroid users do not have to create anything from scratch. There is a comprehensive set of pages ready to be added and filled with content. They include:
– Home
– About
– Services
– Contact
– Portfolio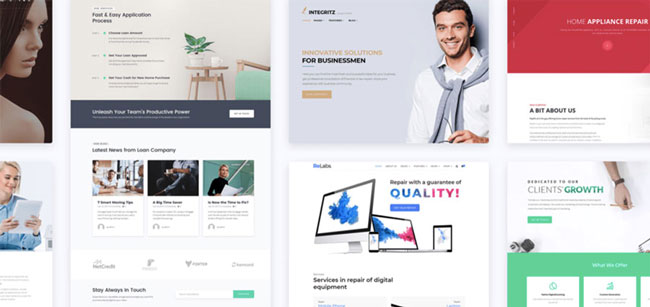 4. Customizable Headers, Footers, and Blog Layouts
You get a collection of premade headers and footers to add to your design. Each of them is totally customizable by dragging and dropping elements. You make a few tweaks, add a widget or plugin, insert your content and bravo! You are ready to go live!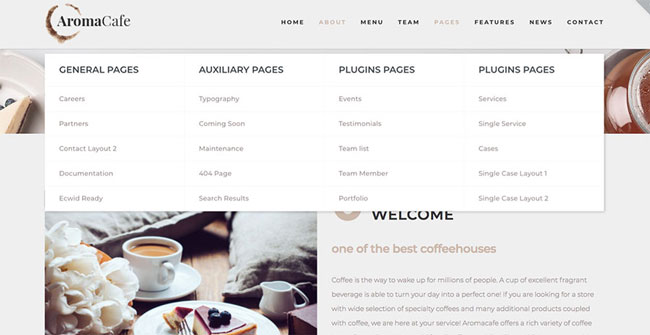 Adaptable blog layouts will work just the same. You may be choosing among:
– Classic layout
– Grid layout
– Masonry layout
– Justify layout
– Modern Listing
You can add sidebars and pick the most fitting post type. The post options are as follows:
– Aside format
– Gallery format
– Image format
– Audio format
– Video format
5. Jet Plugins
Monstroid theme offers a rich set of plugins and widgets. They are all specific to themes made with Elementor. Because of Jet plugins we are sure that the visitors of your future website will be impressed by its UX and functionality. Let's explore the plugins one by one.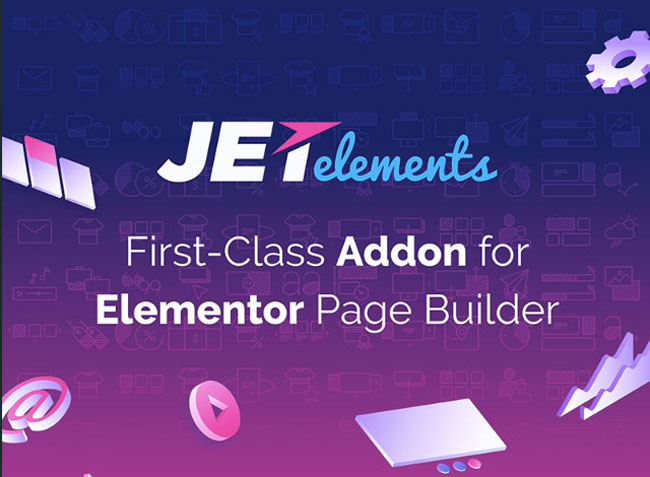 Jet Elements – the main add-on that comprises over 40 widgets. Jet plugins cover the all main features you would expect to see in a cutting-edge website. Some of them include:
– Advanced carousel
– Brands
– Circle progress
– Pricing table
– Posts
– Post carousel
– Post slider
– Advanced map
– Countdown slider
– Banner
– Animated box
– Animated text
– Contact form
– Product
– Recent products
– Featured products
– Sale products
– Bestsellers
– Top rated products
– Sliders
– Images grid
– Images masonry
– Images justify
– Download button
– Team members
– Services
– Testimonials
– Button
– Image comparisons
– Instagram
– Scroll navigation
– Parallax
– Headline
– Subscribe form
– Progress bar
– Portfolio
– Inline SVG
– Vertical timeline
– Price list
– Weather
– Table
JetBlog plugin – this plugin will help you modify the layout of your blog, change alignment from right to left and apply one of the following display options:
– Smart Lists
– Smart Tiles
– Video Playlist
– Text Ticker
JetMenu plugin – this tool is for creating a MegaMenu without a line of code. Again, Elementor builder allows to drag and drop all the elements. The menu options include:
– Style
– Structure
– Main navigation element
You will get a chance to use:
– Standard lists
– Standard lists with icons
– Lists of items with descriptions
– Icons and descriptions
JetTabs plugin – this plugin will help you create two types of elements:
1. Top-notch tabs to organize content:
They may include:
– Icon Box
– Pricing table
– Text plus image tab
– Other options
2. Awesome content accordions:
– Classical accordion
– Vertical Accordion
– Image accordion
– Switcher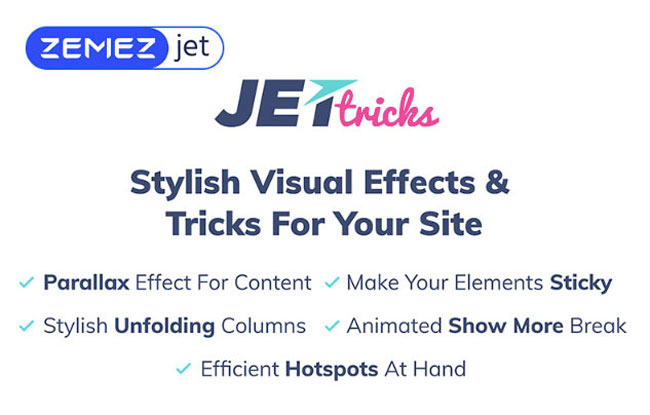 Jet Tricks plugin – this addon will add a huge set of premium visual effects to your website design.
What are they?
– Parallax element
– Sticky column
– Unfold
– Show more
– Hotspots
– Satellite
– Particles
– Tooltip
6. Woocommerce and Other Plugins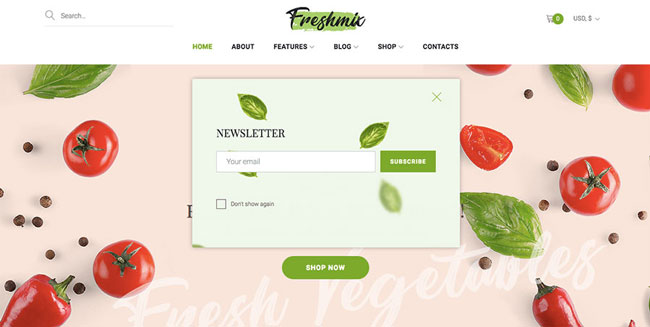 Commercial websites require different sets of elements. Specifics goals of commercial web pages may be as follows:
– Implementing promotional campaigns on the website
– Attract more traffic to the website
– Convert site visitors into clients
– Showcase products and services in the most beneficial way
– Create an awesome buying, product comparison, booking, and checkout experiences.
To achieve these goals, we added a comprehensive set of WooCommerce plugins to the Monstroid template. They include:
– TM WooCommerce Ajax Filters – these filters will help customers navigate the page easily.
– TM WooCommerce Compare & Wishlist – visitors will be able to compare products and save their lists of purchases for the future.
– TM WooCommerce Quick View – details of each product will be shown when it is hovered upon.
– WooCommerce Currency Switcher – customers from all over the world will view the prices in the currency most suitable for them.
– WooCommerce Category Showcase – products and services will be grouped into categories to enhance navigation.
– WooCommerce Social Media Share Buttons – customers will be able to share the products with their friends and followers across social media.
– Booked – products, services, and appointments can be easily booked online.
– Many more options.
So, as you can see, Monstroid is one of the best business wordpress themes available on the market today. It offers a set of features that have been carefully thought out. With Monstroid, you can:
– create websites that look awesome,
– convert effectively leads into customers
– make potential and actual customers come back for more.
Monstroid is sold under the single site license for an unbelievably low price – only $55.
If you want to become the one and only user of this awesome template, consider the Buyout License for $4,500.
It goes without saying the Monstroid is well documented, cleanly coded, and SEO optimized. You can install the them and adapt it to the needs of your business easily. No coding skills or special knowledge are required.
Moreover, by purchasing our templates, you get access to the professional client support. It works 24/7 and will answer all your questions free of charge.
Do not miss the chance to get a premium multipurpose template with a discount!