Currently there are many sites for selling and providing services in the world market of Ecommerce. Each marketplace in the competitive struggle tries to get the attention of potential customers, but, unfortunately, not everyone not everyone succeeds in this. Growth of the marketplace can only be ensured by knowing secrets of the conversion of site visitors into buyers. In order to become the leading Marketplace platform on the Internet, you need to know about the features effectively sell. The main secrets of conversion are presented below, so you can read them right now.
Working with web analytics
The success of Ecommerce is impossible without using of web analytics. This is a very effective and important marketing tool, with which you can receive a huge amount of valuable information. It's information about the site's traffic, the number of sellers, the number of users and the number of current ads. Conducting analytics allows you to understand the needs and moods of customers and, if necessary, improve the performance of your marketplace, increasing the web resource's conversion level.
We can give an example of effective work with web analytics, like A/B testing (it's also called Split testing). This is an excellent method of marketing, the purpose of which is to introduce some new elements of the site with subsequent monitoring of the response to these changes by users.
One of the new elements of the site during A/B testing can be changing the color scheme and the location of the buttons in the interface. If during the A/B testing the indicators show an increase in conversion, then the changes on the site should be left, if not, then you need to return to the original version and look for new opportunities to increase conversions.
The concept of "Lean Manufacturing"
Another solution that makes it possible to increase the efficiency of doing business is the concept of Lean Manufacturing. It was created in the middle of the 20th century in Japan by Taiichi Ohno – one of the main creators of the production system of Toyota company – and implies a constant need to reduce losses. This applies not only to companies that are engaged in direct production of goods, but also companies that provide services.
Effective implementation of the marketplace strategy of Lean Manufacturing involves the elimination of such losses as unnecessary production, unnecessary movement, the production of defective goods, overload of workers and equipment, surplus stocks and others. In total there are 10 losses. For example, waste eliminating helps companies organize work processes in such a way that they are less difficult for employees, require less money and time. Industry trends show companies, which providing Lean manufacturing principles, develop products by up to six months much faster and staying 35% closer to products' target costs, unlike their competitors.
We want to emphasize that when implementing this concept, it is very important to monitor that all possible losses be permanently eliminated.
See-think-do-care strategy
To increase the level of conversion while running Ecommerce, see-think-do-care strategy has proven itself. It involves improving the quality of communication with the client. Each of the phases of the strategy is necessary for implementation. "See" means giving users to know about your marketplace, "think" – to make them interested in your product, "do" means to make sure that they buy your product, and "care" – to make users permanent clients.
This strategy is used by such giants Ecommerce as Amazon and BlaBlaCar. To do this, they use effective ways of interacting with customers on their web resources: blocks with video, price comparison, buttons "buy", "order", "download application", etc. These methods of interaction can be fairly called secrets of success, as they force the customer to become interested in the product, familiarize with it, buy it and return to the site again for making repeated purchases.
UpSell and CROSS sales functions
There are also tools that are used in the management of Ecommerce – this is UpSell and CROSS sales functions. With their help, effective sales are provided through a certain type of interaction with customers of marketplace. For a start the customer is asked to buy the product and, when he decides to make a purchase, he is offered an additional purchase.
Additional purchase must necessarily correspond to customers need. For example, it can be ancillary for the product, which he decided to purchase. If the customer at the moment doesn't have the opportunity to buy additional goods, he can add it to his basket as a wish. Also, the process of this strategy can be supplemented with the following items.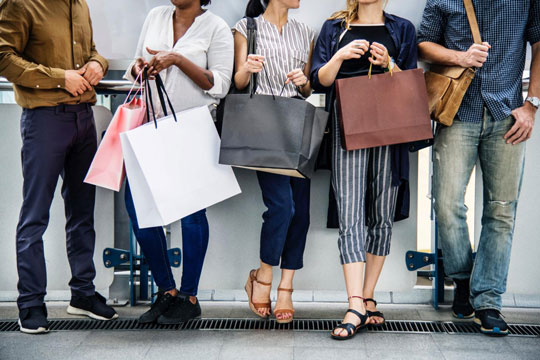 Demonstration of a popular product
The success of sales can be achieved only when the company offers customers in-demand and popular products. Being on the site, the visitor should see such goods and, even better, those goods that are necessary to him. Also, these products should be displayed on the site when he moving on it at any convenient opportunity. To do this, you need to monitor the current market situation with the help of web analytics and use the results obtained in the work.
Function Buttons
To increase marketplace's number of sales, an excellent solution is to use function buttons. These buttons can be "Buy", "Recommendations", "Order", "Fashionable goods", "Ask a question" "Get a promo code" and others. They provoke clients to buy, interact with the company's website and, ultimately, allow increasing the sales.
Discounts program
One of the effective ways to attract new customers and increase conversions is to develop a loyalty program. It assumes that customers will regularly receive new profitable offers, discounts on repeat purchases, they will be offered promotions, etc. If to say, for example, about repeat purchase, then you can make a discount on the next purchase, offer to buyer the packages of purchases, because together the goods will be more profitable for him. Agree, always nice to receive discounts on the desired goods.
Strategy "The effect of urgency"
The effect of urgency also works great. It involves creating an atmosphere on the site, like it's a big marketplace. The client should have the impression that he is facing an exclusive, highly sought-after product, and that it can end at any time. This encourages the client not to lose his chance and make a purchase right now!
We can give an example: a visitor going to the site see that the goods he was looking for here now being sold at a promotional price. The site even has a counter with a back time report (for several hours) which shows that every second the buyer has less and less time to buy the necessary product. And he, in order not to miss an advantageous offer, makes a purchase.
Color Solutions
Human is very susceptible to emotional influence in sales. Psychologists have developed a table of colors and emotions caused by colors. There are colors that complement each other, and sometimes do not coincide and only interfere with each other. Color compatibility is very important to consider in website's designing.
In result, when entering the site, the user must experience certain emotions. To achieve the desired psychological effect, it is necessary to use the color gamut provided for this. For example, yellow color attracts very well, blue creates confidence and causes trust, etc. Color solutions are widely used by the world's leading business sites.
Mobile applications
To increase the convenience of getting acquainted with the company's proposals it's important to use mobile applications. Their using is really important strategic, because now a huge number of people receive information by smartphones. Mobile applications allow you to analyze and display the needs of consumers in different areas.
There are a significant number of features that applications have. So, there are applications that are adapted to a specific phone model, combine all the promotions and discounts, helps to track the goods, helps at a certain level of clients, helps to monitor and compare prices in the style of "neighbor" and " additional purchase ", have a certain type of messenger and others.
The concept of "easy purchase"
Another one of the effective solutions of selling increasing is the concept of "easy purchase". It assumes a complete accounting of user needs on the site. The client, when visiting the site, should have the opportunity to create a purchase without a hitch. All methods of interaction with the site should be very simple – convenient registration and registration options, clear navigation, convenient forms of payment, elementary tracking the delivery of goods, etc. The ease of interaction with the site should be inherent in even a large marketplace.
Now you know how you can increase conversions and increase the profitability of your business. The main idea of all the tips is to ensure that your business is completely focused on the needs of customers and is in their interests. Your business should be smart, be friendly and be accessible to customers!