Visual content is surely taking the lead in modern digital marketing. Nobody in their right mind would now publish an article without a single image in it. That would be a sheer suicide with a current competition of over 2 million blog posts published each day.
With this cut-throat competition, you need to make sure you grab the attention of the demanding audience. That's why, apart from the compelling copy, your visual content should be really snazzy and outstanding as well. And you have to generate this content fast 'cause you've got to provide an ongoing feed for your social media accounts and blog platforms.
Churning out high quality visual content can become a real challenge if you are not a professional designer, or if you are on a budget you can't afford a graphic designer on your team. No need to worry though. Luckily, there are lots of free online image editors out there. They will help you pamper your images and create eye-popping visuals in no time, and with zero learning curve!
Here's our top list of the coolest image editors for non-professionals. All these apps are free and work totally online. It means that you don't need to install anything on your computer and you can edit your images on the go, from wherever you are.
So, let's get going.
Wepik
Wepik's online photo editor boasts a wide array of advanced features to meet all your editing needs. You can experiment with filters, fonts, and adjust parameters like saturation, hue, and contrast to bring your creative vision to life.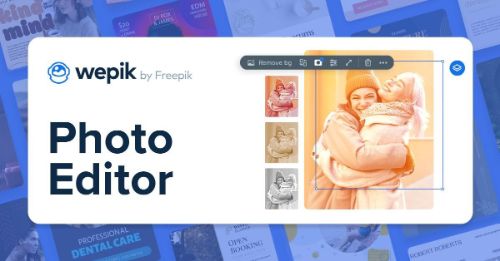 The beauty is in its user-friendliness, ensuring even beginners can craft professional-grade images effortlessly. Whether you're aiming to enhance your blog's visuals or boost your social media game, Wepik equips you with the tools to make a lasting impression.
However, Wepik doesn't stop at editing. Users can also download their creations in high resolution and various formats, adapting them for different platforms or physical displays. With its robust features and user-centric design, Wepik is the top choice for non-professionals seeking to enhance their photos. So, why wait? Dive into the world of Wepik's editing and witness your photos transform!
Fotor
It's a great all-in-one app that will certainly appeal to professional photographers and amateurs. It's so powerful that the BBC once dubbed it as 'Photoshop lite'. At the same time, it's so easy and intuitive that it'll take minutes before you start generating striking visual content on your own.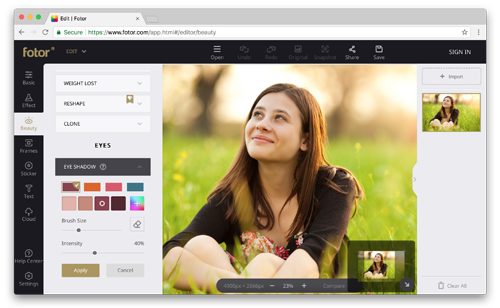 Fotor is a great free tool for beautifying your images in a simple way
Fotor has an incredible variety of tools to tweak and improve your images. You can make subtle corrections, e.g. fix the perspective or remove red eyes effect. Or you can apply a filter and radically change your image beyond recognition with one click.
It has dozens of styles, stickers, and frames that will add a fresh touch to your photos in countless ways. Some of the most tempting tools, such as noise reduction or HSL adjustment, are only accessible within a paid Fotor Pro version. But even without them, Fotor is truly one of the best online editors available for the time being.
Raw.pics.io
This is another free online tool that can fully save you the trouble of buying and installing Photoshop. Because this easy and user-friendly service has all the tools you may need to post-process your images and significantly improve the original photos.
Apart from the usual crop and grayscale tools, Raw.pics.io also has lots of more complicated instruments that will help you alter your photos in a much more sophisticated way. For example, it has an incorporated HSL tool – a powerful feature that allows you to adjust hue, saturation, and lightness parameters on your image, controlling different colors independently. With its help, you can greatly improve the quality of your image without having to install costly graphic design software.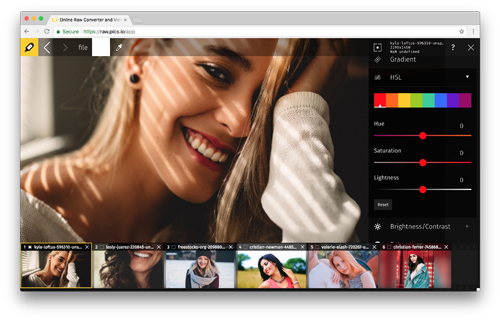 Powerful free HSL tool is always available in Raw.pics.io.
As you can get from the very name of Raw.pics.io, this service works with raw images. So, if you have a cool digital photo saved in the raw, i.e.
Canon CR2
format, you don't need to look for a converter to make a jpg out of it. You can simply upload and modify your images in Raw.pics.io, and then save them in a more convenient format, such as jpeg, png, or pdf.
Putting it simply, with Raw.pics.io, you get not only a sophisticated image editor, but also a powerful converter that accepts every raw file you can ever imagine. And a cherry on top – the app is free from advertising. Totally.
BeFunky
Just as the name of this nifty app goes, photo editing with BeFunky is pure fun indeed.
Functionally, it's very similar to Fotor, but to my personal taste, it has a much cooler interface. It's also super intuitive and you can easily figure out the whole tool as soon as you start tinkering with it.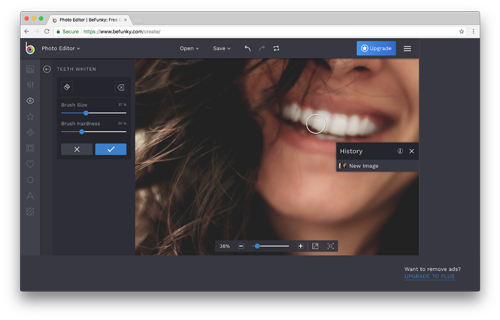 Lots of tools in BeFunky help you introduce incredible changes to your photos
A variety of tools in BeFunky allows you to retouch your photos, add different frames, apply overlays, textures, texts, and clip art images. Playing around with BeFunky is so exciting that it can keep you glued to your computer for hours. Some of the most amazing instruments are artsy filters that transform your image into a real work of art in mere seconds. Sadly, many of them are only available with BeFunky plus paid version.
BeFunky also has lots of unique collage layouts and templates that you can use to make your own leaflets, holiday cards, Facebook covers, invitation cards, and more. Once you get used to the tool, you'll be able to make incredible designs even if you have no professional designer skills.
Once you've edited your image or created a collage in BeFunky, you can immediately share it on Facebook, Tumblr, Twitter, and Pinterest.
Pixlr
Pixlr is another widely used solution for editing images online if you are not a professional designer. It's a complete full-fledged photo editor with layers, navigation, and all the other multiple features that make it successfully compete with Photoshop and Pixelmator.
Pixlr comes in several packages with several levels of complexity. So, you have a choice how deeply you want to go with your editing.
Pixlr Editor is the most complicated package. It's not totally intuitive and does require some prior image editing background. Actually, the menu and the overall interface of the app bears a striking resemblance to Photoshop. So, if you are familiar with Photoshop, you'll be happy to find here all the sophisticated instruments and controls you may be used to. But it may be rather intimidating for beginners.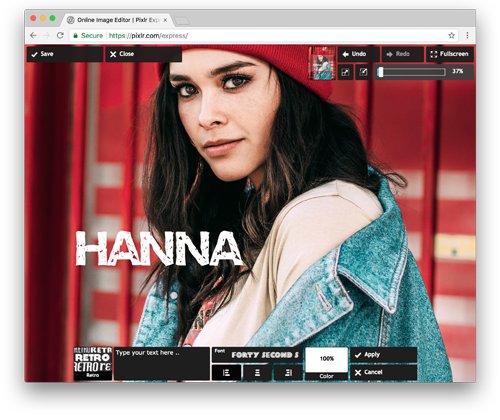 A variety of cool designer prints and stickers give a fresh look to your image
Pixlr Express, on the contrary, is utterly simple. It has all the necessary basic editing controls to help you change the exposure, sharpen and crop your images, apply various filters and other special effects. With all this variety it remains totally accessible even for design newbies. In fact, it's is so simple that you can master it in a matter of minutes. It may not be extremely professional, but if you only need to add a couple of quick tweaks to your image, you don't actually want anything else.
PicMonkey
The final app on our list is PicMonkey. It's another free image editing tool, which is very easy to use and totally accessible for beginners with no prior designer skills. Besides, it has a very attractive and user-friendly interface.
PicMonkey has lots of ready-made templates, overlays, effects, stickers, and many other additional elements and retouch tools you can choose from to make incredible creative designs. Besides editing, the service has one more fantastic application which has won users' hearts all over the world. It's collage making.
Making a collage of your images in PicMonkey is sheer joy. You simply drag and drop your photos to the canvas and easily manipulate them. You can resize, rotate, and flip your images, alter exposure, adjust position, attach a caption, and do many other things. The tool is utterly flexible. Even after you've added the pictures, you can adjust the chosen layout as many times as you want without worrying about losing all your images.
PicMonkey is a great tool for making collages effortlessly
PicMonkey gives you maximum freedom for creativity. With its easy and powerful capabilities, it has become a go-to graphic design software for lots of people around the world. So it's surely worth trying.
So, that was our short overview of 5 best online photo editors that you can use for free. Just try each of them at least once and see what fits your needs best. After a few successful tweaks, you'll see that you no longer need any expensive and bulky software to make quick edits to your images. Unleash your creativity and make incredible designs right now for your business or just for fun.