A logo, a unique Identity
A logo is an important component in branding, it is not just a colored symbol or text but a graphic that identifies and differentiate a brand from other brands, thus making the brand unique to its products or services. A logo, if professionally designed will strengthen the brand-customer relationship and entrust confidence, loyalty, and reliability. While a logo should be informative, it should be concise and simple with less color combination as possible, a perfectly designed logo could explain what will require multiple paragraphs of text to explain; this is the reason why it needs to be professionally designed.
DIY Online Tools
Before the inception of DIY (Do It Yourself) online graphic tools, it requires a standard graphic design skill and basic knowledge of logo concept to design a good logo. One has to vet colors, symbols, and texts to combine, and then position each element relative to each other on the design. A person who doesn't have such skill or the time to do all these will have to pay a professional logo designer and the price is not cheap. Thanks to internet-based DIY tools like Wix Logo maker, a person with zero graphic design skills can create an amazing logo in little time.
Wix.com
Wix is a popular website building tool founded in 2006, Wix also provides the tool for creating an amazing logo in simple steps. It is very easy to use; simple UI (user interface), lots of resources and supports. One of the features that make Wix outstanding is its AI (Artificial Intelligence) that helps build a perfect website or create a logo, with Wix tools, you might have finished designing your project even before it is displayed. Wix.com is the best place to start a website for your business, Wix can boast of millions of website running on their server. Websites built with Wix are not only beautiful but are fully functional and highly efficient. Millions of entrepreneurs are connecting with customers around the world using the Wix web building tool.
Wix DIY Logo Maker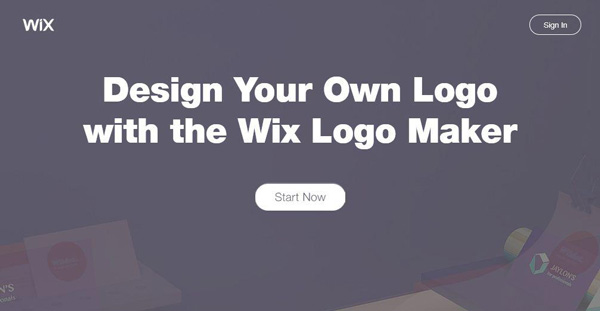 Wix logo maker is a web-based logo designing software that let you design an amazing logo yourself, you don't need any special skill to use it, all you need is an internet-enabled device with an active internet connection. Wix logo maker is also a great tool in the hands of professional logo designers as it provides more design inspirations for them. There are others like Wix Logo Maker but there are more benefits to using it when designing a logo.
Highlighted below are features of Wix Logo Maker that will make you want to give it a trial;
DIY Platform: It is sometimes disappointing that no matter how you explain what you want in your logo to designers, they will not still get it 100%. With Wix Logo Maker, you have full control over your logo because you will be designing it yourself. Applying your direct imagination to the design will give you the freedom to tweak it to what you desire.
100% customizable: With Wix Logo Maker, you have full ability to modify anything on the logo; change colors, texts, symbols, layout etc. Your imagination is your limit. As it is a handy tool in the hand of amateurs so is it a very useful tool in the hand of the professionals.

No design skill needed: You don't need any special skill or materials other than your device and internet connection. You can even design a logo by answering a few questions and a perfect logo that match your answers will be generated, then you can download it or continue modifying it.
Easy to Use: Designing a logo couldn't be easier with Wix Logo Maker; if the generated logo is not suitable enough, it can be modified simply by rearranging, editing or replacing the elements of the design. All these modifications can be done via a simple Drag and Drop interface other known as WYSIWYG editor.
Other additional benefits of using Wix Logo Maker include:
Web-based: You don't need to install any software on your device before you can use it and you can also use it from anywhere around the world at any time of the day.
Dedicated editor for full customization options: if you are not comfortable with the clumsy layout of the designing page, you can switch to a full-width editor that will fill your screen device and give you more visibility for optimum customization.
High-Resolution and Multiple File Output Options: All generated outputs are in high definition and meet all graphics standards. Also, you have multiple options to output your finished logo such as Jpeg, PNG (logo without the white background), PDF (for printable media) etc.
A matching business website for your logo: You have the option of getting a matching business website generated by AI while designing the logo.
Ready to use files for social media: You get social media files such as cover photos, profile pictures etc. that will give you a competitive edge and your design a professional look.

Option to get a business card: You can also design and print professionally designed business cards that match your logo.
Order for a retouch: Not satisfied with your finished logo, you can hire a professional to do a retouch in minutes.
You can only observe the full ability of Wix Logo Maker when you try it, ready try it out? Visit https://www.wix.com/logo/maker on your web browser and register a Wix account or log in if you already have one, then an amazing logo designed by you is just a few minutes away.