Those of us working for agencies in a creative context are, all too often, plagued by deadline after deadline. That's why having solutions in place for effortless collaboration is the most important prerequisite for delivering striking design and thoughtful functionality – for each and every client and always on time.
Whether it's between your internal teams, external specialists or between your organisation and clients, your ability to streamline the collaboration process allows businesses to move faster, delight customers and achieve scale and sustainability like never before.
The best tools and features to make your life easier will differ for each individual, depending on how you plan to collaborate, and with whom. Below, you'll find five design collaboration solutions that come up a lot in conversations with creative teams at various agencies.
Duda – Scalable team collaboration tool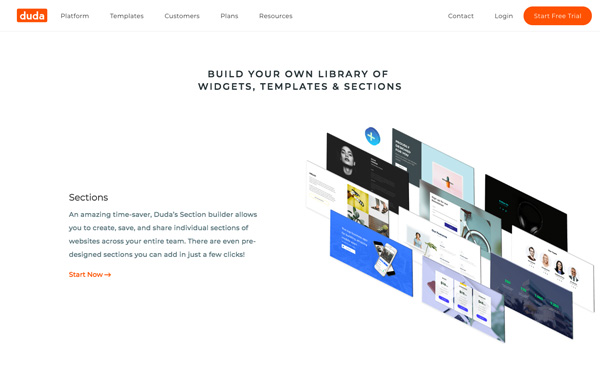 Image Credit: Duda
Duda is a web design platform that offers a powerful collaboration component, allowing agency creatives and client-facing teams to build fully functional, mobile-ready websites, efficiently.
It allows site admins to add team members and assign appropriate permission levels for bloggers, designers, web developers, marketers or any other stakeholder type. This means that all members of your team can work on the same project without getting in each other's way.
Duda also leverages shared libraries, which allow your team to save tons of time by enabling them to create, save and share individual sections of websites and even templates for entire websites that can be reused and referenced in the future. Same goes for creating widgets and third-party integrations – once developed, they can be saved and reused across pages and other websites with zero coding required.
Duda is a valuable platform with many collaborative features, particularly for agencies and teams that strive to streamline their project pipelines and make their processes more scalable without sacrificing on quality.
Moqups – Online Mockup, Wireframing & Collaboration Tool

Moqups provides a web-based wireframing and prototyping solution for design teams. It allows you to quickly and easily create wireframes, diagrams, and prototypes within a single design environment, which means no more switching between apps or updating across platforms!
Whether you're designing for mobile devices or the web, you can use Moqups to quickly test and validate your ideas using wireframes and detailed mockups. This app also allows teams to create diagrams, flowcharts, site-maps and storyboards, which can be particularly useful when your goal is to capture concepts and visually describe the flow.
Designers also appreciate the built-in library with thousands of popular icon sets, as well as the comprehensive library of widgets and smart-shapes.
It's an excellent, affordable alternative to some of the more established tools on the market that allows teams to work within a single creative context to maintain their focus and momentum.
Mural.co – real-time brainstorming and collaboration tool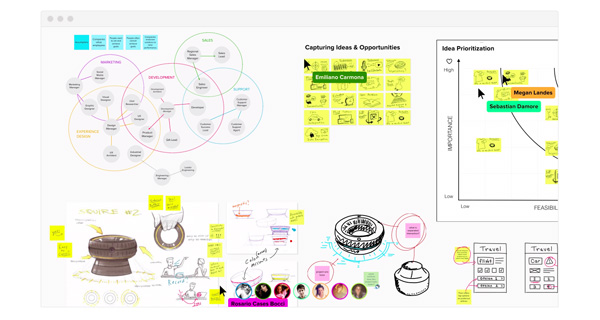 Mural is perfect for agencies and other small to medium-sized teams (up to 50 people), It is helpful in streamlining the collaboration process by bringing a big HTML5 drawing whiteboard to the virtual world.
It's a very easy-to-use tool that utilizes the concept of "sticky notes" and supports rich media files.
Whether you're gathering feedback or trying to come up with new ideas as a team, Mural allows you to drag and drop any element on the whiteboard to get your thoughts across. For instance, you can add a YouTube video or a Slideshare presentation to better illustrate your idea, arrange everything spatially to organize the information and track changes in real-time.
Visualizing and communicating ideas with Mural is fast, easy and aesthetically pleasing to the eye.
GoVisually – feedback management and revisions

GoVisually facilitates designer-client collaboration during the design sign-off process, providing a platform for your team and your clients to mark annotations and leave comments (avoiding those never-ending email chains).
This is one of the most intuitive tools on the market, which enables design and marketing teams to speed up the production and approval stages and launch faster. Other notable features include the ability to point and mark specific areas of the creatives using arrows, boxes, and comments and create threaded comments to facilitate discussions.
It's also optimised for mobile devices and allows creative teams to resolve clients' comments like a checklist, ensuring no input goes unnoticed. One-click client approval can also prove to be an invaluable tool for design teams that itch to launch as fast as possible.
All in all, GoVisually is a popular, very user friendly tool that takes the headache out of the creative proofing process.
Trello – project management tool for teams

Less designed-focused and more task-oriented, Trello is one of the best-known project management tools that facilitates remote collaboration. Structured like a visual pinboard, it has a strong appeal to creative and visually-inclined people, such as designers.
Trello allows teams to sort and categorize their projects and tasks in a card-based design. Each card can include images, text, links, drawings, mockups, deadlines and more. All cards are hosted on a central board that's accessible to the entire team, providing the big-picture view of the project progress and allowing everyone to seamlessly add or resolve tasks.
Trello's simple and intuitive user interface means anyone can start using it without any prior training. And since it's a free tool, the only risk you face if it doesn't stick is the time you invest in onboarding your team.
In Conclusion
Designers today have multiple tools available to them to with so many features for streamlining the collaboration process, thereby allowing businesses to advance faster, satisfy customers and achieve scale and sustainability. Take your pick!