Search engine optimization is probably the most effective way to get your web content to the right audience with long-term effects. As much as well-written content with keyword optimization will achieve this, having a high-quality SEO ready WordPress theme has been proven to work wonders. This is the main reason why most website owners and web developers are opting for best SEO friendly WordPress themes for their projects, rather than using the free themes and plugins offered. After carrying out a thorough research and putting user experience into consideration, it is no doubt that these are the 25 Best Search Engine Optimized WordPress Themes in 2018, so far!
1. Clean
Elegance, responsiveness, and minimalism are the three best qualities of Clean WordPress theme. Just as its name suggests, it is designed for professionals, as it is clutter free, well organized and highly customizable theme. Clean has five custom layouts including the default, portfolio, journal, landing page and shop. These can perfectly work for blogs, online magazines, company websites, online stores and portfolio websites. It is a very versatile choice.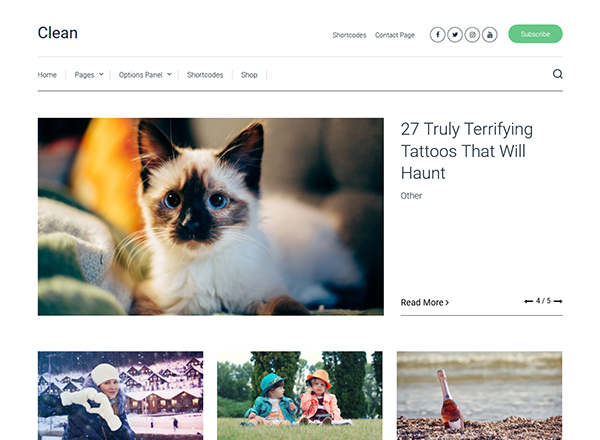 2. Viral
Want to turn content into a beautiful sight? Then the Viral theme is the perfect pick for you. This theme is a beauty that responsively and stylishly gets any content or site trending both online and offline. Its classy, clean-cut and timeless layouts include default, cat, photography, food, and shop layout. You can customize and use this theme on a myriad of niche sites. Viral is adored for its crisp typography, superb gallery display, and the best carousel feature.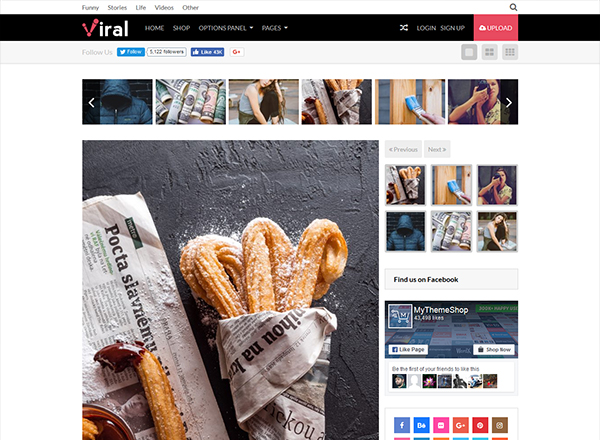 3. Wake
Wake's design mainly focuses on speed, SEO-friendliness, and mobile optimization, which are the three major factors that determine the ranking of sites by search engines. It is simple and straightforward with a rolling carousel of site menus/categories and a 2-column layout. It is also optimized for social media sharing with Facebook, Twitter, Google+, Pinterest and LinkedIn sharing links and buttons. You can have WordPress plugins activated or installed in the header, sidebar, and footer.
4. Quarville
Quarville's core strengths include its responsiveness, high resolution, and simple design. It features a magazine and blog style design with a 3-column layout that makes it customizable for the latest articles, widgets, and plugins. With the Quarville WordPress theme, social media sharing is a breeze, with multiple Facebook, Twitter, Google+ and RSS sharing buttons. Its menu bar allows for easily accessible categories that characterize a magazine site or a well-established blog.
5. Ad-Sense
The Ad-Sense WordPress theme is responsive and versatile, which makes it perfect for hosting your monetized ads. It features eleven layout options including default, technology, viral, recipes, fashion, sports, shop, fitness, baby blog, options panel and news. For sure, you can customize any niche site using this elegant theme. Its responsive and speedy elements have had it ranked as the most ad-friendly WordPress theme in the market, with excellent ad placement, ad management, ad blocker detection and content locking features.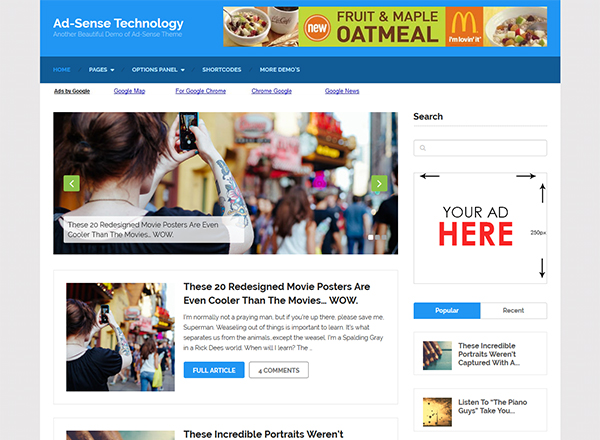 6. Foodica
Food enthusiasts with a blog, magazine or website based on food or recipes should check out Foodica's impressive features. It is responsive on large display screens and mobile devices including tablets and smartphones. Its color schemes include orange, teal, dark, turquoise, pink, yellow, light green and dark green, with a beautiful slider and carousel for easier customizability. For e-commerce options, this WordPress theme has WooCommerce integration for easier setup of an online store.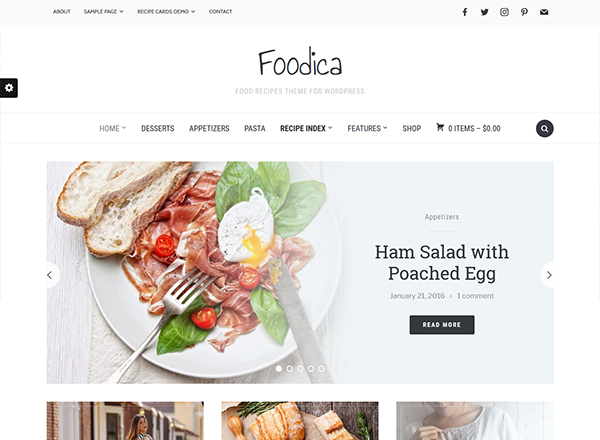 7. FlyMag Pro
FlyMag Pro is a stunning, responsive and feature-packed magazine WordPress theme that is excellent for creative agencies. It offers an unlimited choice of hues and custom widgets for easier customization. Its theme options panel allows you to smooth update and set up of the website without the use of any code. Its browser compatibility is commendable as it is highly responsive and loads fast on Chrome, Firefox, Opera and Windows Explorer.
8. Pinmaister
The Pinmaister is an image-based WordPress theme that replicates Pinterest. It features a drag & drop homepage that requires no use of the code for setup. For maximum user engagement, it comes with the "Love It" button. With its Ajax pagination feature, its page loading speed is fast. This theme is SEO ready for the search engines. It features custom widgets for better functionality, with the Instagram and Twitter widgets ensuring maximum social interaction and networking.
9. MyBlog
MyBlog is another multipurpose WordPress theme that features the default, food, gaming, travel, tech, celebrity, lifestyle and shop layouts. Its responsiveness on all device screens is praiseworthy as it retains its great resolution at all times. Just as its name suggests, it is suitable for blogs on any niche, as its features are designed for a massive brand building. Its interface is clean and professional, thus eye-catching and timeless.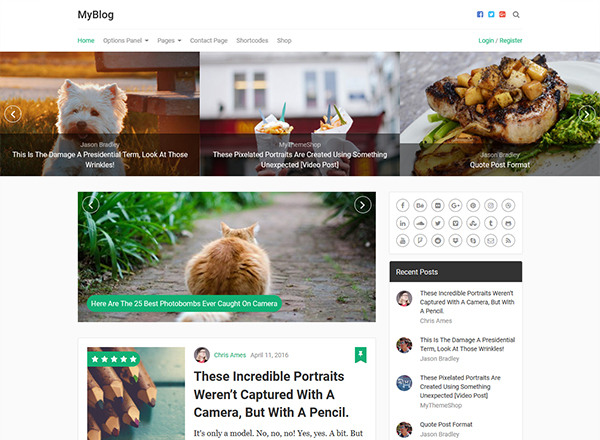 10. Float
Themify's Float theme displays creativity at its best by making use of floating effects to display web content. Its overlapping and parallax scrolling design, with a variety of color options for its skin, makes it one trendsetter in the online world, thus used on the Apple website. Its drag & drop builder allows for easier importation of your predesigned website layout without using code.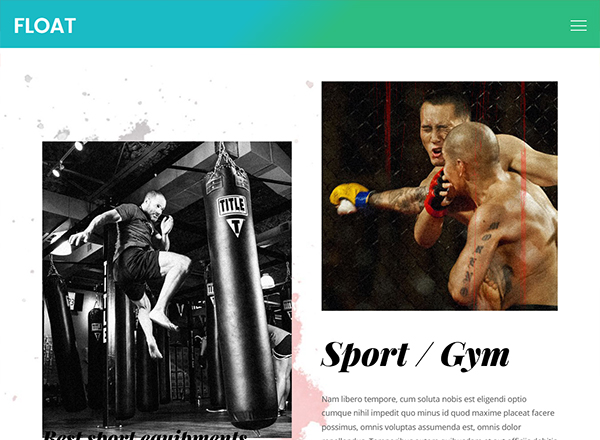 11. Optimize
Are you thinking of making the best out of SEO, social media and digital marketing for your personal, business or company website? Then Optimize is the best WordPress theme for your website, as it is fast, responsive and powerful, with 98% Pingdom and 96% GTmetrix speed grade rating. Its twelve distinct homepage layouts include the original, launch, agency, SEO, digital marketing, interactive presentation, case study showcase, company, analytics, infographic, portfolio, and shop homepage designs. It is SEO compatible with all top WordPress analytics and SEO plugins and has a retina-ready resolution.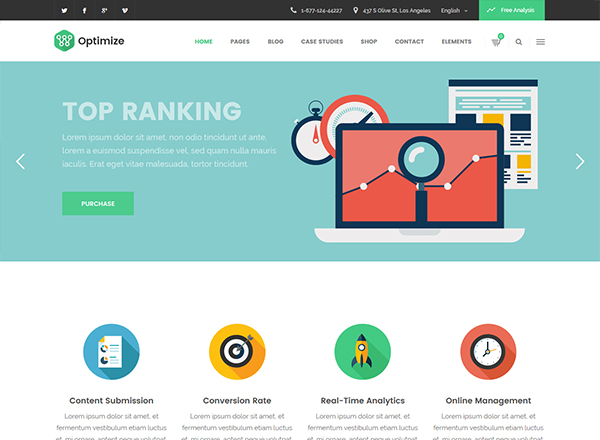 12. Pinboard
If you love Pinterest, then you will definitely love the Pinboard theme. Inspired by Pinterest, this photo-based theme makes use of the auto-stacking infinite scroll layout. This feature allows more posts to load automatically whenever you reach the bottom of the page. This theme is highly responsive on both desktops and mobile devices including Android, iPhone, iPad and Blackberry devices. This theme allows social media sharing via its Facebook, Twitter, YouTube and RSS buttons.
13. MagXP
Any web developer who wants a single theme that offers so many possibilities should always go for the MagXP WordPress theme. With 4 homepage layouts, an options panel and the default, shop, health, technology, entertainment, news, relationship, video, sports, food and social theme options, the MagXP is a sure bet when it comes to any niche website. It is responsive on all devices that can access the internet, and it offers optimal flexibility, functionality, and customizability.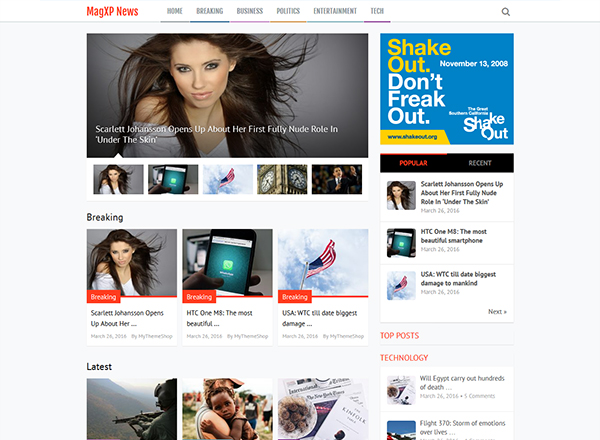 14. Doberman
Doberman is the WordPress theme responsible for fresh, trending and popular web content. With the SEO features, it hosts, this theme allows all content to reach its highest potential. It features infinite layout style variations and allows for live editing. Its widgets are customizable, and it is SEO friendly for effective promotion of web content. The theme is compatible with all devices including large screens such as computer monitors, as they work on small screen sizes. This WordPress theme is perfect for blogs, news sites, magazine sites and personal journals. It runs on clean code that gives it fast loading speeds. Sharing to social media is also easier, thanks to its easily accessible social media buttons.
15. MH Cicero
Featuring an entirely responsive layout, MH Cicero is the ultimate WordPress theme for magazines and blogging. Its flat-styled design looks simple but is full of integrated features that ensure great customizability and supreme functionality. This minimalistic theme is SEO & translation ready and social media customized. It comes with customized widgets that make it impeccable for both professional and personal websites.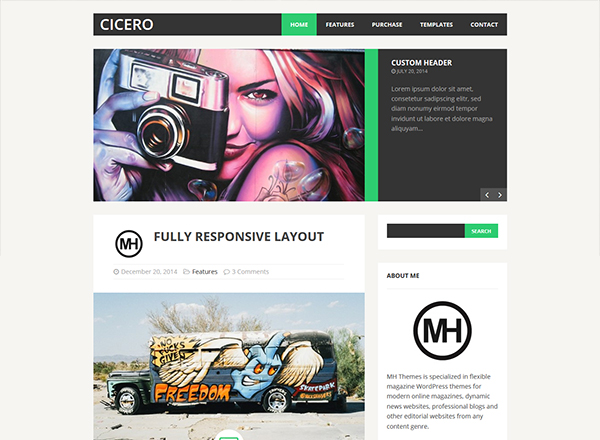 16. Feminine
Visual appeal is an attraction common for all women; it is the main reason why the Feminine WordPress theme has captured them all. With the default, trendy, fashion, style, gossip and portfolio page layouts, this theme makes the ultimate choice for fashion, travel, beauty and lifestyle bloggers. Its responsiveness and compatibility with all screens ensure that all the captured and uploaded picture-perfect moments look flawless at all times.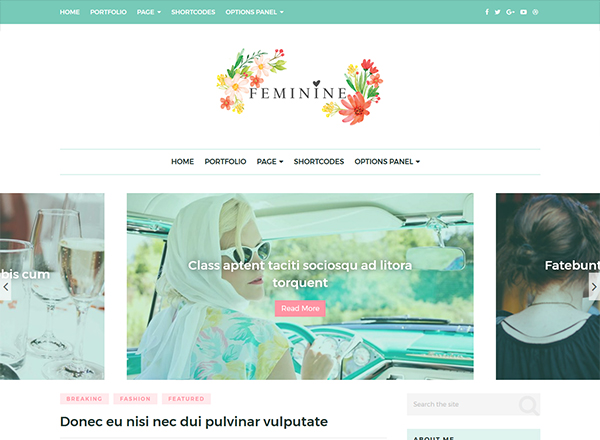 17. RokoPhoto
The greatest WordPress photography theme in history is the RokoPhoto theme. It features a trendy design with a rolling carousel of featured posts. This photography portfolio theme features the home, portfolio, about and contact-sections on the landing page, thus ensuring ease of accessibility. These sections are expounded on its other web pages, connected via links. This theme is responsive on all devices including desktops, laptops, and mobile devices.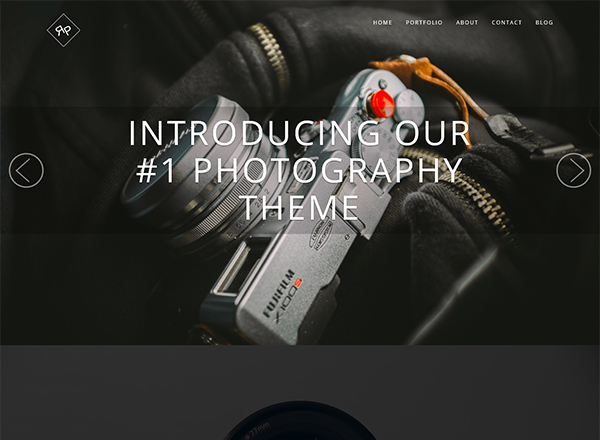 18. Viral KaBoom
As its name suggests, this theme is designed for viral content, thanks to its responsiveness and SEO friendly features. Its 3-column design is perfect for magazines and authoritative blogs. It is compatible with both desktop and mobile devices, and its content is easy to share on social media platforms, thanks to the respective share buttons, making it more viral.
19. SEO Optimizer
Laden with the best SEO tools, the SEO Optimizer theme has been proven to help businesses and companies grow, develop and thrive in this digital era. It makes use of content marketing, SEO/UX/CRO, PPC/display ads and social media features to increase its reach to more readers. This WordPress theme is compatible with devices of all sizes including the smallest mobile devices and the largest monitors. It definitely makes the best SEO theme for businesses and companies.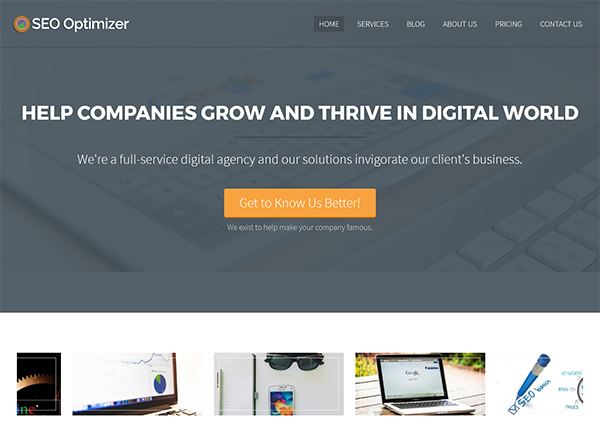 20. SociallyViral
The SociallyViral theme is present in two beautiful page layouts, designed to ensure better engagement, faster loading of pages and responsiveness. Given its strategically positioned social media buttons, social sharing can never be a hassle, thus boosting viral traffic to the site. It is also SEO friendly to boost the site's social media and search engine ranking.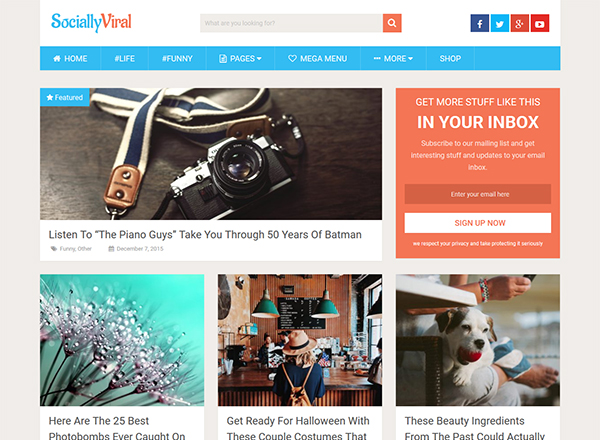 21. MH Impact
The MH Impact is developed to create a positive impact on the engagement of your site visitors. This simple and flexible WordPress theme is perfect for businesses as it features the perfect balance of beauty and functionality. Thanks to its flat design and responsive template, loading speeds are always optimum. Due to its professional appearance, it is ideal for both small and big businesses, companies and organizations, regardless of their specific niche.
22. Magazine
As described by its users, the Magazine theme is flawlessly optimized for search engines. It offers an option for Meta tags and follows the Google on-page SEO guidelines. It is developed with clean code thus it's responsive and has a 350-millisecond load time. It is SEO plugin compatible and features at least seventy customizable settings. This theme's professional and clean design makes it great for magazines, blogs, company websites, e-commerce sites and other niche sites.
23. VideoBox
With better-advanced video upload/download and play programs being developed by the day, VideoBox has become the next big thing in the SEO of video content. This highly responsive WordPress theme is very light as seen from its ultra-fast loading speeds and the seamless rolling of its featured content carousel. It is compatible including all devices and supports popular video websites including YouTube and Vimeo.
24. WooCart
Do you intend to start an online shop? Well, the WooCart theme helps build online stores and shops with its premium e-commerce features that are easy to set up. It features two layout options for you to choose. Since it is responsive, SEO ready and social media support, it does a great deal of attracting potential customers and making it easier for them to order goods and services.
25. Architect
Developed with clean code and a clear-cut user interface, the Architect theme is mainly created for people in the building and construction, interior design and landscape planning industry. Users can easily rearrange its homepage as per their liking. Given its lightness, it runs at high speeds thus it is great for uploading portfolio and workflow images for potential clients to view. This theme is versatile and can be used by individuals, businesses, companies and even bloggers.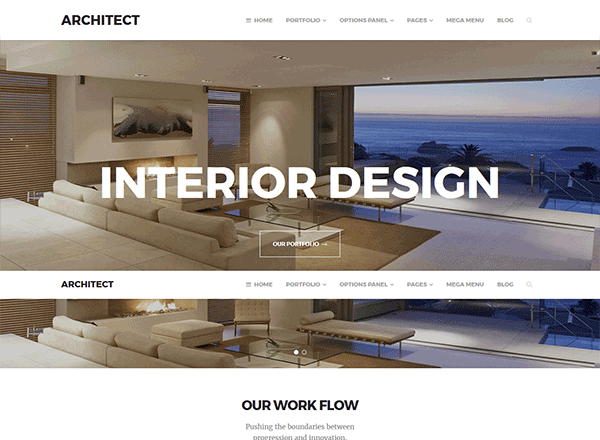 Website owners and WordPress theme developers from around the world have reviewed and rated these WordPress themes as the best SEO ready WordPress themes. They are ideal for branding and promotion of companies as they do an outstanding job at the promotion of content to the right target audiences.