Whether you're an experienced graphic designer or just starting on this industry, having great design resources you can count on it's really important. Sure, being an amazing designer is not about the latest laptops and trends. Your creativity and execution are what makes your designs shine. And yet with the right set of tools and resources you can work faster, better and deliver stronger pieces. Here are 8 must-have tools to get you started.
Vexels
Vexels is a graphic stock that's continually adding vector illustrations as well as thousands of isolated SVGs (downloadable in PNG, SVG, EPS and PSD). By having their own in-house team of designers every design is exclusive and they also have an online editor on beta. Plus, if you're a merchandise seller you're in luck: the site has Merchandise licenses available for their designs, as well as subscriptions to get hundreds of designs per month.
Canva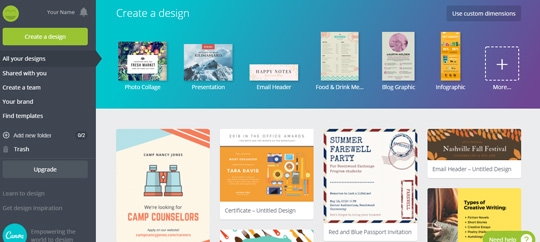 Canva is an online editor that lets you create beautiful designs. It has lots of templates in lots of different formats, so you can start with any of them and then change colors, add text, your logo, and more. They also have a business version where you can prepare some presets like your color palette and logo so the designs always fit them, and your whole team can have access to it.
Pictaculous
Pictaculous is a pretty straightforward website, and it's great. The idea is simple: submit an image and the site will show you the color palette that comes from it. It'll also recommend similar ones that you can work with. Then, download the Adobe Swatch file, email it to you or share it. This is the perfect tool to make sure your design is color-balanced.
Tinkercad
Tinkercad is a very simple tool to create 3D designs and 3D print. There's no need for complicated software here, the editor works similarly to Paint or other drawing softwares. You can create any type of object, from toys to prototypes, jewelry and more.
Dribbble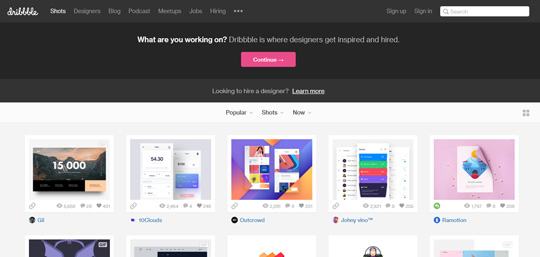 Dribbble started as a place to show your works in progress and get feedback from fellow graphic designers. It grew fast and ended up becoming the go-to community for designers, illustrators and other creatives from all over the world. It's a great place to find inspiration and meet people from the industry. Dribbble is a nice tool to find freelance work too, so having an account and keeping it updated is great idea.
Nounproject
The Nounproject promises their users they'll find Icons For Everything, and it looks like it's a promise they keep. With over a million different designs, the site offers pixel perfect graphics for pretty much everything. Plus, the designs' colors can be edited right on the site. This way you'll download the icon of your choosing on the hue that works for your brand or project, ready to implement.
Google Fonts
Google Fonts offers a huge directory of open source web fonts for any project. Since they're open sourced, they're free to use for any purpose. Plus, each font was crafted by professional and experienced designers. They're all high quality, there's no need for a license, they work across every browser and they're easy to download. What more could you ask for?
Unsplash
Unsplash is an incredibly good photography stock. They offer almost half a million free, high-resolution exclusive images. They're all great and the vast majority doesn't look like a stock photo. Plus, you can use them for free without giving attribution, so they're a great for taking your project to the next level without paying extra.
We've tried to cover every aspect of designing with these resources, and truly hope they work for you. Do you have any other resource you swear on? Let us know!