Nowadays it's possible to find a mobile app for any purpose. Need to book a hotel? Just a few taps and you can choose from hundreds of them from all over the world. Decided to organize a party but forgot about snacks? Fifteen minutes and a delivery guy will appear on your doorstep with a hot pizza and few bottles of cold drinks.
The same is true for the event industry. Mobile apps for conferences can successfully solve many different tasks: serve as a communication platform, guide your users to the main locations, allow to book and buy tickets online, provide with the information about speakers and planned activities and so on.
According to the recent statistics, event app development has a great potential:
88% of visitors agreed that apps are "extremely important" and 60% use their devices during events and conferences.
91% of event planners claim that they noticed a positive return on investments from their conference apps and 60% say that it helped them to improve the engagement of attendees.
Another research only proves this: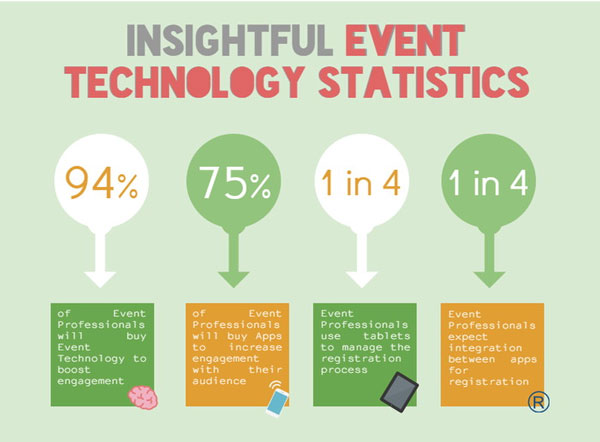 As you can see, the idea to create an event app can bring you many benefits in the future. To develop an app for events you should define the list of essential features. And we are happy to share it with you!
Top 8 Features that You Will Need to Make Own App for Conferences
We already mentioned that a good event app can attract additional attendees to your conference and improve their general experience and impression about it. But before developing such an app you should carefully think about the features that are the most expected by your users.
Therefore, we decided to distinguish top 8 features that may come in handy in one form or another during your conference app development. Let's review them more carefully!
3 main pillars of any event app: What? Where?When?
The "What? Where? When?" team is a set of features that any conference application must include. If your users can't find answers to this questions, your app's value drops to zero.
Simply put, 3 basic features are a schedule (answers the question "When?"), an event program ("What?") and a map ("Where?"). Let's get a closer look!
Schedule
The schedule provides users with the exact time and date of the event. In the modern busy world it's often difficult to keep in memory all our plans, so having the schedule in your app helps to solve this issue.
Push notifications are another great tool that you may use to remind users about upcoming meetings. They are way more effective than standard email reminders so try to use all their potential.
A built-in countdown timer can also improve UX and encourage people to book/buy entrance tickets.
Event Program
This screen is often combined with the schedule. The idea behind it is to inform users about planned activities.
The feature is essential for events that take place during several days and have a branched program. Moreover, having this screen in your app can attract even more attendees. A detailed and interesting program will help them make a final decision in your favor.
The program is also necessary for big conferences. Such events usually consist of different discussions and panels, some of them may take place simultaneously. So the detailed agenda will help users to decide which parts of your conference are the most interesting for them.
Map
The map is the best helper of your users when they need to find a way to the location of the event.
Do you expect many visitors from other cities or even countries? Then this features is a must-have for your app if you don't want them to get lost. In the simplest form your app may include just an address with a possibility to look at it on the map. But you are free to move further and implement live directions. That will allow guiding your attendees in real time using the GPS signal.
Speakers list
It's not a secret that seeing a specific person on a speakers list can become a good reason to visit the conference or, at least, his lecture. That's why you also shouldn't underestimate the potential of this element of your app.
From the event app development perspective, implementation of the speakers list shouldn't take much time or efforts. The main challenge for you here is to create a comprehensive and beautiful UI.
In-app Chat
Any conference is a discussion platform where participants can share their thoughts on a specific topic. Make this true for your application too!
Integrated chat can possibly become a place to make new acquaintances, ask questions, find a companion so as to get to your event together and so on. Meeting new people who share same interests as you can also improve the general impression of your conference and encourage people to participate in your other events.
Feed
Feed is an essential element of any social application. That's why you should also consider it if you are going to build a mobile app for your event. What content can you post there?
– Organizational messages to keep users updated with possible program changes and other important announcements.
– User-created content. Engaging photos, videos and text posts that in one way or another relate to your conference to heat them up before the event.
– Some unique insights (for example, announcement of new speakers) to encourage people to check the application more often.
Tickets Booking Feature
One more reason to build a mobile app for the event is optimization of organizational processes. If you are going to set some entrance fee and sell tickets, you will have to find an offline location, print them, hire a cashier – a lot of headaches, frankly speaking.
Instead, you can simply add a venue booking feature in your app and make it possible for users to buy tickets at any time from their home or office.
Push Notifications
We've already mentioned push notification when talking about the schedule. Yet, they can be used not only for reminding about the upcoming conference but also in many other cases. Stormotion team always suggests using push notifications as a powerful retargeting tool.
For example, you can inform users about new messages in chats or important program changes. Also, push notifications work well if you need to announce ticket discounts. Moreover, you can send notifications when there are some interesting feed updates.
Conclusion
As you can see, conference app development isn't that difficult as you could think. It provides you with many opportunities in the field of event management, can serve as an effective retargeting tool and may attract new visitors.
Your step-by-step guide to making own app for conferences is simple as that:
– Find an appropriate development team.
– Let them create an event app for you that will include the features we mentioned above.
Good luck with your app development!