Have you discovered a world of WordPress themes yet? If not, you've been missing out on some truly fantastic ways to build awesome websites.
WordPress themes are noted for their attractive designs and appearance. They also are known for the full functionalities many of them encompass.
There's virtually no limit as to the types of websites you can build. This is not only because of the huge variety of themes, but also thanks to their customizability. A wide range of plugins is available to give you even more options as to what you can accomplish.
Check out these top WordPress themes. Each of them will enable you to create award-winning sites in 2018.
Hestia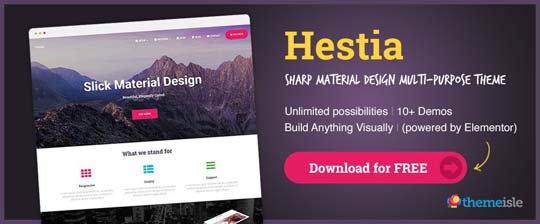 Hestia is intriguing and a relative newcomer to the family of WordPress themes. This multipurpose WP theme comes in two flavors; the free version described here, and sometimes referred to as Hestia Lite, and a pro version. Hestia is a slick material design theme that is primarily intended for startups and small business applications.
The first thing you'll notice about this theme is its clean, modern, and extremely stylish look. The theme's name takes on a special significance here. Hestia was the Greek goddess of architecture, and also of the correct ordering of all things domestic.
Hestia's layout is built to appear as a single page. Its main features include responsive design, a featured, full-width slider, WooCommerce compatibility, and a live customizer, that enables you to see changes you make in real time in the same window. Hestia is also SEO friendly and compatible with drag and drop content builders.
To try a theme that's new, different, and genuinely exciting, all you need to do is download Hestia. It's free!
Enfold
With this best-rated ThemeForest top selling WP theme in your designer's tool kit, you can set up new websites for your clients in no time. A degree in rocket science is definitely not a requirement for using Enfold. You won't have to do any coding, and you don't even have to be a WordPress expert. Enfold was designed for all skill levels.
This theme uses a flexible template system that enables you to create awesome pages right out of the box. When you've created one or more layouts you like, you can save them as templates if you wish, and use them again at a later time.
Enfold's drag and drop Layout Builder is extremely easy to use. You'll also have lots of beautiful interactive elements to work with (sliders, slideshows, galleries, toggles, etc.) and plenty of demos that you can install with a single click.
135,000+ users can't be wrong.
Porto – Ultimate WordPress + Ecommerce Theme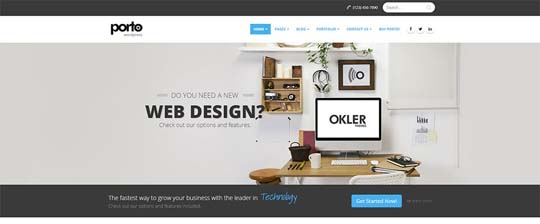 Porto is a super-fast, highly-optimized WP theme that may prove to be a better choice for your website design activity. Porto has been among the world's most popular themes for several years running, it has been constantly improved upon, and its design and code have kept current with the latest design trends and code practices.
Porto is 100% fully responsive, it's retina ready, eCommerce compatible, and compatible with tons of WP plugins as well. One of Porto's strongest points may well be its variety of portfolio options, including small, large, wide, and full-width sliders, a gallery carousel, and masonry images including video.
Visit the website, and check out the Main Demo with its 18 variations, the Shop Demo with its 16 variations, and the 16 eCommerce Demos. Porto gives you more than plenty to work with.
Uncode – Creative Multiuse WordPress Theme
With Uncode, you can not only expect pixel-perfect pages, but a similar degree in perfection in website performance. Uncode's design is based on painstaking attention to detail.
Start with one of the product's 30+ design concepts, and apply the hierarchical options and innovative grid systems to turn your design ideas into beautiful, fully-functional realities. Uncode's specially-tailored Visual Composer does the heavy lifting. Uncode's Adaptive Image system ensures that no matter the screen size, your content will fit.
TheGem – Creative Multi-Purpose High-Performance WordPress Theme
TheGem is a versatile, responsive, high-performance WordPress theme with a modern creative design to suit a multitude of creative uses for building websites. It's a top-seller on ThemeForest, it has a 5-star rating, and with more than 14,000 sales the past year alone, it's a best-selling WordPress creative theme.
Equipped with the easiest and most flexible front-end editor on the market, Visual Composer, and delivered with a huge number of predesigned templates, TheGem is the perfect toolbox to start an online shop in the shortest possible time.
TheGem's authors have also added many new WooCommerce features. Since TheGem has too many awesome features to list here, visit their website to see for yourself. You'll be impressed.
Houzez – Highly Customizable Real Estate WordPress Theme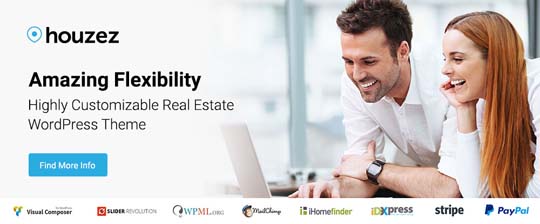 There are situations where using a specialty WP theme represents a distinct advantage over using a multipurpose theme, no matter what features are offered. Houzez' specialty is building real estate oriented websites, and provides exactly what is needed to make realtors and real estate agencies happy clients.
Houzez is fully responsive, and features everything these agencies require, ranging from flexible listings, to advanced property search capabilities, to payment and membership systems.
Grimag – AD & AdSense Optimized Magazine WordPress Theme
Grimag is a powerful publishing solution for editors, SEO-experts, and others looking to receive maximum monetization results when using responsive AdSense. Advertisement areas are placed in prominent spots, yet are designed to blend in perfectly with the content in the magazine-style pages.
Grimag comes with two color schemes, light and dark. The setup process is easy, there's plenty of supporting documentation, and Grimag is 100% compatible with WordPress.
The Core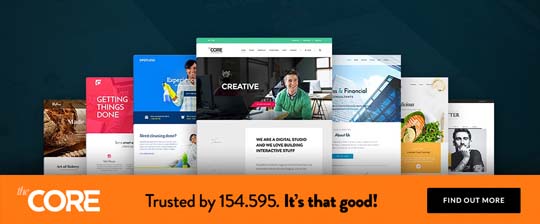 No special technical or coding skills are needed to work with The Core. Nearly 155,000 users can attest to that. You don't need years of professional design experience either.
Once you've installed one of The Core's thematic demos, this WP theme's Visual Page Builder will take you by the hand and enable you to customize it to your heart's content. You'll find the documentation and video tutorials more than ample, and future demo releases and updates are always free.
Leadinjection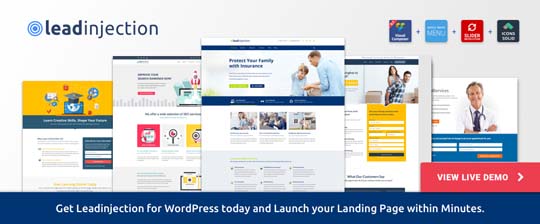 Leadinjection could well be one of the more useful themes in your design toolkit. This WordPress landing page theme gives business owners and professional marketers, including affiliate marketers, the ability to launch new landing pages and lead popups (that cannot be blocked) within minutes.
The result? A significant competitive advantage. Simply select a pre-made layout, import it, customize it, and your new landing page is good to go.
MOVEDO – We DO MOVE Your World
This multipurpose WP theme is decidedly different than most. MOVEDO is simply loaded with special features and effects, making it ideal for creative web designers who are looking for ways to incorporate their more mind-bending ideas into their products.
Features include super-crisp moldable typography, the ability to introduce motion dynamics in columns (move your mouse and the world moves with it). There are standard features as well, including Visual Composer, and WooCommerce and WPML compatibility.
Anariel – A WordPress Fashion Blog Theme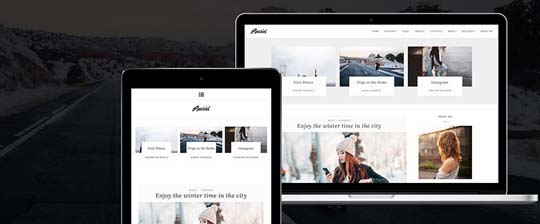 Anariel is another specialty WP theme that does for its users what many multipurpose themes cannot. It provides the exact layouts and features that fashion bloggers need, especially those who strive toward minimalism and the modern look. Anariel is responsive and SEO optimized, and comes with 6 pre-defined demos (single click installation). To give Anariel a try, all you need to do is download their free Lite version.
Real Homes – Real Estate WordPress Theme
Real Homes is a handcrafted WordPress theme for building real estate websites. More than 15,500 copies of this specialty theme have already been sold, and the approximately 1,000 customers who have rated it, give Real Homes a solid 4.66/5 rating.
All the features a realtor will need are included, including its advanced, easily-customizable property search system, a frontend property submission capability, and major payment gateways support.
Conclusion
There's plenty of variety to choose from here. It does not matter if you're looking for a premium multi-purpose WP theme or a specialty theme. You will also find or a theme that gives you a design capability or two that you never had before.
There's a few Lite, or free offers as well. Be sure to try them out. With one or more choices from these 12 products, you can easily make 2018 your best web design year ever!