Do you run a consulting business, or are you just starting up one of these companies currently? You know that you need to have a quality website that can provide your clients with the information they need to learn more about your company and the services you offer. A website using WordPress is always going to require a quality theme. While there are many options on the market, finding a theme that meets the needs of your business is essential. The Consulting theme, for example, is ideal for finance and business consulting.
The theme has the potential to work quite well regardless of whether you are the sole proprietor of your company, your business is up and coming, or you already have a large company with a number of clients.
Demos and Page Templates
One of the nice features of the Consulting theme is the fact that you can see just how it runs in a range of configurations and styles thanks to the 20 included demos. You might find something that you like in the demos, which you can then use as is, or change up slightly to make it work perfectly for your company's needs. However, that's just the start. With Consulting, you will also have access to more than 47 prebuilt page templates. Again, these can help you to get your own site up and running much faster.

Customize Your Site and Pages Easily
You do not want your site to look like all of the other consulting business sites out there, naturally. Fortunate, with this quality WordPress theme, you will not have to worry. You can choose between nine header layouts including sidebar heaters, standard headers, boxed headers, and transparent headers. The theme also features more than 120 content blocks, which you can move around the page as needed.
It is also nice to know that you have the ability to make these changes in real-time, before you push them out to go live. You can create a site that looks great, and that has a layout that is functional for your visitors so they never have trouble finding their way.
Localization
Localization is available for eight languages, as well. If you are going to be offering your services to people and businesses that are outside of the English-speaking countries in the world, this can be a very handy feature to have. It includes localization for German, French, Italian, Russian, Arabic, Spanish, Portuguese, and, of course, English.
A Responsive Theme
Given the fact that so many people today use their mobile devices – smartphones and tablets, when they are on the web, it makes sense that you would want to have a website that caters to those devices. Fortunately, the Consulting theme for WordPress is fully responsive. This means that no matter what type of device someone is using to view your site, whether through their phone, their laptop, or a tablet, it will look just as good and be just as functional as if they were to view the site through a regular desktop.
The Corporate theme has also been built with SEO firmly in mind. It is based on the top SEO practices, which can help you to get your site as high as possible on the search engines. With quality content, a site that uses this theme has the potential to go far.
Plugins, Apps, and More
You can use a range of plugins and apps with the Consulting theme. In fact, it comes with three plugins from Code Canyon, which are very popular. These include Visual Composer, which is a page builder for WordPress sites, Slider Revolution, a responsive slider plugin with a range of animation effects, and Booked, which is a module that will allow your customers to book their own appointment for the services you offer. This is a nice convenience for you, as well as for your customers.
The theme is fully integrated for a range of other plugins, as well. These include WooCommerce, Gravity, Contact Form, Mail Chimp, bbPress, and WPML.org.
The theme also features an editable corporate identity kit. This will make it easy for you and your team to create letterheads, envelopes, and two business card designs thanks to these included PSD templates.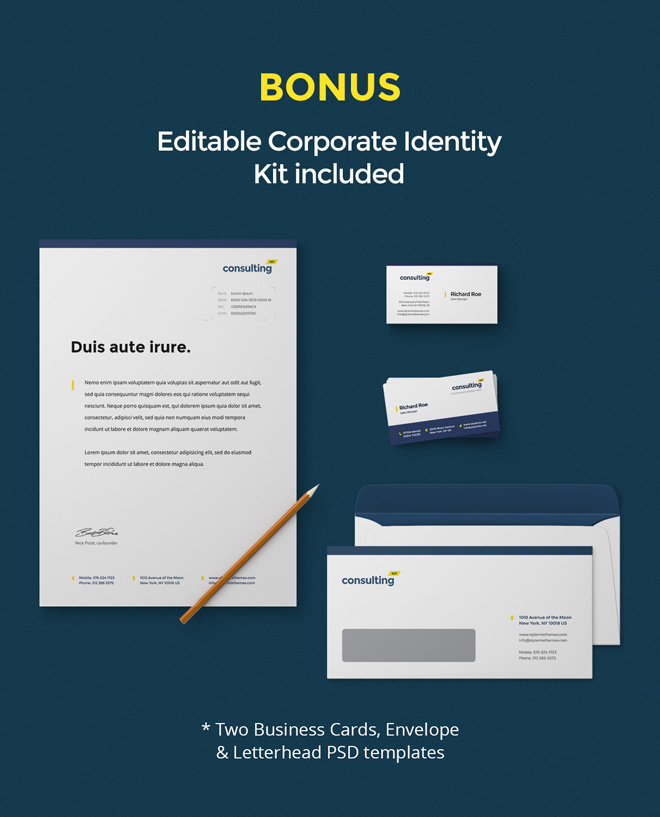 What Does the Theme Cost?
The Consulting theme for WordPress is $59 for the regular license. This provides future updates, along with six months of support from Stylemix Themes. It is also possible to extend the support up to 12 months. The support includes assistance with third-party assets, help with reported problems and bugs, and the author can answer questions. If you choose just the theme, you will need to have a host of your own where you can use the WP theme.
For those who want to buy more than just the theme – who also want to have setup and hosting – the cost is $16 a month paid annually. With this option, the buyer will have a host, and the theme will be set up for them. It will include full support with the hosted plan, as well.
What Is Included With Support?
When it comes to support, you will have a couple of options. For those who need to learn more about the theme and how to get started, the video tutorials are a great place to start. In addition, you will find online documentation, as well as a forum of other users who can help to guide you in the right direction. Users who have other questions or issues with the theme can rely on the 24/7 support with live chat.
Is Consulting a Good Choice for Your WordPress Theme?
Those who have companies that offer consulting services, and who are looking for a quality theme that is easy to set up and get running, and that has a wealth of features, will benefit from using the Consulting WordPress theme. The theme makes getting a quality, professional site online fast and easy so you can get back to the task of running your business.