Taking an activity that primarily existed in the physical world for decades and making it something internet users will enjoy is never easy. Indeed, when you look at the mixed response to online books, you'll see just how tough it can be to convert people. According to Forbes' review of Amazon's Kindle sales in 2013, things had gone "flat."
Following an initial boom in 2011, sales dropped from 13.44 million to 9.68 million in 2012. By 2013, sales figures were roughly equivalent to the number sold in the previous year. Of course, Amazon is doing just fine and people are now slowly coming around to having books online instead of on pages. However, what this example demonstrates is that it can be tricky turning something physical into something virtual.
Online Casinos Work for their Audiences

"Audience" (CC BY-SA 2.0) by treehouse1977
One industry that's had to face this challenge over the last two decades is iGaming. Otherwise known as the online casino, betting and poker, this industry has grown from relative insignificance to an economy worth $47.11 billion globally, according to Statista. While the inherent appeal of gambling has clearly helped the industry grow, it's not been enough on its own. Without accessible sites that tap into the zeitgeist, operators wouldn't be able to attract or retain players, much like Amazon had to adapt in order to bring in new readers.
The one thing you always need to consider when you're designing any website is your audience and the casino world is no different. In fact, what's interesting to note is that the audience has changed over the last few years. Back in the early noughties when online casinos were just coming into life, the general audience was serious players who wanted to play online because it offered a quicker way to bet. In line with this, sites looked fairly serious. This meant simple color schemes, few images/animations and easy to follow boxouts/menus.
Today, however, online casinos are looking to appeal to a broader audience. This has meant a shift in tone to one that embraces color and character. For example, this review notes that the website is "slick" and "original," which plays into the notion that casual players are now wanting to ante-up. Indeed, when you look at the site specifically, you'll notice that menus are hidden in retractable tabs and each section has its own color scheme. On top of this, you'll find custom-made characters throughout the site as well as quirky rollovers and animations.
The Medium You Use Can Make a Big Difference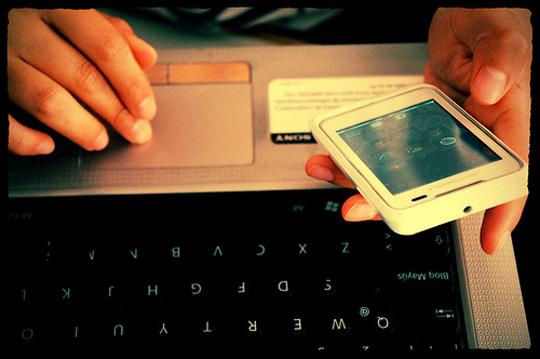 "Periodista" (CC BY-SA 2.0) by clasesdeperiodismo
In fact, what's also important to note when you're targeting a certain audience is the medium they tend to us. As we've noted before in our guide to UX mistakes you need to avoid, ignoring mobile users is a sin. The stats suggest that mobile browsing is more common than desktop browsing. According to GlobalStats data for 2017, mobile internet usage was 50.82% by November, desktop usage was 45.68% and tablet usage was 4.3%. Based on this, it would be suicidal to not focus the mobile audience you're attracting to your site.
Again, this is something online casinos have done well in recent years. Because developers have acknowledged that casual players are their target audience and these people tend to use their phones a lot, designs have had to change. Going back to Casumo, you'll notice the lack of clearly defined borders around the site. The reason for this is that it allows page elements to move and resize depending on the user's device. In other words, the developers have used a mobile-first strategy, which means the desktop site is not only capable of working on all screen sizes, but naturally flows more freely and feels lighter.
Overall, whenever you're trying to turn something physical into something virtual, the key to capturing people's attention is to think about their needs. In fact, this lesson can be applied to web design as a whole. Online casinos have thrived because the designers have adjusted their styling to suit the audience. From serious players to those playing for fun, the designs need to match and that can only happen if you know your audience.