We are constantly looking on ways to get our job done faster and respect tight deadlines, to win new projects and last, but not least, to deliver high levels of quality. All of that can be many times achieved by having productivity tools on our side that will add a couple of hours to our work day.
This showcase is about 25 excellent tools, like one of the best logo design service on the planet, Kohezion online database software, iGenApps which lets you build your own phone app without needing any coding skills or spending lots of money, an online professional database software that is budget friendly and many others.
Check the reviews below and test the solution, most of them are offering free trials or even free forever plans that are covering the basic needs.


Infrastructure and application monitoring is incredibly important to keep your business, website or web app up and running. Downtime can cost hundreds of thousands of dollars, so monitoring is incredibly important. Thankfully, AppOptics offers simple and seamless monitoring for apps and infrastructure.
AppOptics supports a variety of different programming languages right out of the box such as Java, Python, PHP and more. This makes it valuable and usable for a wide variety of different people and companies. It comes with three distinct features that make it a great choice:
Application Performance Management
AppOptics can provide you with real-time visibility into any app by not only collecting metrics, but also detailed transition traces. The distributed tracing follows requests across hosts and the data center, without any sort of manual input at all. Also, AppOptics allows you to quickly and easily leap from surface visual trends, to deeper, code-level analysis.
Server and Infrastructure Monitoring
AppOptics features a unified dashboard that features the health metrics for both your infrastructure and application. These dashboards will update in real time to ensuring you can always properly manage what you need. You can use the out-of-the-box dashboards, or create your own.
Custom Metrics and Analytics
AppOptics can give you amazing insights into the metrics and analytics that mean the most to you. You can use tags to filter and group data, to easily find exactly what you are looking for. You can compare the past and the present by tracking disparities and can even combine small measurements together into a custom summary metric.
In addition to those features, AppOptics has well over 150 popular integrations and plugins, including Amazon Web Services, Apache, Slack and many more. AppOptics starts at $7.50/mo per host and you can start a free trial today, with no credit card required.
Tailor Brands 
– Automated Logo Maker and Brand Builder
At the top for a reason, Tailor Brand is an effortless way to create effective and unique logos without the financial headache of hiring costly designers. The company has an AI-based logo maker that uses a vast library of templates and designs to create unique and beautiful company logos in minutes. Simply answer a few questions and you'll have a design that matches your preferences.
More so than just a logo maker, however, Tailor Brands also offers a full suite of branding tools that let small businesses get exposed and boost their bottom line for an affordable monthly subscription. The company's social media tools are a great way to gain exposure on Facebook and Instagram without stress. Tailor Brands' weekly social media planner crafts a full schedule for posting to several platforms. You can also create social media posts and Facebook ads and profile cover with your brand assets.
When designing your website, Tailor Brands also provides a tool to resize logos and offers them in various formats. If you want to give your website a holiday look, the company also gives you seasonal logos to use in promotions, marketing materials, and more. Even if all you need is a landing page, you can create one in seconds with Tailor Brands.
For your business side, the company provides business cards and decks, letterheads, and presentation templates. And when you're ready to hire a full-time designer or work with an agency, Tailor Brands also gives you a brand design guide.
With a basic monthly subscription of $2.99 and a full suite for $10.99, Tailor Brands gives you excellent design abilities without breaking your budget.
iGenApps – Build Your Phone App Without Any Coding Skills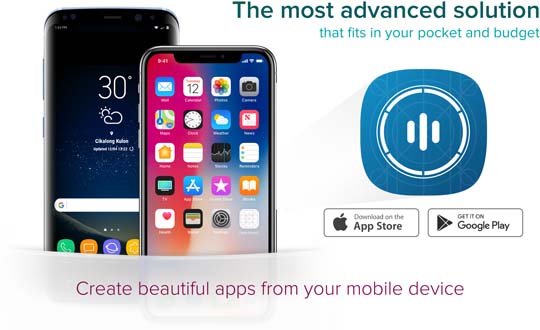 Some time ago, building websites involved lots of money and hiring web developers. All of that often happened until WordPress and website builders were invented and have literally transformed the difficult process into a convenient way for all people to have a professional and budget-friendly website. Now 27% of the web is powered by WordPress and more than 100 million websites were created with the website builders. iGenApps made exactly the same thing but for mobile app development and it represents the future.
This is is the number 1 app builder in the app stores which will help you build your own fully customized professional app within minutes, directly from your palm. They have patented a powerful and intuitive wizard building process that will help you create step by step amazing looking Apps with elements such as icon images, splash screens, backgrounds, multiple menu types and various content screens. There are 2 million downloads and 1,5 million registered users that are building their apps every day.
iGenApps is amazing, so are the apps created using this platform which is not requesting you a special knowledge or any programming skills. Check their website for all the details, you will understand in seconds what can be achieved using iGenApps.
Their premium services include helping you submit the app to Apple and Google stores for a small cost. Build mobile apps with iGenApps and connect with your customers, fans, and followers.
Kohezion – Online Database Software

Kohezion is one of the most popular online database software on the market; it is packed with the latest technologies and features. The platform is used by businesses of all sizes and non-profit organizations around the globe for their online database needs. With 50,000+ users and growing, Kohezion is helping organizations manage and share their data easily and efficiently.
The powerful dashboard is user-friendly and has a powerful drag-and-drop builder, making it easy to build and customize your new online application.
Whenever you need a custom-made app developed, Kohezion can help you for a reasonable price and your project will benefit from having a dedicated solution.
Pricing starts at $50/user/YEAR and they also have a Free Forever plan which covers the basic needs. Sign up and start using Kohezion.
Visme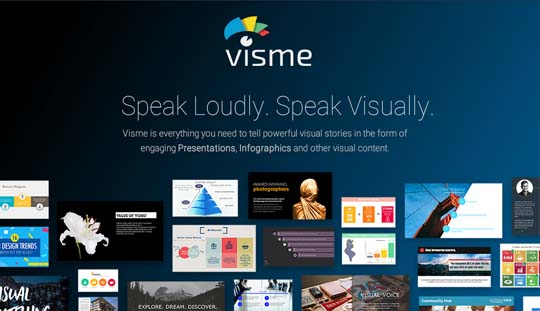 Make your job as a visual communicator easier by picking up Visme as your visual content tool. Visme was designed to be used by non-designers to create visuals such as images, charts, and infographics, as well as professional slides for presentations online or offline.
You get access to a huge library of high-quality images, vector icons and a vast library of charts, and data widgets.   You can even take your content up a notch by adding interactive content such as video, audio, maps, quizzes, polls, and surveys to your projects or websites.
For private projects, you can password protect them for your own use. Through Visme, you can publish and share your works on your website, or in case you will be offline, download them as images, PDF or HTML5 files.
Anyone can use Visme free of charge. To use the platform's premium options, you can avail of a paid plan starting at $10 a month. Getting the paid version also means full control over your branding and the option to use your own fonts.
Ultra Theme
Ultra is the most powerful WordPress theme that comes with 11 included add-ons, an excellent drag-and-drop builder that will greatly help you build from scratch or customize the 60 pre-design layouts. The included designs will make your website look exactly as the demos and can be installed with only one click in seconds. The price is $49 for the standard license and can be used to build unlimited websites.
Codester.com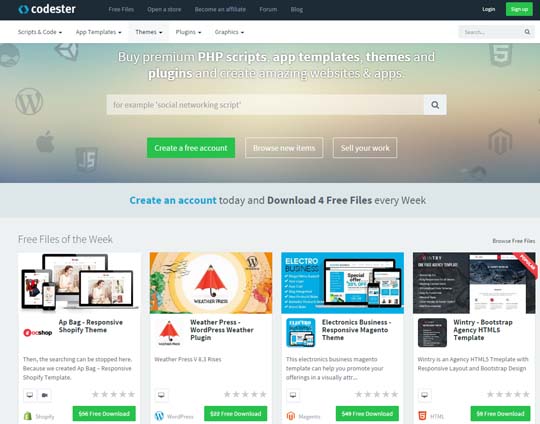 Codester is a huge marketplace for web designers and developers where they can buy and sell PHP scripts, codes, website themes, plugins, app and much more. They have a special "Flash sale" section where products can be bought with 50% discount for limited periods.
GrapeCity – JavaScript Solutions
Launched in 1950, Grapecity is a strong company in everything they do. Their JavaScript solutions have 2 components SpreadJS and Wijmo that will help you build basic websites, full enterprise apps, and Excel-like spreadsheet web apps. SpreadJS and Wijmo are pure JavaScript controls and have no dependencies. They won't bloat your controls and are optimized for size and speed. Read more about them and start using the best JavaScript solutions on the market.
ThemeFuse.com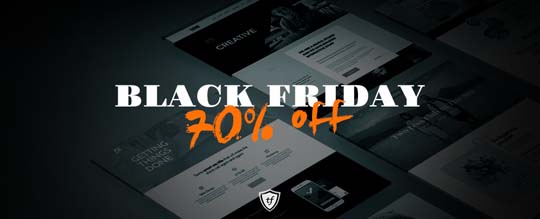 ThemeFuse is a premium WordPress theme developer which has a huge collection of more than 45 brilliant themes that are packed with the latest technologies and features, having tons of options to customize. With $99/year you will have access to all their themes, support, and updates. Use this code BLKFRY2017 and get 70% discount.
Blaskan WordPress Theme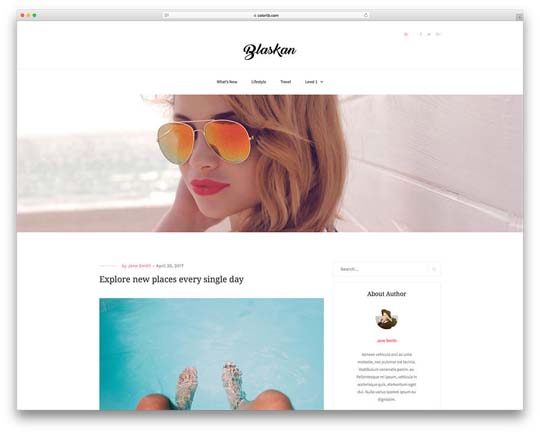 Colorlib, a powerful WordPress theme developer launched Blaskan, a super-simple, a free and professional theme that can be used for any kind of project: food, personal, business, blog, and others. Download it for free and build your new website with it.
VectorStock.com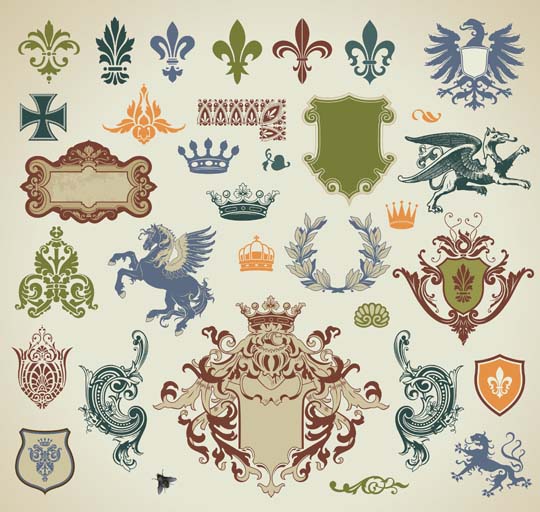 VectorStock has a huge collection of almost 8 million, gorgeous images that can be resized to fit any project. Web designers and developers are finding here tons of pics that they are using it every day. There is a section with almost 160,000 pictures that are absolutely free.
WordPress Website – Hosting, Plugins, Customization
WpKube is investing massively to launch new WordPress themes that have tons of options and are packed with the latest technologies and features. On their website, there are also lots of WordPress resources that will greatly help you. They wrote the most complete guide on the internet of how to build a WordPress website covering all the aspects: theme, hosting, plugins, coupons to get great deals and more.
Host-Tracker.com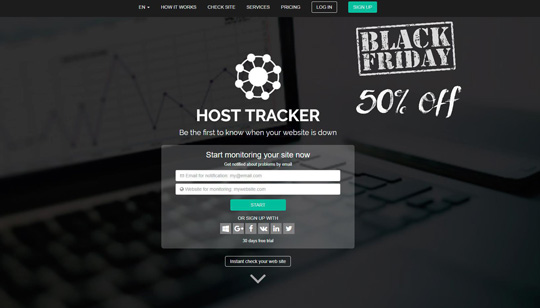 With more than 320,000 monitored websites, Host-Tracker is one of the best solutions that will instantly let you know if there are problems with your website, domain or content via SMS, email, Skype and other methods. Very important, they have a special feature regarding Adwords advertisement, that will auto-pause if your website is down or start if it is up. It's a money saving feature. The pricing is $5/month and for new customers they are offering a 50% discount, using this link.
48HoursLogo.com
Are you looking for a great logo design but your budget is limited? Check 48HoursLogo, it's a great platform that will help you launch logo design contests with only $29. Experienced graphic designers will compete to send you the best logo for your project.
Sentree Managed Hosting with WordPress Maintenance
Website hosting is vital to the success of your online business. We all need fast and secure websites as we invest lots of money into building traffic and convert them into customers. Sentree is an excellent solution, packed with the latest technologies and features. The pricing starts from $35/month and if you pay for the whole year, you will get two months free.
MedZone Lite: Free Medical WordPress Theme
MedZone is a free, highly-flexible WordPress theme that is a perfect fit for all types of medical practices including dentists, doctors, surgeons, hospitals, clinics, and more. And because MedZone ships with helpful elements like appointment forms, opening hours, team member listings, and more, it's also perfectly suited for other types of service businesses. Build your medical website for free with MedZone.
SuperbWebsiteBuilders.com

SuperbWebsiteBuilders sees its mission in unveiling the secrets of web design to everyone, who is interested in them. The website contains dozens of reviews and comparisons of website builders based on their specifications and characteristics. By reading these articles, users will be able to choose those web building tools they need to complete their web design tasks. This is what makes the blog so popular with newbies and web designers.
Landing Pages by Lander
Lander is the best landing page software on the market, packed with dozens of useful features and the latest features. Starting from their gorgeous landing templates, you can use their powerful editor to fully customize them and boost your conversions with them. The pricing starts from $16/month billed annually and they have a 14-day free trial.
WordPress Themes by wpkube
Wpkube is investing massive amounts of money in launching professional WordPress themes that can fit almost any kind of project. Their themes are crafted with terrific attention to details, are fully responsive, mobile friendly and can be customized in minutes. Check their portfolio, the pricing starts from $45/theme.
MailMunch Squeeze Pages
MailMunch is an advanced landing page software that will help you hugely increase conversions. Get new customers and subscribers from your traffic and start saving lots of money. They have lots of great landing page templates and a built-in editor that will help you quickly customize them. They have a free forever plan and the pricing starts $15/month.
Pixelo.net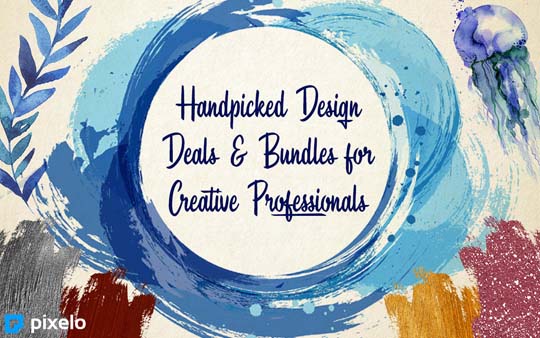 Pixelo is an awesome design platform created for designers by designers. Here you can find absolutely the best deals on the market as they are closely working with some of the most important web designers in the world and they update the website every day. Check it.
Userlytics.com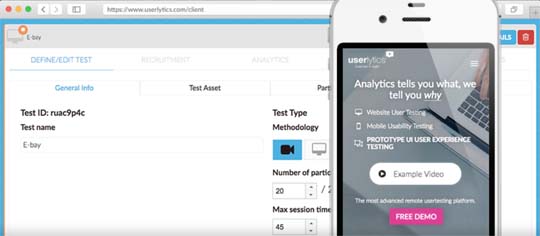 Userlytics is one of the most advanced user testing platforms on the market, has a lot of unique features (e.g.: quant & qual usertesting), and is great for iterative agile usability and UX testing. Pricing starts at $49/participant, including a unique task based branching logic capability, with picture-in-picture video recording.
Uncode WordPress Theme
Uncode is among the most powerful WordPress themes, being crafted with terrific attention to details and packed with the latest technologies and features. It has lots of layouts included so you can easily customize the theme to be a perfect fit for your project. The price is $59 and it includes 6 months of support.
Goodiewebsite – Web Development Service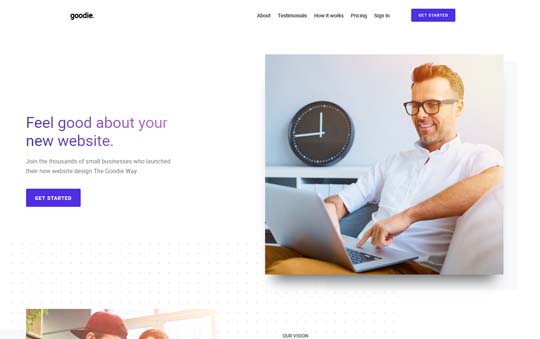 Goodie is a great niche web design agency with more than 10 years' experience on the market which focuses on crafting highly detailed and fast websites for small businesses. They are asking a fixed fee of $999/website and even a super-simple website will be outstanding. Contact them.
InvoiceBerry.com
InvoiceBerry is a great and complete invoicing software that works perfectly for freelancers and for small&medium businesses. Creating and sending fully customized invoices takes less than 60 seconds. InvoiceBerry can be used to track expenses, invoice in multiple languages and currencies, create and send quotes and much more. They have a free forever plan and the pricing starts from $15/month.
EmailMonster.io – Email Editor
EmailMonster is an advanced email editor that is coming with a great collection of professional templates that can be fully customized with the built-in editor. They are offering a free Black Friday email template.
Conclusions
The only way to survive in the jungle is to have the best tools and collaborate. Here it's the same. We have design companies that can be hired based on the project, tools that are quickly doing things and saving us lot of time, or iGenApps, a tool that will make transform your ideas into phone apps, without needing any coding skills. Give them a try, it is totally worth it.