Pearl is unlike any WordPress theme you've ever used. Why? You'll have the capability to
design a website to the exact specifications of your business, personal blog, expertise or passion. It is versatile, sleek and adaptable for really any type of business use. Pearl is a micro-niche business WordPress theme that allows you to mirror your business's uniqueness on an online platform.
What is Pearl?
From it's installation, Pearl allows you to simplify the production of your business website by allowing you to choose which template best fits your business model through a collection of theme demos. Each demo is designed to highlight your business's strengths not only aesthetically but professionally as well!
Pearl's hottest selling point is this: a theme that is adaptable based on your needs because Pearl will bend and shape according to how you want it to look. Pearl demos all contain information that prompts creativity in building your website. Less is always more when it comes to an attractive website these days and each Pearl demo gives you every option imaginable to create a user friendly site. And I'll explain why.
Pearl currently has 15 featured demos in the latest update

Some of the features of each demo include:
Custom Pearl Slider
Drag and Drop Header Builder
Support for globally recognized plugins
WooCommerce
Open Table Widget
Recent Tweets Widget
WPML
Visual Composer
Revolution Slider
Contact Form 7
Breadcrumbs NavXT
Custom theme options panel
Drag and drop Page builder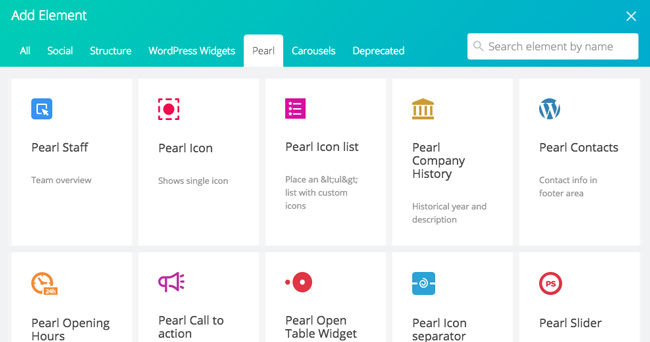 The list goes on. Really, Pearl is one of those "I need to try it to believe it" kind of themes.
If you're a rookie who is building your first business website or you're already an expert in
creating websites from scratch, Pearl's versatility gives you more than the necessary building blocks to achieve your website goals with zero hassle. The coolest part? Each demo carries their own features that are specific to their industry.
Upon each demo's download, you'll be able to view which niche-specific plugins have been included in the demo. These plugins and features can be turned on or off depending on your preference.
For example, the restaurant demo allows you to include an OpenTable plugin which gives your business the capability to manage reservations straight from your homepage.

Another fantastic feature that the Restaurant demo provides is it's ability to capture the essence and unique nature of each menu item individually.
What's so Awesome About Pearl?
I could get into the nitty gritty of each customizable feature, but I'll just share a few thoughts on some of the most mind-blowing ones.
Since I am far from being an expert to the website building business, Pearl made it crazy easy for me to literally drag and drop the features that I wanted to include in my website. My point being that you're not going to spend countless hours building a website from scratch with Pearl. As you pick and choose how you want your website to look, you can view it's progress each step at a time. It's almost like all of the Pearl demos do the thinking for you and anticipate the next steps you'll need to take in building your site.
For example, Pearl comes with the ability to create custom background slideshows seamlessly using the Pearl Slider. You'll have the power to change your background image transparency and even embed videos.

Pearl's Header Builder is another great feature where you can drag and drop content within each module. You'll have complete freedom in picking and choosing exactly what you need on each page.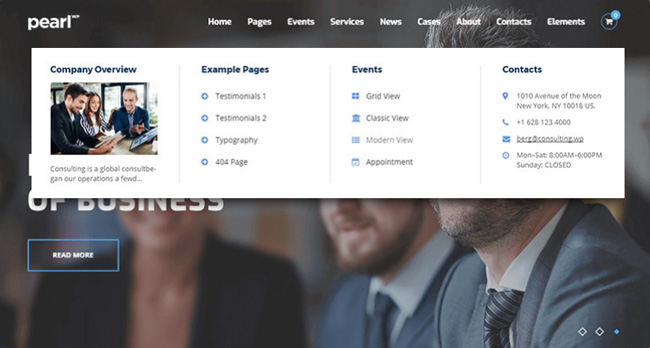 When you create menus, you won't have to use external plugins to personalize each menu
option because you'll have access to the Pearl Mega Menu.
One of my favorite features of Pearl is it's compatibility with WPBakery Page Builder. This feature allows you to watch your website blossom in front of you. You can build each layer of your site from scratch and if you're like me and need to visualize your progress in high resolution, this feature is your ticket to a gorgeous and excellently developed site.

What Would I Change?
There really isn't a whole lot that I would change other than one slight tweak. The people who are building their site for the first time (and maybe using WordPress for the first time, too) might feel a little overwhelmed by all of the amazing options within Pearl. There should be a step by step procedure that new users can follow along with just in case they encounter any hiccups while they customize their site. Kind of like when you download a new app on your computer or phone and the prompts walk you through how to use it.
Cost?
For a regular license and 6 months of author support, Pearl is $29, but for $6.38 more you get a year's worth of extended support. To get the theme, setup and hosting for a year, Pearl is only $16 a month which is totally worth it.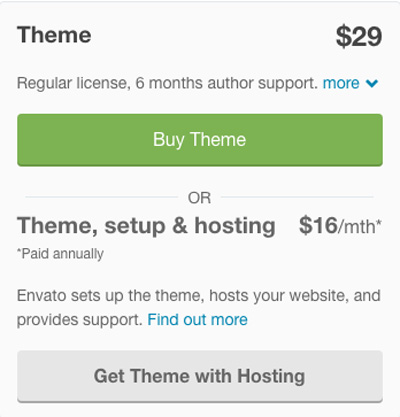 Wrapping It Up
Pearl will make your business look like a million bucks because of each niche-based demo. It's user practicality, high resolution capability, visual query, Visual Composer Customizer, overall control and price, makes everything about building a website easy and sleek. I would definitely recommend Pearl to anyone looking for fresh branding without the hassle and without burning a hole in your pocket.
Learn More
If you're curious to learn more about Pearl, check out this video and be sure to subscribe to the StylemixThemes Youtube Channel to get exclusive updates on Pearl and videos with tips on how to use Pearl's unique custom
features!