Optimizing digital marketing is required for every website owner who wishes to successfully compete with the most important companies. The market is a complicated one, with lots of competitors which heavily invest and become stronger day by day. There is no room for errors or for "IFs". Everything should be researched and well documented, this is how high-performance companies are doing it. From website visitor to closed business, and with the right tools, every phase can be optimized to reduce cost and increase sales.
Today we will discuss about web forms which are extremely important. Forms are the interface between your business and the visitors. Driving traffic to a website is a hard task that costs lots of money. A high percentage of the converting traffic is coming from different forms (contact forms, order forms, online surveys or registration forms). Same happens with all of your other marketing efforts. Do everything right and keep the high level also for your web forms.
A professional and complete web forms solution that will greatly help you maximize your marketing capability is 123ContactForm. It is a highly appreciated online forms builder that can do everything is related to web forms. Great forms will convert better and further develop your business.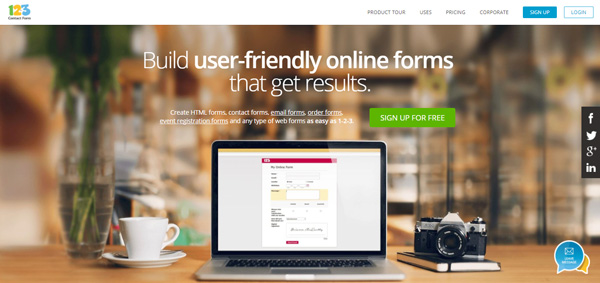 Make the Changes That Really Matter
123ContactForm has powerful features that will boost your website conversions starting with the design. People love beautiful things, including web forms. Creating a web form starts from their beautiful themes or from scratch, despite the method you choose, an easy to use real-time editor will be at your disposal. All of them are web and mobile friendly and can be customized to have any number and a variety of fields, the upload functionality and can have multiple pages, to provide a better user experience. Form visitors will navigate through form pages using Next and Previous buttons. A progress bar will be placed at the top of multi-page forms and surveys, helping users know precisely where they are.
Their web forms can be embedded on any website, blog, and social platform: WordPress, Facebook, Joomla, Wix, Blogger, NationBuilder and Twitter. Copy the code optimized for each and paste it on your site. To make it even easier, 123ContactForm provides applications for Facebook and Wix, a plugin for WordPress, and an extension for Joomla.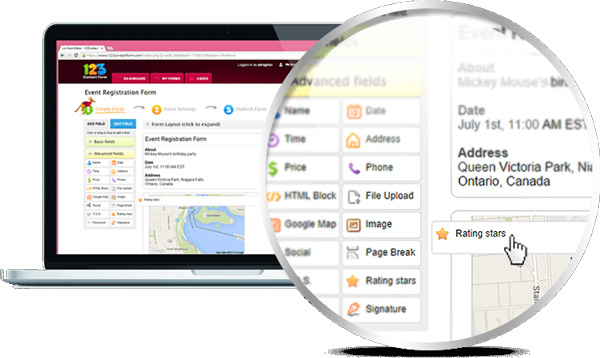 Benefit from a free form builder with database storage, where your submissions are safe and protected. View and filter form submissions in your account's database, resend them to your inbox or export them to CSV. Edit received submissions in your database and, if you want, allow users to edit delivered messages themselves or to save an incomplete submission and continue at a later time. Having this database is huge for marketing. You will get lots of subscribers arranged after several fields. When you have a marketing campaign, you can contact all of them. Send email addresses and other contact information to your MailChimp mailing list.
Details are important
Having the same design all over the website is equally important for user experience. You can select the background, the font colors, and styles. PS: all theme elements can be customized. If needed, you can quickly add custom CSS to further increase the attention to details. Take the next step into form styling. You can customize even the form URL.
Use field rules to show and hide fields when certain conditions are met. Design conditional logic forms to route respondents to appropriate questions. Form branching allows you to keep only the relevant fields, based on users' input. Complex conditional form branching can be used for autoresponders as well. Create several confirmation messages and trigger them depending on the input provided by users. Last, but not least, the URL to which users are redirected after submission (if you are using this option) can be different based on their input. Redirect users to a page that provides information tailored to their specific requirements.
123ContactForm allows you to easily build and translate forms and surveys. Added languages are included in a dropdown menu at the top of your form, from where visitors can control the display language. Translate your forms and surveys to cross cultural barriers and reach higher conversion rates.
Pricing

There are 4 plans, the first being totally free and covering the basic needs to create forms. The others 3 are budget friendly and have lots of things included. The Gold plan is $19 / month and can be used to create professional forms, the Platinum is $39 / month and the Corporate Solutions package is starting from $79 / month, billed annually. On the pricing page, you will find a great comparison where you can easily see all the features included per plan.
Final Thoughts
We live in hard times and we need to focus on every single aspect of our business, blog or whatever project we have. Web forms are as important as other efforts we are making like building traffic, creating products or launching new services. 123ContactForm is used with great success by many companies and users. Using this solution you will have your hands on every aspect of your web forms and this is the single way to have forms that heavily convert. Start creating such forms with 123ContactForm.