Let the professionals help you create a visual brand identity that sets you apart from others. AAA Logo Creation Software specializes in helping businesses create their logos. Choose from hundreds of professionally designed logo templates. Then customize it to create your own symbol, for your business.
Start with a AAA logo templates window:
Choose from a staggeringly large collection of logos that have all the different kinds of themes and vibes imaginable – organic, modern, crafty, creative, cutting edge, technical, grungy and much more. Browse through the collection and select which design you like best.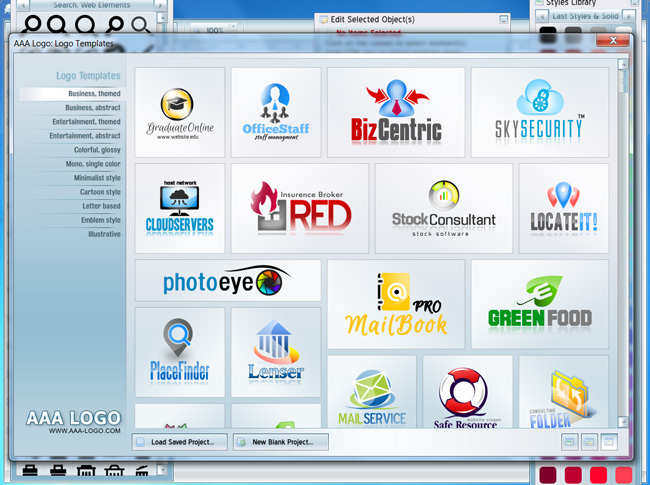 In AAA Logo you will find a wide range of innovative logo designs specific to your industry. Your logo needs to communicate your service to the customer without being unoriginal, and or something that's already been seen before. This is why we make creatively inspired logos, and deliver your message in style. You can use AAA Logo software's user friendly editor to add your company's name, edit the logo, edit the colors, select the font style and much more. When the vector is ready, use it wherever and however you want.
All of AAA Logos are designed by professionals who know the nitty gritty dos and don'ts of graphic design. Building with shapes, types, and colors, get logos that are visually appealing and memorable. AAA Logo designs follows the latest trends in graphic design without forgetting the basic rules. This is key to ensuring that logo design will stand the rest of time without getting outdated in a few years.
AAA Logo Editor Window:
Once you have chosen your logo design, use the software to edit it to your taste and liking and give it your own personal spin. Enjoy your full power to customize the design, typography, color palette, styles, icons, etc. With easy to use but powerful software, leave no stone unturned, for you are completely in charge of your logo.
Your logo will be the face of your company throughout its life in the corporate world. It will be everywhere – your website, presentations, brochures, letterheads, offices, vehicles and merchandise. Its more than just the first impression of your company – it is the message you continue to give as establish your foothold in the market, and engage with clients, service providers, investors etc. in any way. The embodiment of your brand strategy is your logo. People need to remember it, associate it with your brand, and trust it.
Download AAA Logo free from the Logo Creation Software website, create your new logo now!