Think of site architecture as a blueprint of a house. If effectively created, the site architecture can help you lay out the structure of your website so that it serves your target audience as well as the search engines. Your goal should be to create a fine balance between these two segments.
As far as search engines are concerned, they prefer websites that have content which can be easily identified. Unorganized content is a big no-no for search engine optimization since it makes it difficult for the search engine to understand what your website page is about. If a search engine can't understand your content, you can't rank for your targeted keywords.
What you need to do is silo your website i.e. you need to create precise content groups and internal linking so that search engines are able to accurately read the message you are trying to deliver.
Benefits of Site Architecture
Site Architecture provides the following benefits:
It helps your users navigate through the site easily as well as directs them to the most important pages
It promotes link equity throughout the pages of your website and this increases your site's overall authority
It allows search engine crawlers to crawl your site more efficiently
It allows you to rank for your keywords without having to acquire as many links
Tips For Designing Optimal Site Architecture
The Three Click Rule
As a rule of thumb, make sure that it does not take more than three clicks to get to your website's core content. The purpose of site architecture is to help you achieve just that.
Limit The Internal links Per Page
Limit the number of internal links on a single page. The less internal links you have per page, the more authority each link will have. Less is more.
A lot of people make the very basic mistake of cluttering their home page with internal links. Don't do it. Your homepage should ideally be your strongest page.
That is the page you use to grab the visitor's attention and motivate them to explore further. Whatever links you have, they should all serve a purpose. Whenever you post content, insert links or add anything on your website, think whether those items will serve the user and the search engines.
Anchor Text
Do not always use keyword-rich anchor text for your internal links. As a general rule of thumb, I recommend you use 50% exact match anchor text (meaning the internal link is created with the exact keyword you are aiming to rank the page you are linking to) and 50% generic (ie. click here, read this post, etc). The goal should be to use anchor text that will make your user click through to the next page.
Only Your First Internal Link Counts
When designing your site architecture remember that, as far as Google is concerned, it is the first anchor text that matters the most. Like they say, first impressions are the most lasting, so if you want your website to have a good presence on search engines, you need to make sure that the first link on any page is the strongest and the most relevant.
Site Architecture Design Options
The first thing to keep in mind is to ensure you do not over-complicate things. All you are doing is strategically planning your internal links. There are different approaches that you could use including a:
Top-down approach
This structure basically means that your internal linking flows down from your homepage through your category pages down to your product pages. This approach usually works for most websites. However, the biggest disadvantage of this approach is that your homepage becomes the centerpiece and since it is the page that is redirecting to all other important pages, it does not remain link-worthy.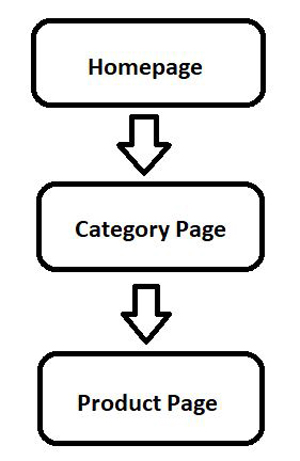 A Content Focused Approach
This structure is more content-centric and which is based on creating original and informative content, acquiring external links to that content and building your website authority from bottom to top. Your homepage can still acquire external links but your focus would be on developing content that is link-worthy and that creates a strong link-equity for your website. In this type of structure you would create internal links from your content to the pages you intend to rank. If you have the budget to create tons of high quality content, this is the best way to rank your website regardless of whether you are doing seo for a local business, ecommerce store, or national company.
Silos
For your site architecture to be effective, you must build multiple silos. A silo comprises of three pages that are related to one another. Your first page targets a broad keyword, your second page targets a long-tail keyword, while your third page targets a hyper-long tail keyword.
Once those pages are created, you should link your first page with the second, link the second page to the third, and then link the third page back to the first. This way you will be able to distribute the links throughout the pages of the silo thus increasing the authority of all connected pages and increasing the topical relevance of these pages.
As you create more content, you can make your silos even more relevant by cross linking them with other silos that have close relevancy. This results in an even more equitable distribution of links and adds on additional topical relevance.
Site architecture is the basic foundation of your website. The more effective your architecture, the easier you will rank your website.