SendPulse is a marketing automation platform that provides you excellent tools for email, SMS and web push marketing at a compelling price. By combining all these communication channels you stand a much better chance of reaching and engaging your target audience. Isn't that THE goal of every marketer?
SendPulse Email Newsletter plugin for WordPress
If your website is powered by WordPress, you can easily add a SendPulse subscription form to build your email list and stay connected with the audience. All you need to do is install this WordPress email newsletter plugin.
SendPulse offers you a simple and functional Subscription Form Builder. Depending on your needs, you can select from three types of forms available in the Builder:
– Embedded form that can be located in any place of the page,
– Pop-up window triggered by user behavior,
– Floating form grabbing the attention of the site visitors and facilitating the subscription process.
You can pick one of the pre-designed forms or design the form yourself to match your brand's style. The form is easily customizable – you can add your own CSS styles, edit colors and elements, include any fields to collect personal data you find relevant for future personalization and segmentation and upload images. Moreover, all SendPulse subscription forms are responsive, so you no longer have to worry about the screen format.
When you're done designing your form it can be easily integrated to your website or page by means of a shortcode.
You will find instructions on how to install SendPulse email newsletter plugin for WordPress in the step by step guide.
SendPulse Web Push plugin for WordPress
SendPulse WordPress Web Push plugin allows you to add free push notifications to your website to rapidly inform visitors about news, sales, promotions, new products or other significant events.
Provided that a user has opted-in to receive the notifications, the site will send short messages that can be viewed in the following browsers: Google Chrome, Safari, Mozilla Firefox and other Chromium based browsers.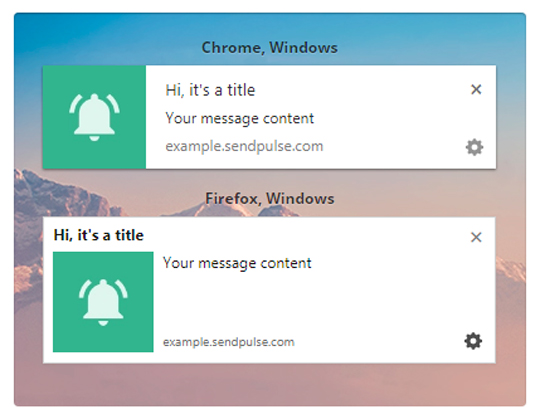 Web Push notifications can be sent to offline users too – offline users will see your notifications as soon as they come online.
You can personalize web push notifications by adding personal information about your subscribers. This will improve your conversion rates, help to get a better response from subscribers and build trust among recipients. Using SendPulse plugin you can also segment push notifications based on multiple criteria: browser language and type, location, subscription date etc.
To increase the effectiveness of push notifications, you can analyze the realtime statistics indicating the number of subscribers and active subscribers, the number of notifications sent, deliverability and conversion rates.
The installation procedure of SendPulse Web Push plugin for WordPress is described here.
But first things first – register a free SendPulse account and start sending up to 15,000 emails and as many web push notifications as you need each month for free.