How to Earn with Social Stock
Hi there and here is something new and cool for you. Today we will talk about splendid project launched by Template Monster. This is a unique opportunity for you and your friends to get splendid prizes and get in a flow of web design. Let's see what we have here and explore every detail. Now you need to answer several plain questions. Do you spend much time online? Do you have many friends in social nets? If your answer is yes, so here is an awesome offer for you. Listen up and learn more about Social Stock . The way to spread quality templates for websites with a 10% discount. The project of a dream with no investments, but only profit.
Be sure that you may take part as there are no special requirements. TemplateMonster is one of the most reliable companies on web market today. Check out TrustPilot and see that currently it is #1 web design company. Countless positive review testifies the professionalism and efficiency. That is how successful and talented team works to satisfy every client. A group of enthusiastic designers and developers have created vast variety of templates and continue developing their skills. That is why nobody can stay away the cool offer to get truly fantastic template with a 10% discount. Here is an instruction how to do it.
What is Social Stock?
TemplateMonster tailored for Internet community for the sake of web design development. In other words, that is how awesome templates may be spread with simple social messages. In you are novice in this field and don't know much about coding, that is totally OK. All you need is a wish to share the templates with your environment and some kind of creative approach. As for the rules, you shouldn't be younger than 18 years old. Actually, that is it, everything is rather simple. Once you are a registered participant of TemplateMonster's Social Stock Program, you receive your own 10% promo code discount on your email address. This code can be used for any TemplateMonster template. Next step is to spread the code among your friends and followers. When they use the code and make a purchase, they will be also a part of a contest and the happy owners of trendy and effective websites. Don't waste your time and apply for a registration. Get your first point now!
How to Become a Participant?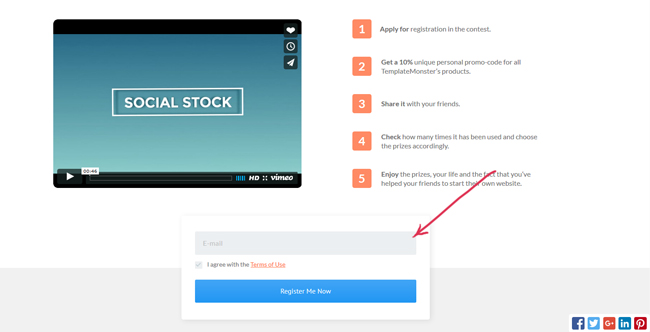 Social_Stock_Sign_Up Step by step instruction will lead you through the process of registration. In the end you may get some cool prizes, but we will talk about it later. Follow the steps and make you dream come true. Maybe soon you will drive Tesla Model S.
1.Apply for a registration
2.Find your 10% promo code discount in email
3.Share the code and help your friends to get closer to the trendy website
4.Track the point you earn for every promo code usage
As you may see, no difficulties, but smooth and easy way to have fun and make something good and useful. Let your friends know about it and enter the world of web design. Now you have an opportunity to try and purchase beautiful templates and create a strong and modern website. It is the best way to present your company online and strengthen the connection with the customers. As a pleasant bonus, active participants will get fantastic prizes. Let's explore what is there, because it is really worth seeing.
Final Prizes
The rule is simple, the more points you collect, the better prize you get. Set a goal and achieve the height, maybe you are the future owner of the fabulous Tesla Model S. There are many options, so you can win $100 on your PayPal Account, Pebble Smartwatch, iPad Mini 2, iPhone 6, Canon EOS 6D, MacBook Pro, Harley Davidson Street or even Tesla Model S. You can obtain several prizes if you collect enough point. Another way is to continue the contest and strive for the main prize. To learn more follow the link and see the full list of prizes, FAQ and information here.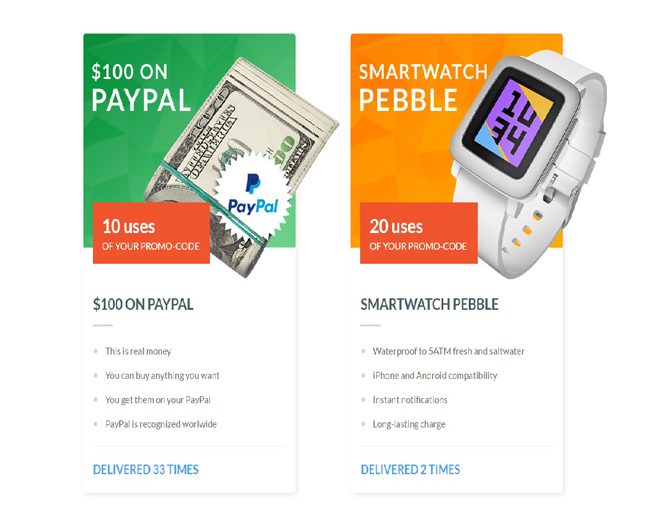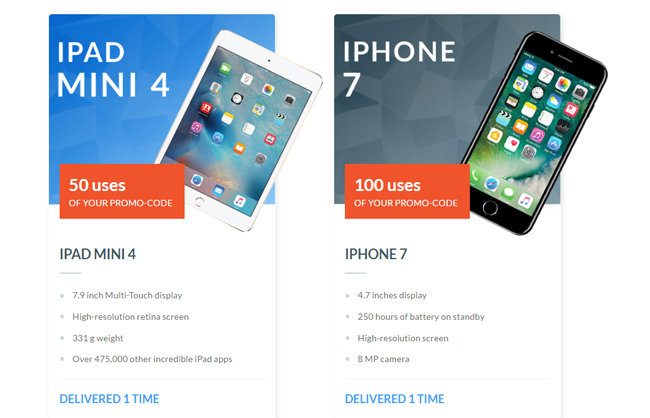 Creative Support
You get not only 10% discount, but cool creative stuff in addition. TemplateMonster has prepared a whole set of creative messages that will help the participants to spread the code. memes, banners, demotivators, ready-made texts and much more will be sent to you as soon as you register. You don't need to make up something by yourself, everything is already done. Be creative and establish the real connection with the other Internet users. Entertain and inform people and you will get the promo code usages.
TM Service Center
Here is one more helpful service from TemplateMonster. TM Service Center is created for the customers that need some help with the themes. With this service every template can be adjusted to the client's requirement within 24 hours. The service provides the help with installation of the template and WordPress plugins. Get the professional help and run you site with ease.
Conclusion
In short, Social Stock Program by TemplateMonster is a smart way to win $100 or any other prize. You have a discount and share it with others, the process causes no problems. Everybody loves discounts so relax and have fun. Present the coolest WPML Ready & Multilingual WordPress Themes and maybe there people who really need them. These ready-made themes are developed to save time and money. It is quite easy to work with WordPress and there is indeed big choice of the themes. Take a look at the showcase below and get in the flow of the contest. Register and become a participant of the Social Stock Program by TemplateMonster!
ExhibitA Art Gallery Responsive WordPress Theme
Details | Demo
TechnoFix Tech Repair Company Responsive WordPress Theme
Details | Demo
Elbrus Business & Marketing Multipurpose WordPress Theme
Details | Demo
Interra Interior Designer Portfolio WordPress Theme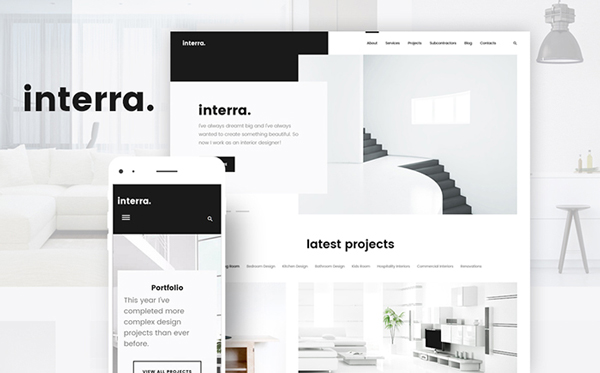 Details | Demo
LaraWay SEO & Digital Marketing Agency WordPress Theme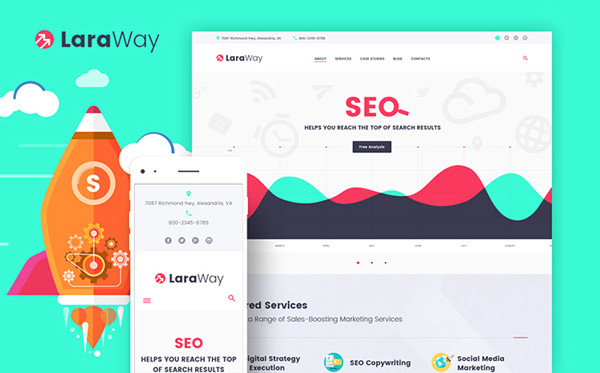 Details | Demo
HealTro Private Medical Clinic Responsive WordPress Theme
Details | Demo