Propeller is a front-end responsive framework based on Google's Material Design Standards & Bootstrap.
You know Material Design is a visual language created by Google that synthesises the classic principles of good design with the innovation and possibility of technology and science and Bootstrap is the most popular HTML, CSS, and JS framework in the world for building responsive, mobile-first projects on the web so this CSS framework is the combination of Material Design and Bootstrap that makes your web app more attractive, consistent, and functionally powerful.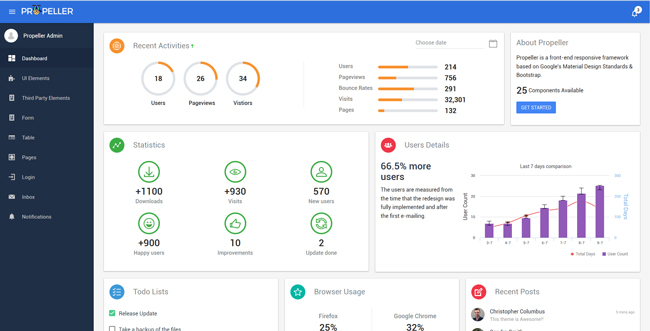 Key Features
– Responsive Component Library which contains 25 UI elements
– Ready to use template which speeds up the Development process
– Detailed User Manual which provides step by step usage of propeller UI elements.
Admin Dashboard Demo    Propeller