Trying to pick a WordPress theme can get confusing if you haven't done it before; or, if you're looking to improve upon an earlier choice. After a while, they begin to look alike.
You shouldn't have to sift through a large number of themes to find an ideal solution. You simply need to know what to look, and keep the number of candidates as small as possible. The good news is – we've done that for you.
What you want to see in a theme:
– A theme having a modern and an aesthetically pleasing design will serve you best. It's likely to have staying power; and it can be used for a long time.
– Look for a flexibility. A theme you can easily customize, and with plenty of design options, is what you want.
– Make sure the theme of your choice is SEO ready. It's a must, if you expect your website to get significant traffic.
– What users say is important. Read the reviews, and look for a theme with a 4+ star rating and plenty of users. Reliable support is also key. You want a support team that responds in a couple of hours, or less.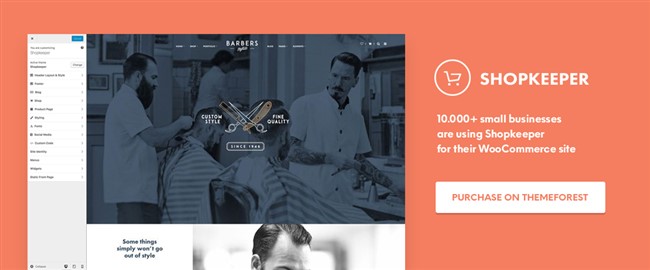 If you're a small business owner who has decided to start selling online, Shopkeeper is a perfect choice. This ThemeForest best-seller is a premium WooCommerce theme having precisely the features and functions you need to tell the story about your business and your products.
In addition to making it easy to sell digital as well as shippable products, Shopkeeper comes with the functionality necessary to manage your inventory, collect payments, or create and maintain a store catalog.
Shopkeeper provides all the flexibility you'll need. It offers an abundance of theme options and header styles, and there's absolutely no need for coding. The bottom line: You can build an online store that offers an awesome UX, and you'll save a whole lot of time in the process.
While this premium theme can boast a customer base of more than 10,000 small business users, it also offers a great solution for larger corporate entities who are looking build or enhance an online presence.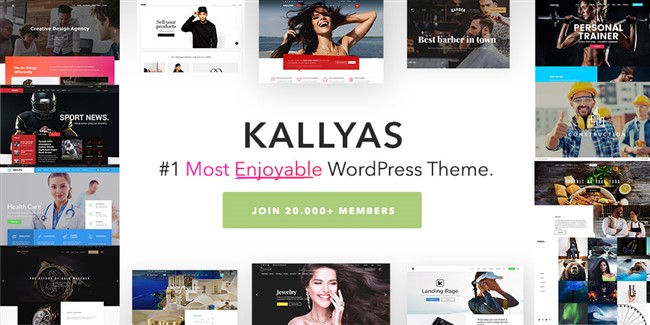 There's much to like about Kallyas, a best-selling ThemeForest WordPress theme that can boast of serving more than 20,000 users. Kallyas is fast, and fun to work with. This is due in large part to its drag and drop Visual Page Builder, and due in part to the Bootstrap 3 frontend framework it is built around.
150+ design elements, along with a multiplicity of layout options provides all the flexibility you need to build almost any page you could envision. You can choose between importing and modifying a demo to satisfy your needs, or start from scratch on a blank page, and let your creativity lead the way. No matter which approach you take, the net result will be a fast, SEO friendly website.
As you would expect in a premium, multipurpose e-commerce theme, Kallyas is WooCommerce ready, and responsive and retina ready as well.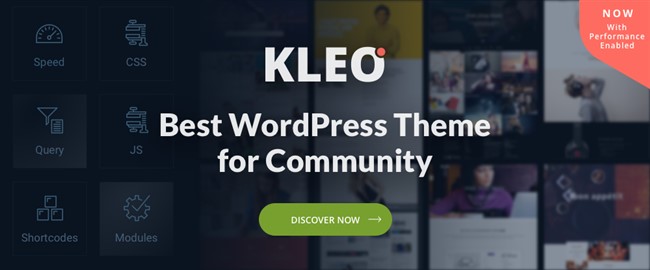 With Kleo, you can enjoy the advantages a vibrant community of users brings to the table. More than a few premium themes rely in part upon user feedback when making updates or creating new versions. Add the fact that owning a community-oriented website is a rewarding experience, in addition to being a pleasure to design and build. It's also worth noting that an active user community tends to attract even more web designers to a theme.
Kleo provides the functionality you need to incorporate user profiles, a business directory, an events calendar, and even an e-learning section.
Customizable concept demos, and a useful selection of shortcodes, are all that is needed to get a project off to a fast start. Several valuable plugins come with the package, Kleo is easy to work with, WooCommerce compatible, and no coding is required.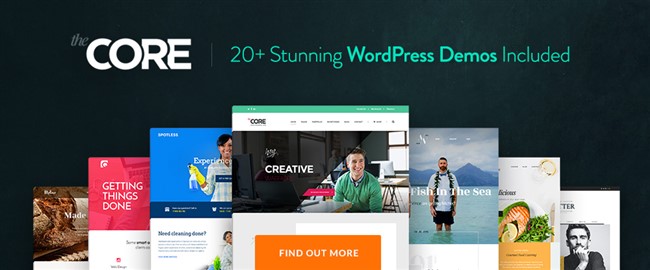 The Core features 20+ website demos in one theme, and more are on the way at no charge to you. The Advanced Visual Page Builder, together with The Core's library of shortcodes, multiple page layouts, and header and footer options, allows you to create even complex pages at the drop of a dime without any need for coding.
Several valuable plugins come with this WooCommerce ready, multipurpose WordPress theme.

A quick look at TheGem might be sufficient to convince you that you've come across the ultimate web designer's toolkit. This high-performance multipurpose themes features trendy design concepts based upon a thorough analysis of current UX design trends.
Visual Composer is the page builder, and a carefully selected set of plugins have been incorporated to help you with your design activity. TheGem is fast, SEO and WooCommerce friendly, and even includes a ready-to-go fashion store.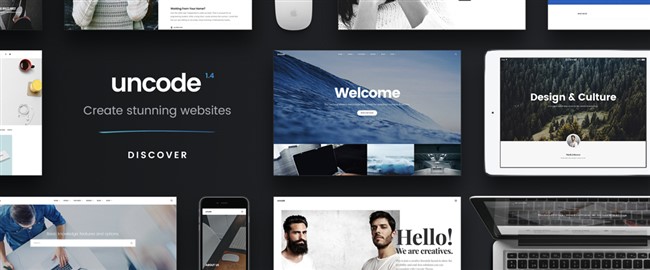 Uncode is a pixel-perfect multipurpose WordPress theme noted for its performance, flexibility, and attention to detail. It's 30+ superbly-designed homepage concepts are a joy to work with, as is the ever-popular Visual Composer page builder, which Uncode's authors have enhanced with advanced functionalities.
Also noteworthy are Uncode's Advanced Grid System, its unique Adaptive Images System, and a hierarchical options system that leaves nothing to chance. If you can think of it, you can build it.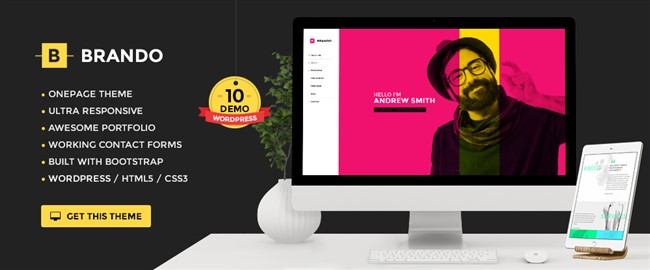 Onepage websites have become a popular trend, and Brando is a popular, award-winning onepage theme that a steadily increasing number of web designers have taken a liking to.
Brando offers a great selection of design elements and aesthetically pleasing homepage demos, along with the ever-popular Visual Composer as its page builder. Based on Bootstrap, Brando is built for speed and optimized for SEO, and is an excellent choice for business website design.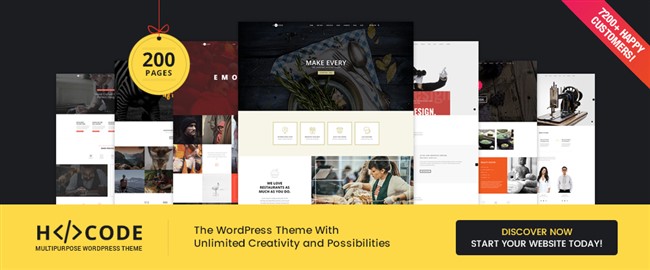 H-Code is another multipurpose onepage WordPress theme that is also perfect for designing business websites. 200+ beautiful, cutting-edge, one-click to install demos offer unlimited design possibilities.
Visual Composer is the page builder, and H-Code is SEO and speed optimized and WooCommerce ready to ensure the websites you create with it will always be tops in performance. H-Code is flexible, it features a high degree of customization, and no coding is needed.
Conclusion
The WordPress themes presented here meet the criteria you need to be looking for in spades. All of them are multipurpose, but as you can see, they are not alike. Some are best suited for creatives, some for small businesses (and large businesses as well). There's a community-oriented theme in the mix, as well as a pair of onepage multipurpose themes. Take your pick; without fear of making an imperfect choice.