There are many WooCommerce themes on the market, but which is the most suitable one for you? With those who are looking for a WooCommerce theme to boost up your eCommerce business in 2017, you should have a checklist of what you expect in an ideal WooCommerce theme. In this article, I will help you define some requirements for an excellent WooCommerce theme for your upcoming projects.
Why should you go multi-niche?
The mainstream buzzword "multi-purpose" a WordPress or WooCommerce theme that can do anything, from blog, portfolio, eCommerce, etc. However, multi-purpose WordPress themes cannot handle advanced functions when it comes to project implementation. If you are looking for a WooCommerce theme for a particular niche (e.g.: fashion for women), you will find many difficulties with a multi-purpose WooCommerce theme.
So what are the differences between a multi-niche WooCommerce theme and a multi-purpose one, and why should you go with multi-niche instead of sticking with multi-purpose like everyone else?
Multi-niche WooCommerce themes vs with multi-purpose WooCommerce themes
Multi-purpose WooCommerce themes are the ones that combine features and layouts for various purposes. The problem of multi-purpose is that it cannot fulfill your advanced requirements for a specific eCommerce purpose. For example, you can only create a basic WooCommerce fashion shop, but you cannot make it look like real one with the sale-off page, usable homepage, and so on. In other words, you have limited customizations, and that may lead to more time and money spending on customizations.
In contrast to multi-purpose WooCommerce themes, multi-niche ones are the combination of many niche demos in various eCommerce topics. Each niche demo has been packed with full layouts, features, and sample data for that niche. In this way, you won't waste too much time and effort to manually setup your shop. Just 1-click, then you can have all layouts as on the demos. With web design or web development agency, multi-niche is also an excellent choice because they can provide service projects for various customers from different eCommerce niches without too much wasting time.
4 advantages of going multi-niche
For those who are looking for a particular eCommerce purpose, multi-niche is a time-saving choice when comparing to multi-purpose:
– More freedom in setting up shops in different niches
– More advanced features available
– Layouts specifically works for niche level
– More friendly for shop owners who don't know much about coding or design
In sum, multi-niche WooCommerce themes are the right choice for those who work in eCommerce store development/design, or for shop owners who wants to build their eCommerce business.
What should you consider when picking up multi-niche WooCommerce themes?
There are few things you need to think twice before getting Woocommerce themes for your projects in 2017, including:
– eCommerce features
– Customizations
– Multi-niche
– Compatibility with WooCommerce plugins
– Support quality
– Extra money-saving
eCommerce Features
You should read carefully about the eCommerce features that are included in the theme package. The features can be general ones, or particular ones depend on the niche that you want. Most of all features should focus on eCommerce functions.
Some top favorite eCommerce features for your references:
– WooCommerce product filter
– Promo popups
– Product navigation menu
– Product custom attributes (for variable products)
– Live WooCommerce product search

Product custom attribute is a significant feature you should consider when seeking multi-niche WooCommerce themes
Customizations
Besides eCommerce-features, you should also notice how you can do customizations with WooCommerce themes. Some themes are quite limited in customizations (just some basic WooCommerce and WordPress options), which are not flexible for different eCommerce purposes. Others only provide custom CSS code, which may be hard for those who have little knowledge of coding or design.
In WooCommerce, the perfect way of doing customizations is via Live Customizer. So the next time browsing for WooCommerce themes, let's consider the ones with Live Customizations.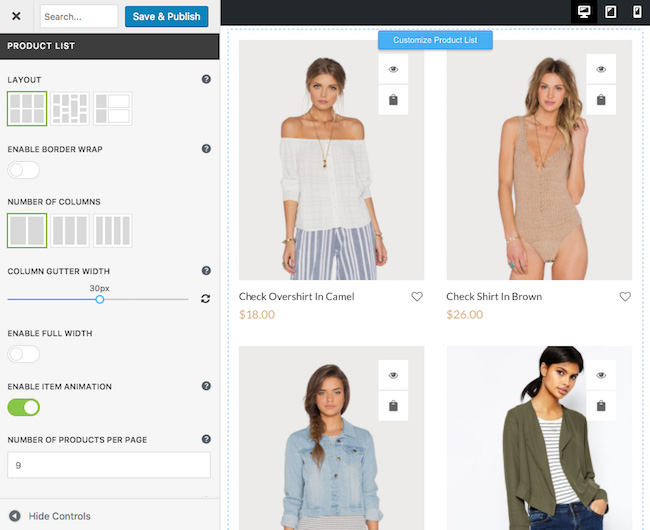 Multi-niche
When choosing multi-niche WooCommerce themes, don't forget to check if your chosen niches are included in the theme package. If you are an agency, you should also check some other niches that you will use for your clients' projects in the future.
Wholesale is the latest niche demo of Nitro which aims to sell wholesale products online. In 2016, there have been up to 24 niche demos for various niches. You can easily find a demo from fashion, digital download, sports gears, bakery, etc.
WooCommerce plugin compatibility
The most flexible WooCommerce themes are those that are compatible with many WooCommerce or WordPress plugins. When picking up a theme for your upcoming projects, you should check if that theme works stably with the plugins that you are using. Some popular plugins are:
– Visual Composer
– WPML
– WooCommerce Stripe
– WooCommerce ShipStation
– WooCommerce Taxamo
– WooCommerce Booster
– YITH WooCommerce Order Tracking
– WooCommerce Dynamic Pricing
Support quality
After-sale support is also a problem that many theme providers have. You don't want to get a nice-looking theme with poor support quality. Theme providers who do care about product development are those who always take care of their customers.
How to check support quality before purchasing a theme? You can check the ratings and customer reviews on the theme item page.
Ratings and reviews from customers is a proven way to check the real performance of the theme
Extra money-saving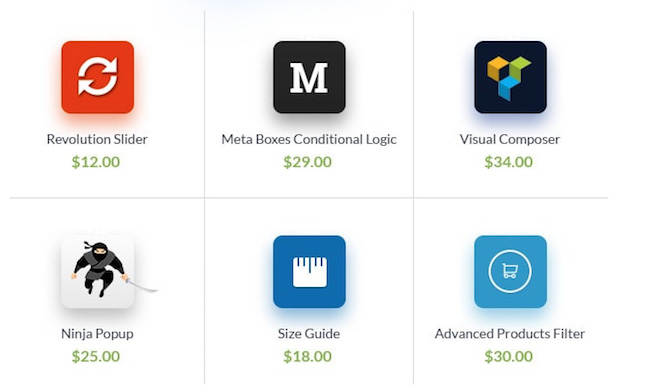 Nitro comes with top 6 popular WooCommerce/WordPress plugins
Everyone loves money-saving. This extra gift is optional, but it will be great if you can get all the niches you want with more savings. Besides functions and designs, you can also ask if the WooCommerce theme you choose have any additional savings. Having popular Plugins included or layered PSD files are some great deal you can get.
In a nutshell
Want to find a WooCommerce theme with all above benefits (and much more to come)?
Nitro is the right choice for your WooCommerce projects.
Why?
– Every niche or feature is based on real eCommerce websites
– 24 niche demos in various topics (and more to come)
– 16+ eCommerce core features
– 6 premium WooCommerce/WordPress plugins included
– Compatible with top popular WooCommerce and WordPress plugins
– 200+ layered PSD files for all niche demos
– Mobile-ready shop layouts
– Powerful Live Customizer and Header Builder etc.