Whether you are planning to shift your offline businesses presence online or just open a website for your start-up business, you can never go wrong with a theme that has been intricately and meticulously designed to boost start-ups. You might already know that the best way to make, start and run a website to use the world's best and most famous content management system, we all so familiarly know as WordPress. This is not only because of the versatility WordPress provides both regarding functionality and flexibility but also because of the innumerable themes available that can transform your website drastically into something that is great for the exact purpose you want your business to excel in.
Startup themes belong the category of WordPress themes that effectively present information and content to your clients while at the same time being aesthetically pleasing and very easy to use. The only problem though is that there are only a handful of themes that do justice to being the best at handling traffic and functionality related to Startups, so picking up the right one for your business becomes a little hard. In this post, we have tried to eliminate just that by providing you with a list of only the 50 Best Startup WordPress Themes that will act as an effective and elegant conduit between your services, products and the people who are interested in them.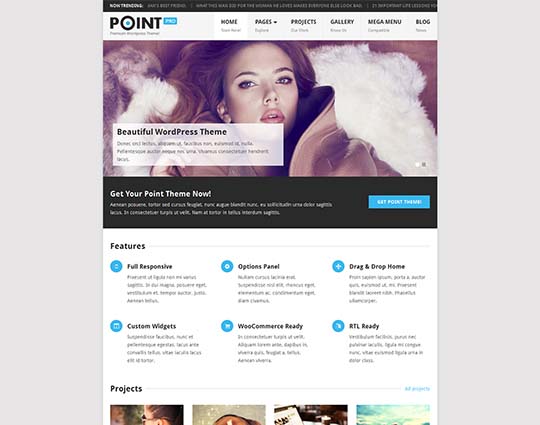 Compete and even beat the top players in your niche with this startup theme that is built with close attention to every detail. The theme manages to look very modern, has a stunning layout with lots of headings and sections on top of other top notch features that will take your business to the next level.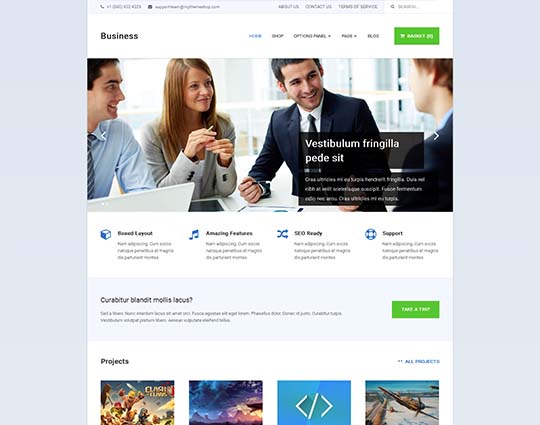 This theme leverages the power of WordPress and blogging in a way that will help you to transform your startup into a successful business. The theme does so with its clean and professional design and a bunch of other features that will allow you to get new customers while also giving you full control over customizability and eCommerce.
The most precise theme that has been meticulously designed for startups that allow you to either showcase a single product or even an entire catalog. The theme will help you to inform the global community about your startup with its elegant design and functionality that is particularly suitable for designers, developers, and other startup companies.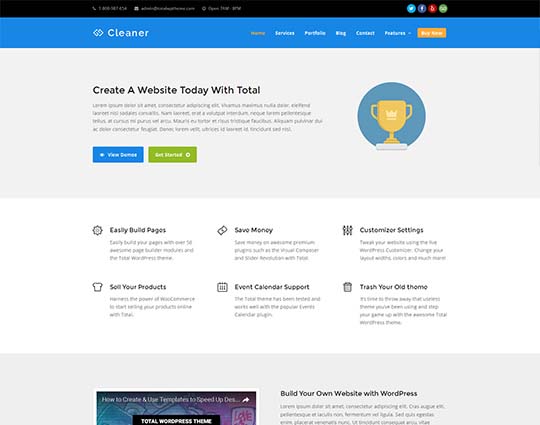 Create an immaculate and minimal website for your business with this theme that is built with Total Drag and drop WordPress theme framework which makes building a website and homepage, in particular, a breeze. The theme can be used for any type of small business, corporate business, and online portfolio websites.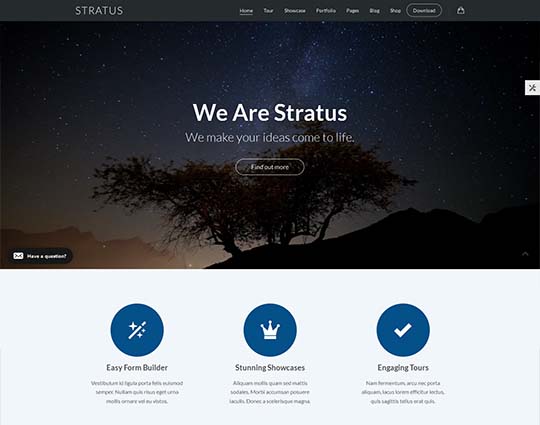 This theme is inbuilt with features that will serve best for your startup or well-established business with its design that has been made specifically for App and SASS companies, startups, product development companies and business with a specific focus on lead generation, product, and service showcasing and more.
A feature packed theme made especially for people who are just starting their small businesses, financial consulting websites or forex trading company. The ease is further accentuated by the theme's Bootstrap framework, Drag-and-drop builder CSS and hybrid framework. It goes without saying that the theme is fully responsive and looks crispy on any digital device, including smartphones and tablets.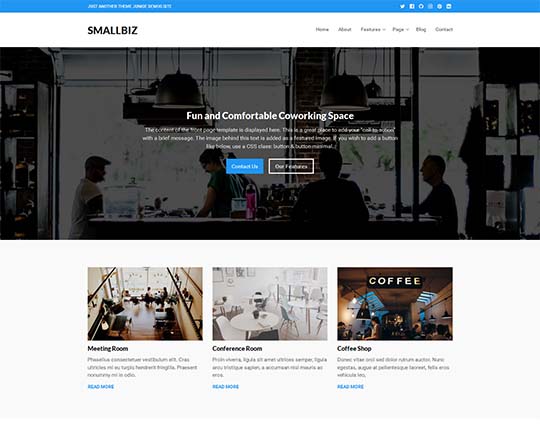 This one is packed with only the most important features that you will require to build a website for small businesses and startups. This does not mean that the theme lags behind in respect to being clean, simple, modern, elegant and intelligent, all at the same time.
This theme is very simple and minimalistic and has been mainly made for Web designers, creative professionals, agencies, content creators, and businesses.
Ampersand is a theme that just gets the job done without engaging you in all the unnecessary clutter of a typical theme. A special emphasis has been laid on beautiful, legible typography and graceful mobile experience.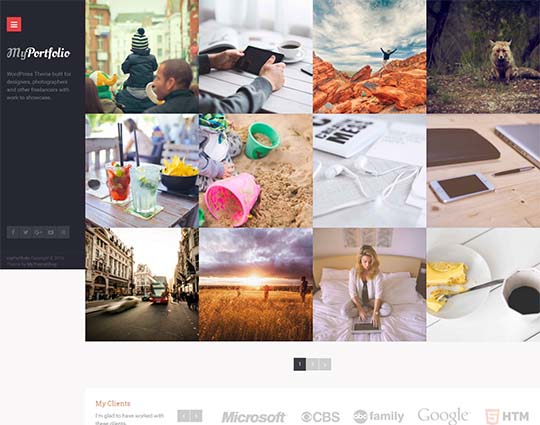 Woo your visitors and customers with the elegance that this theme is. MyPortfolio is perfect for showcasing your work, products, and services which is made possible with its beautiful and highly customizable layout on top of a slew of other top-end features.
With 15 index variants, Unlimited color options, working contact form, 2 Under construction page, one landing page, shopping page ready, full components with shortcode, PSD layered and much more, Sallira is probably the most feature bundled theme in this list so far. The theme is multi-purpose and very easy to customize, and with all its elegant elements and functions, it is great for marketing business startups or even personal websites.
This theme acts as an effective landing page for your mobile app and its does so with specific focus on showcasing your work and application features.
Looking for something for your building, construction or other similar building companies? Technico has got you covered with its abundant features that have been precisely designed to handle such websites.
With attention paid to every intricate detail, this theme is great for any type of startup website, a regular business site, a Tumblr-like blog or just a static general site. The theme boasts a stunning homepage design that is customizable with sliders, highlighted services/products, call-to-action text, and optional widgets.
A decent design, bloat free user experience, and responsive layout are only some of the features of this theme that make it a go-to for startup and other small business websites.
Tested across browsers and devices for compatibility and responsiveness, StartUp Pro is a perfect way to start your website for IT start-up as well as small business.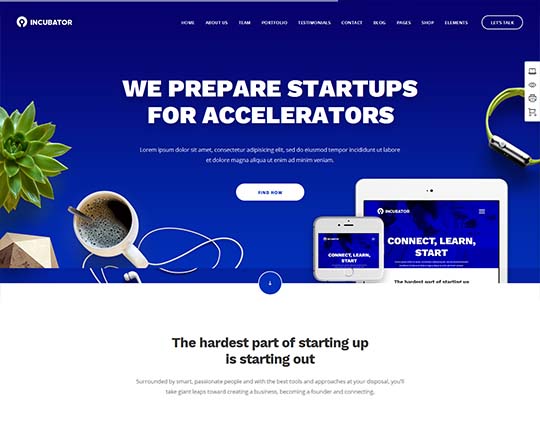 Regardless of the type of browser, screen size or device your visitors use to view your website, it will look equally impeccable on any of these extremes, thanks to the fully responsive design. Combine that with a simple, clean and user-oriented design and you have one of the best themes for your IT startup or small scale business.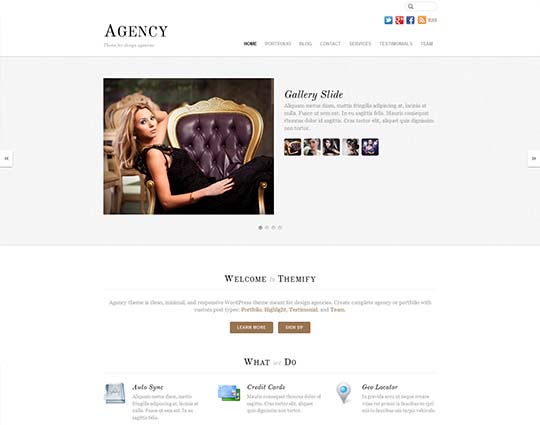 As the name suggests, this clean, minimal and responsive WordPress theme has been designed especially for design agencies. The theme has everything that you will need to promote your design agency, some of these features include, portfolio, product display and showcasing options, service offerings, testimonials, and also the ability to display the hardworking people working for your team.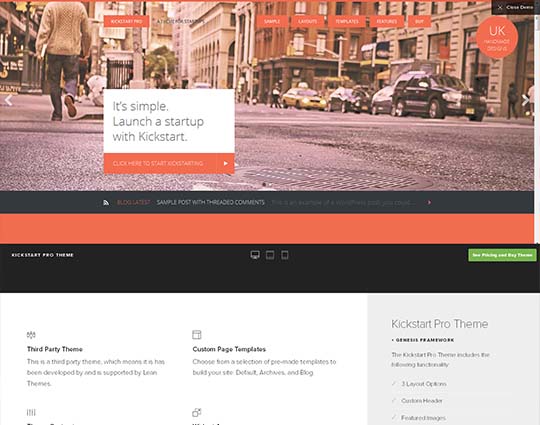 A theme that is filled with energy and fuelled by awesome customizations that you can employ to work for your business within minutes.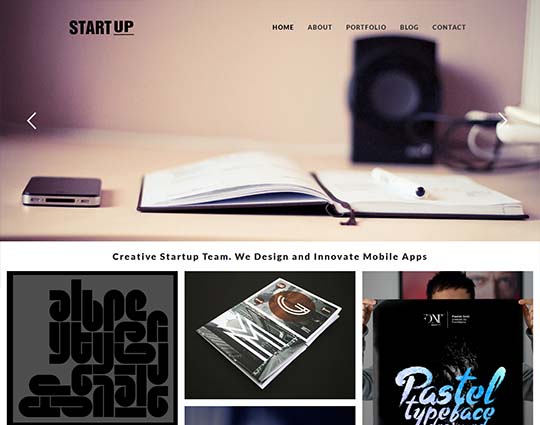 A minimalistic and mobile friendly design are two main things that this theme brings to the table to help you build a website that is great for creative agencies and other creative startups.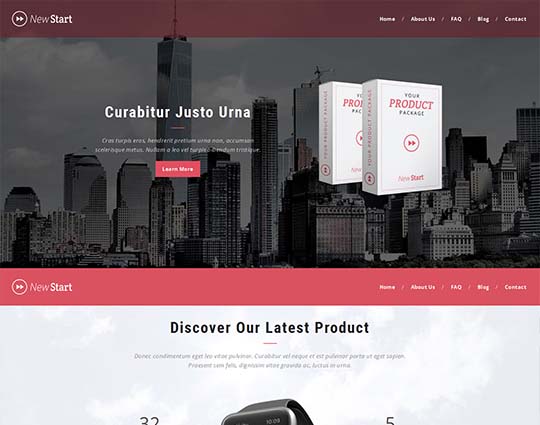 Give you start up a full throttle start with this theme that is built with layers. The theme is overall very clean, modern, and responsive and is particularly suitable for startups and also for product advertisement.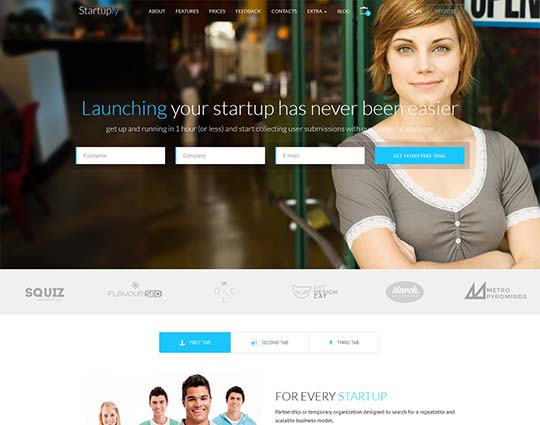 Geared specifically for startups of any kind, this theme has been designed after years of research on successful startup websites and then all the working knowledge has been put in one place to make this beautiful piece of work that is StartuplyWP. You can thus use this theme for launching SAAS, App, technology, and even retail startup.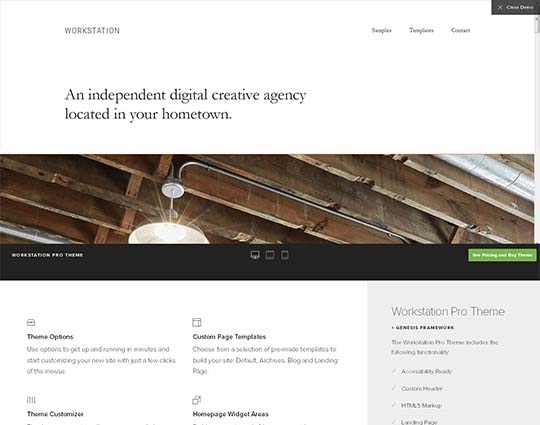 A perfect blend of elegant typography and dramatic imagery has been reached with this theme that makes it great to highlight your work while maintaining the overall clean and modern design.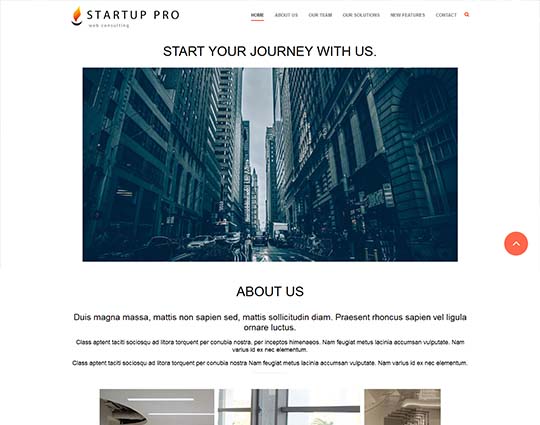 This theme is extremely easy to use and even easier to install with its turn-key template that can be imported with just one click. The theme is packed with features and is fully responsive which makes its one-page design ever better to be used for startup companies and to introduce new ideas.
If you are looking for a theme that will spice up things on your website, Corporate is probably your best bet with its multiple features such as video background, animations, social icons, animated progress bars and much more.
Wall Street has been designed to cater to all your business needs and does wonder if you are running a tech savvy entrepreneurial or startup website.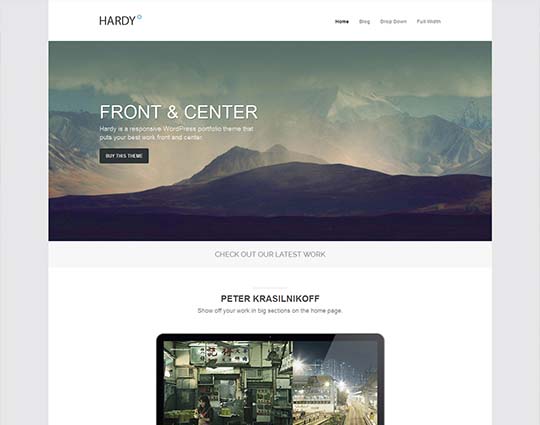 Big customizable sections have been used in this theme to display your projects and work in front and center and all around while your theme remains fully responsive and looking beautiful on every device that is used to view it from.
If you are just Starting Up your business and you are looking for something that just gets the job done without confusing you in all the typical technicalities, then StartingUp is the one you need. The theme besides being responsive also comes built-in with Portfolio and WooCommerce integration.
Struct is a minimal theme that is clean, creative and responsive WordPress theme that besides being great for startups is also great for software, SaaS, and mobile apps.
Profi is fully responsive which simply means that it will look great on any device, like laptops, desktops and mobile devices like tablets and smartphones. The theme will perfectly suit any of your needs associated with modern agency, small and medium business, corporate or personal portfolio and needless to say, startup websites.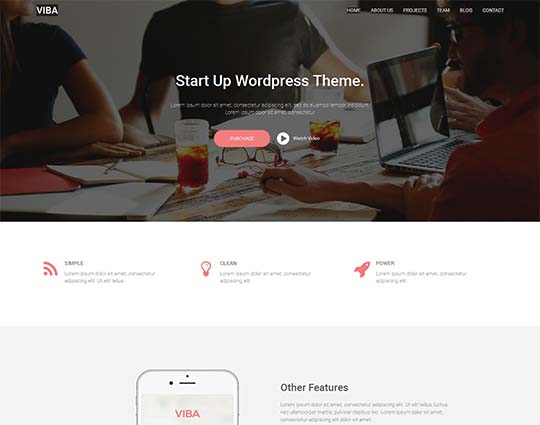 Viba is a simple startup theme that is also clean and very powerful. Other features that make this theme truly unique include one-page design, parallax effect, lightweight and much more, only a few reasons why it is powering thousands of startups worldwide, and there is no reason why you shouldn't benefit from it too.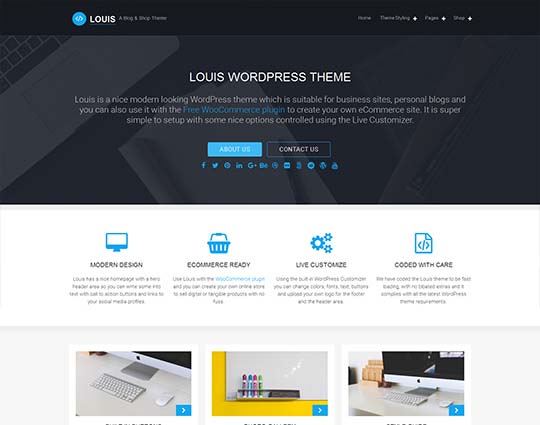 Live Customizer makes it wondrously easy to weave the features and elements of this theme according to your personal taste and then also according to the people you are targeting. The theme also fully supports WooCommerce which makes it easy to make an eCommerce website within minutes.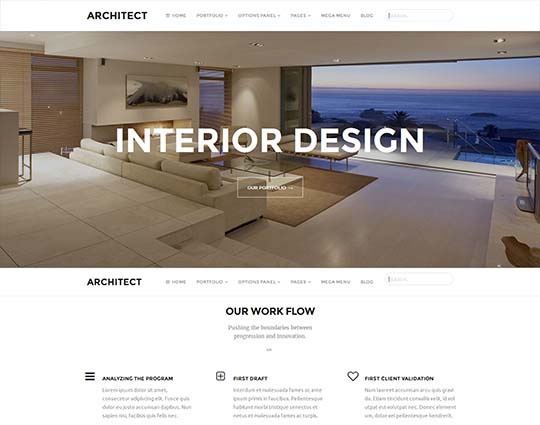 Rearrangeable homepage sections, fluidic responsive design, and SEO friendly blog layout are only some of the features of this theme that will take your startup business to new heights of recognition and success.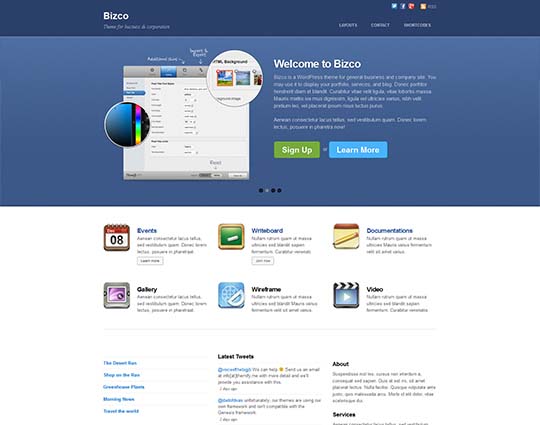 Targetted at business and product based websites, Bizco is great for showcasing the features of your products or services to your potential clients. The visual custom panel makes it extremely easy to change the display of your pages and posts.
Foxeed beautifully weaves into business and portfolio sites, construction and architecture companies, interior designers, painting or renovation site with its awesome design that has been made keeping in view the changing dynamics of a startup business.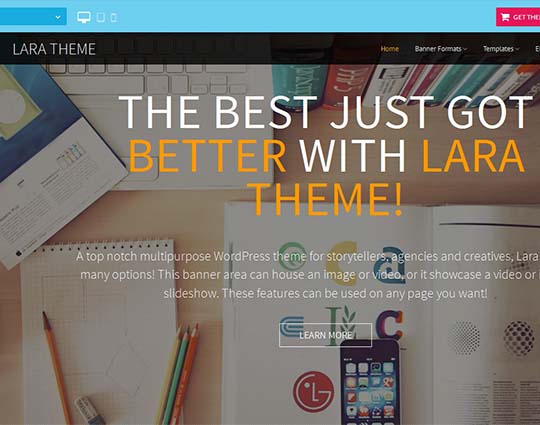 Create the website of your dreams with this theme that gives your content a complicated and elegant twist. The theme does so while also giving you all the features that you can possibly expect from a premium theme.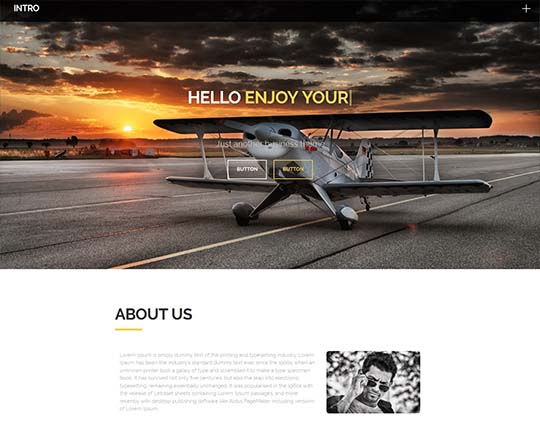 Parallax header, a selection of Google fonts, custom colors, pre-made widgets for front page building and every other functionality provided in the back-end is what makes this theme perfect to introduce your startup business to the rest of the world.
A fully responsive WordPress startup theme that is great for showcasing your work, portfolio or any other type of information without losing on overall elegance and functionality. The theme comes with advanced features, unique layout and two-in-one design that can be used for both multiple pages as well as a one-page website.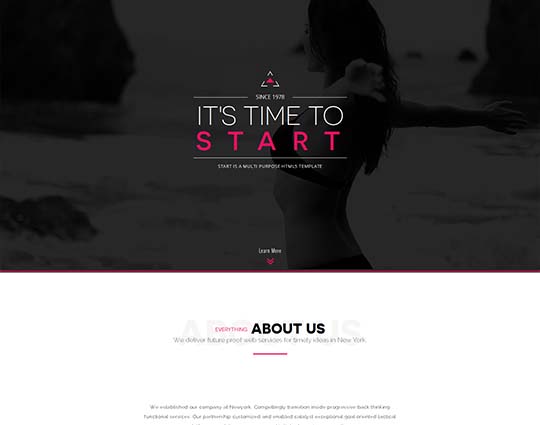 The parallax feature of this theme allows for a seamless flow of information in front of an immersive image scrolling effect. That alone makes this theme a must try for people who want to portray their information in an impeccable manner, all within the comforts of a one-page layout.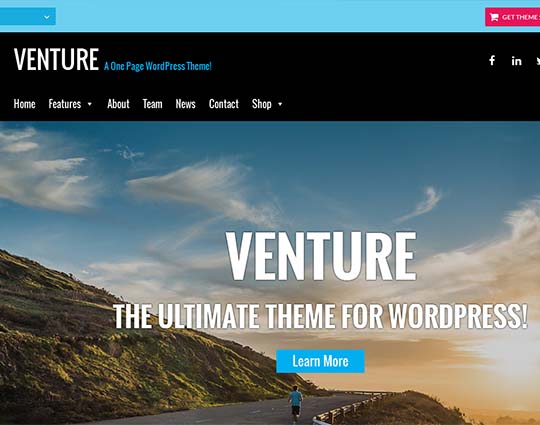 If you are running an already well-established company and you just want to create or even enhance its online presence, Venture is the theme you should opt for. However, that does not mean that you cannot use this theme also for creative agencies, freelancing and every kind of small business.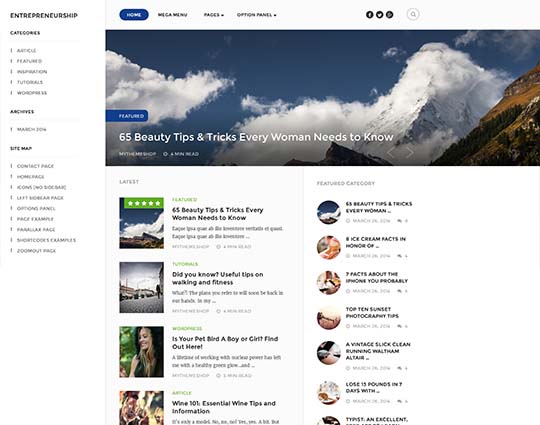 This theme will let you create an awesome website while also maintaining a powerful blog at the same time. The theme offers multiple layouts, features, several page templates and other useful features that will make your website grow.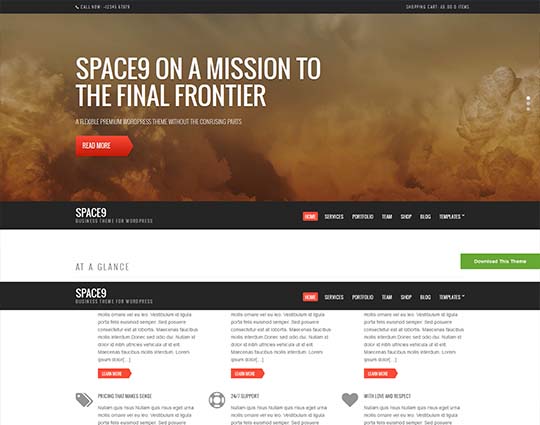 Space9 will allow you to make a flexible and fully functional theme within minutes and then use it to power your business or eCommerce website.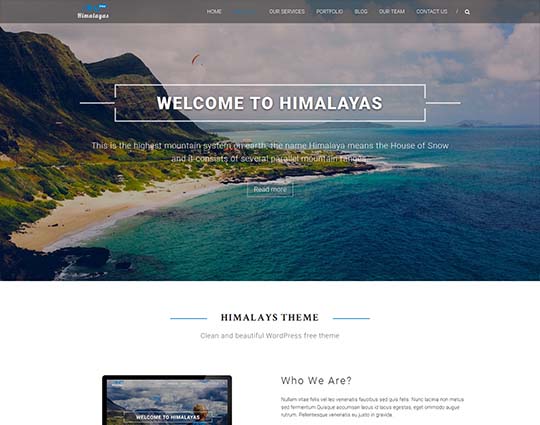 Use this theme to run a business efficiently, portfolio, corporate, agency, photography, freelancing or any other internet site. The theme presents a modern style with its one-page layout that allows you to display all the information right on the homepage.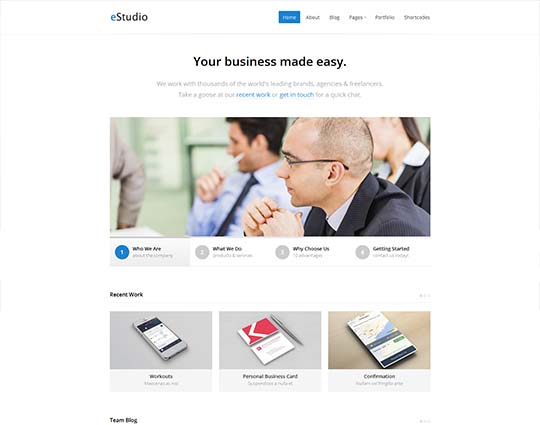 A creative portfolio theme that has been created with equal parts of elegance and proficiency to handle business as well as freelancing websites.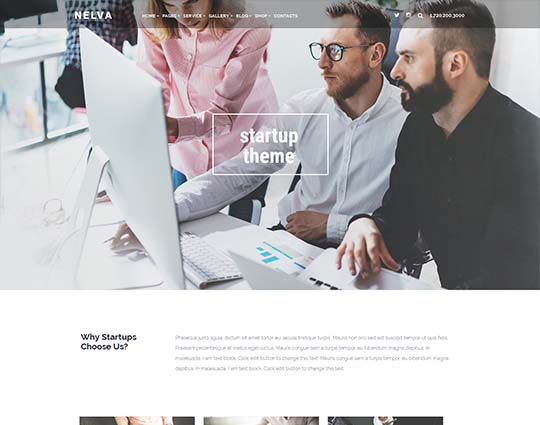 A huge number of templates have been included in this theme that will help you to create the desired section or text page for your website. You can use this theme to promote your business, marketing, finance, consulting, startup, SEO, corporate, broker, agencies, analysis, accounting, portfolio, and much more.
The best part of this theme is its homepage that allows you to showcase your mission statement with a pseudo-full-screen slider which makes everything more elegant. The theme is also fully integrated with most popular plugins and also sports a clean and simple layout.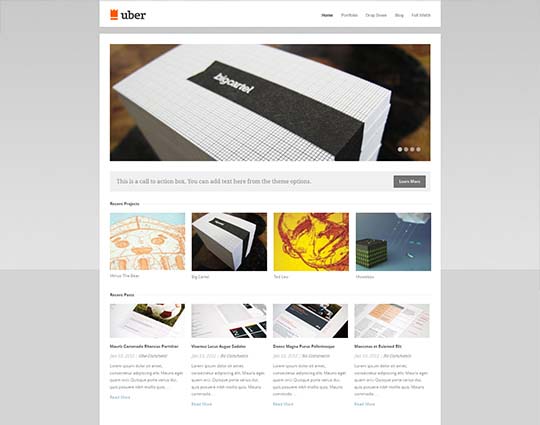 The synchronized full-screen background that works beautifully with the slideshow to create an awesome and truly unique immersive layout is probably the best and most unique feature of this theme. The theme is also fully responsive and is great for freelance designers, photographers or design firms.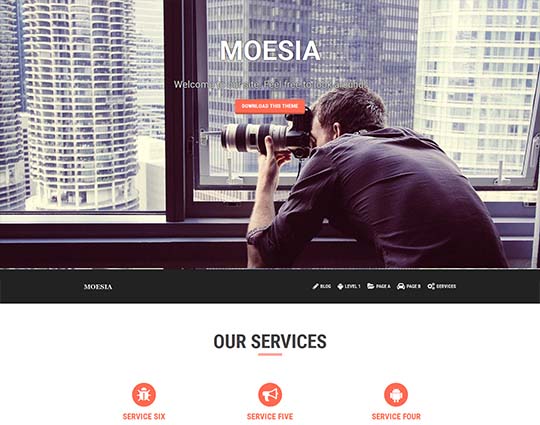 Moesia is a mosaic based website that allows you to create an elegant and customized layout for your website with its eleven predefined blocks which you can all use in combination to make a website that speaks loads about its idiosyncrasy.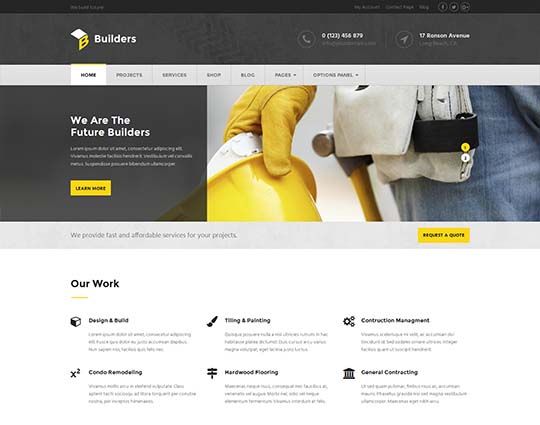 Builders, as the name suggests, is a theme that has been particularly made to cater to all the needs of construction companies. Whether your goal is to sell tools or services, you'll be able to attract more customers to your website with this theme's stunning design and smart layout.
Looking for a perfect solution for your fitness business? JustFit has got you covered with its bundled features that are perfect for running a website for fitness community, personal training, online magazine publishing, or even to setup a website for your local gym. Some of the features that will help you get the best out of your website include testimonials, results, products, workouts and more on top of being able to maintain a blog simultaneously.